Small kitchens can be a challenge to decorate as the lack of space can make them feel cramped and easily overwhelmed. You'll want to use a color scheme that keeps the space feeling open without compromising on injecting your own personality into the space. 
Whilst whites and neutrals are an obvious choice, you don't need to be afraid to inject a bold or dark color into your small kitchen if that's your preference. But there's no need to stress, we're here with 13 of the very best small kitchen spaces that leave a big impression!
In a Rush? Here's Our Top Three
1. Best for Timeless Style | Cream & Navy
2. Best for Eclectic Fun | Pick and Mix Colors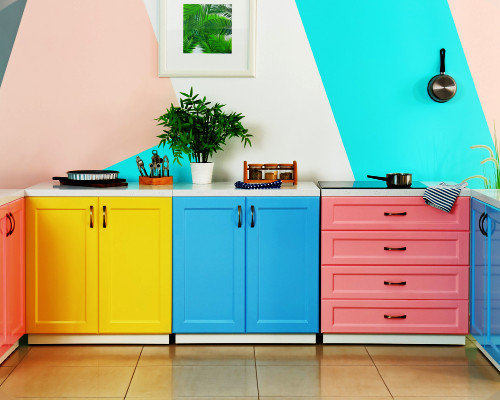 3. Best for Subtle Color Pops | Mint & White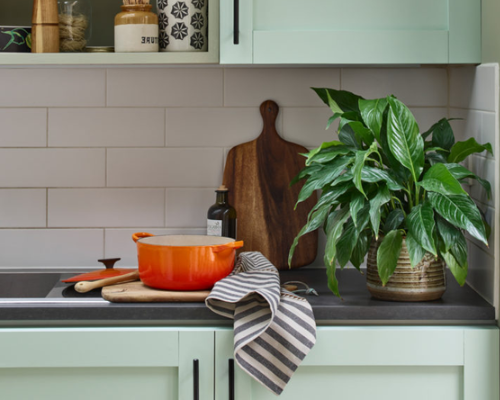 How Do You Choose the Best Colors for Your Small Kitchen?
Choosing the best color for a small kitchen can be tough, as you will want to create a space that feels bright, open and inviting, whilst complementing décor and design elements. We've got some key tips that will help you make the right decision:
1. Consider the Natural Light
Choosing the best color for a small kitchen can be tough, as you will want to create a space that feels bright, open and inviting, whilst complementing décor and design elements. We've got some key tips that will help you make the right decision:
Small kitchens can sometimes feel cramped or cluttered, but you can create a focal point or break up any monotony by adding a bold accent wall or painted cabinets. A bright blue or green shade, for example, can add energy and vibrancy to an otherwise neutral kitchen.
3. Coordinate With Other Design Elements
When choosing paint colors for a small kitchen, consider the colors and materials used in other design elements such as cabinets, countertops, backsplashes and flooring. You want to choose colors that complement, not clash, with these elements.
4. Test Before Committing
Always be sure to test out paint colors before committing to painting your entire kitchen. Paint swatches on various walls to ensure you can check the color in different lights and at multiple times of day.
Ultimately, you want to choose colors for your small kitchen that make the space feel welcoming, functional and reflective of your home's overall style.
13 Color Schemes for Small Kitchens
White is a good small kitchen color idea as it reflects light and creates a sense of spaciousness. Using white will open up the space to leave a larger, brighter kitchen but to counteract the lack of depth, you may want to consider using tiles, white marble countertops and white wood to add texture. If you prefer to use paint, opt for a satin finish on walls for a subtle glow and gloss on the cabinets, as this will help to reflect light, further supporting a bright and airy space.
Mint or muted turquoise shades are ideal for those wanting a subtle pop of color in their small kitchen. Paired with white, these two shades will keep the space feeling aesthetically interesting whilst maintaining a fresh, airy feel.
What small kitchens lack in size, they make up for in cosy vibes so use a color scheme to match! Small navy and cream kitchens offer the perfect contrast that leaves you with a warm, inviting room that feels totally relaxed.
A classic color pairing that will instantly add depth, don't be afraid to use this striking look in a smaller kitchen. Used in the right way, small kitchens with black cabinets and white walls can create an elegant, high-contrast look that will really open up the room. Keep black at the bottom of the room, and white at the top to provide visual depth as well as to create the illusion of space.
Sage green is a popular, on-trend choice (especially in 2023) that works well in small kitchens. It's a calm, relaxing shade that offers subtle color to the space without darkening the room.
For a tranquil and informal style, try using blue and white as colors for your small kitchen. Blue tones create a calm, relaxed feel with the white helping to lift the space. Use white as the cabinet color with blue on the walls or through accessories to help open up the room more. If your kitchen lacks surface space, make use of the middle of the room by installing a small island in a matching shade for a cohesive finish.
Just because you have a small kitchen doesn't mean you need to avoid dark, dramatic paint colors. A deep eggplant tone, as shown here, can bring a real sense of luxury to your kitchen space. Continue to create a premium feel to your kitchen with marble countertops and splashbacks that help to lift the room, opening and brightening up the space.
Create a cheerful, uplifting space by introducing a vivid yellow shade to your kitchen. This energetic color is great to brighten up smaller kitchens and, when paired with white, will create a clean, fresh vibe that feels both inviting and invigorating.
What Colors Should You Avoid in a Small Kitchen?
Brown can make a small kitchen feel even smaller and more cramped as it is a warm, dark shade that absorbs light and closes the space further. Brown can work against the aim of creating a feeling of light and openness in smaller kitchens so you'll want to steer clear of this earthy tone.
While red can be a great accent color in a kitchen, using dark shades of red, such as burgundy or maroon, can make a small kitchen feel even smaller. These colors can also be quite intense and overwhelming, which may not be the best choice for a small space. If you do want to incorporate red, consider using lighter shades or using it as an accent color instead.
The intensity of orange can overwhelm small spaces, making your kitchen feel visually overstimulating, chaotic, and cluttered. Orange is challenging to coordinate with other colors, and, as it's essential to create a cohesive space in smaller kitchens this is probably a shade to avoid!
Good kitchen colors for small kitchens will make the room feel open and inviting rather than dark and closed. Always consider factors such as the amount of natural light within the room, how to add texture for additional depth, coordinating your small kitchen color ideas with other design elements, and testing paint in different sections of the kitchen. 
We know that small kitchens can be a challenge at the best of times, and with such a wide variety of color schemes to choose from, our list will help to narrow it down for you. From classic white to bold eggplant tones, we've got something for everyone that will leave you with a welcoming kitchen space that perfectly reflects your style whilst complementing your small space.