If you have white kitchen countertops, or plan to have them fitted, but aren't sure on the rest of your kitchen colour scheme, then you might be wondering what shade to opt for. 
Luckily, there are plenty of shades that work well with white countertops, from blue to grey and plenty more besides. It can be hard, though, to visualise which will work best within your home. But don't worry, because we've got all the pro tips and tricks to help you make an informed decision.
For a contemporary colour scheme with white countertops, choose from grey, navy, white, or taupe. 
Traditional kitchens with white worktops would suit cream, beige, or brown.
Make your white counters pop with black cabinets, walls and appliances.
Color Schemes: Kitchens with White Countertops
1. Grey Kitchen Color Scheme
Known as the modern neutral, grey cabinets paired with white kitchen countertops offer a sleek, contemporary vibe to a kitchen that's both versatile and timeless. 
Charcoal grey cabinets will further enhance the feeling of sophistication. Not only will this shade make your countertops pop, but it's an unusual take on the more commonly-used lighter grey shaker kitchen styles.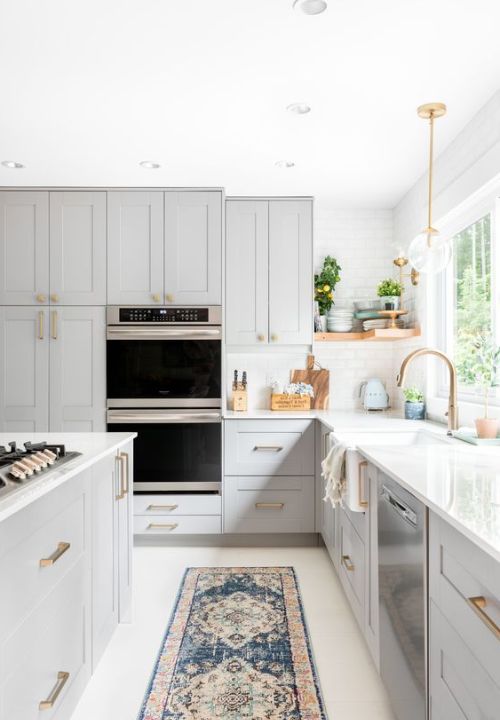 Pro Tip: To add more depth, you could combine two shades of grey with your white countertops.
2. All-White Kitchen Color Scheme
Create an elegant kitchen space by pairing your white worktop with white kitchen cabinets. This colour scheme will create the illusion of space, making it a great choice for smaller kitchens. If you want to add a point of difference, then use a warmer white for the cabinets to contrast against the counters.
When looking for tile ideas for white kitchens, consider something that will help the white countertops pop without overwhelming the space. Subway tiles offer the perfect balance between texture and subtle style.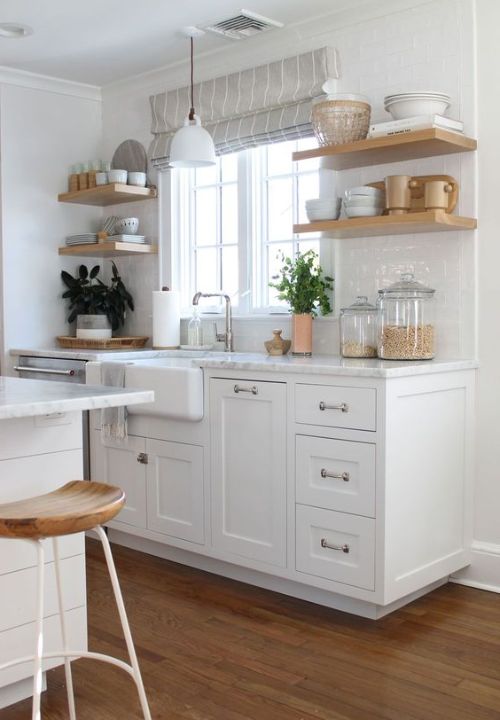 Pro Tip: For an ultra-modern finish, opt for a white gloss kitchen with white worktops. Add in some potted plants for a fresh pop of green.
3. Blue Kitchen Color Scheme
Using a blue kitchen colour scheme with a white countertop provides a clean, vibrant contrast. This fresh combination is calming and can be easily warmed up with gold hardware.
The kitchen tiles here add texture that helps to provide differentiation between the walls and the countertops. For a more contemporary finish, add hints of copper, instead of gold, in places such as door handles and taps.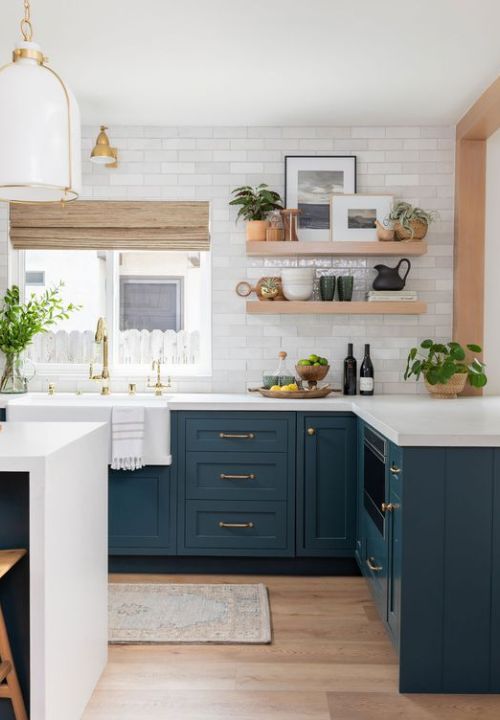 Pro Tip: Place a large rug beneath your kitchen island (or beside it if it's fixed) to add texture and visual interest.
4. Beige Kitchen Color Scheme
Create an inviting kitchen atmosphere with beige cabinets. When used in combination with white countertops, it creates the perfect balance between warm and cool tones that feels natural without being overpowering.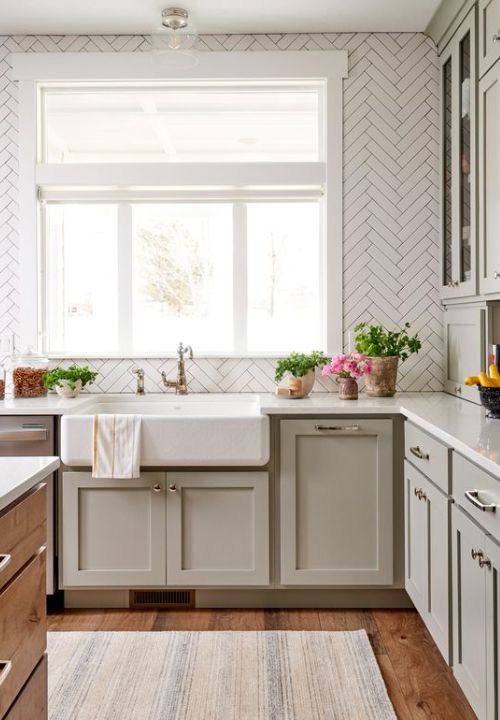 Pro Tip: A great splashback idea for white kitchens is to use grey tiles. This will give your kitchen a more modern vibe alongside your beige and white colour scheme.
5. Black Kitchen Color Scheme
You can't get more striking than black cabinets teamed with white countertops. This bold look will really emphasise your worktops whilst creating clean lines that add definition to the space. Keep accessories (such as lighting, the sink, and taps) black, too, for an elegant finish. You could even use black appliances to fully embrace the look.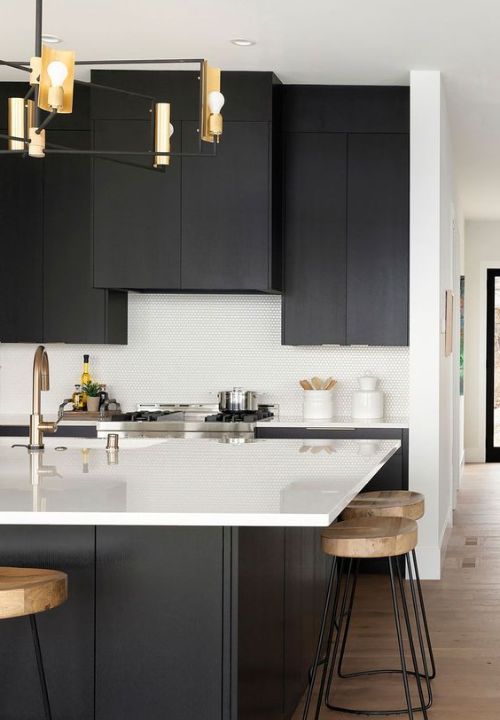 Pro Tip: Don't be afraid to use black in your kitchen, embrace this combination and let your countertops truly sing by painting the walls black, too. You'll be surprised at just how much it helps open up the space.
6. Brown Kitchen Color Scheme
White countertops will freshen up a brown kitchen colour scheme, providing contrast and lifting brown tones preventing the cabinets from feeling dull. Brown cabinets offer a perfect solution to those wanting a more traditional kitchen style.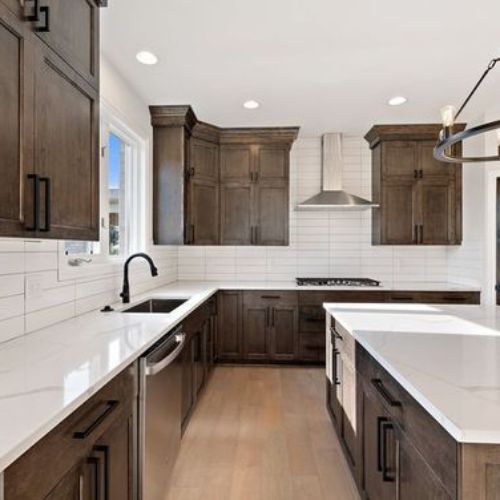 Pro Tip: Keep things classic with brushed brass hardware throughout the kitchen.
7. Forest-Green Kitchen Color Scheme
Green and white are a match made in heaven, and when combined in a kitchen, they create a clean, crisp aesthetic. The earthy tones are inviting and provide your kitchen space with a relaxed atmosphere. Use natural wood shelving on the walls, like this kitchen, to add depth and warmth.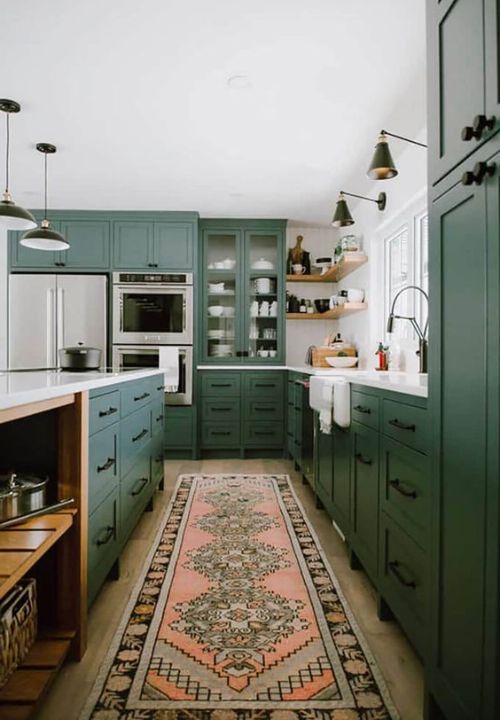 Pro Tip: Use dark green cabinets with white countertops in a kitchen that is dark, or with low ceilings, to elevate the space and inject a fresh bright feeling into the room.
8. Cream Kitchen Color Scheme
Maintain an airy, spacious feeling to your kitchen by choosing cream cabinets to go with your white countertops. The warm tones of cream cupboards compliment the starkness that can sometimes come with white work surfaces.
Paired with black hardware, this would work well with farmhouse-style décor. Opt for shaker-style cabinets for a more classic finish that would work well in cottage or farmhouse properties.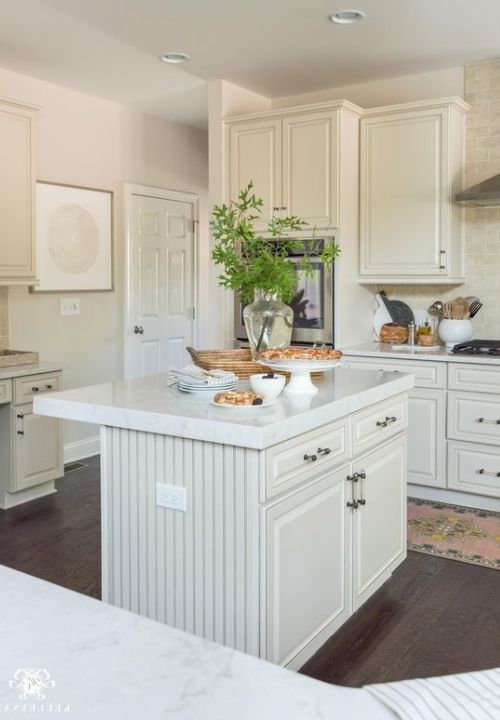 Pro Tip: Using jute, hessian, and wicker accessories will add greater texture to the space.
9. Taupe Kitchen Color Scheme
A more modern, warm and neutral tone, taupe is an on-trend shade to choose for kitchen cabinets that helps to make a cool, crisp white worktop pop. The two shades work in perfect harmony to create an elegant kitchen space without being too bold, whilst at the same time providing a more unusual alternative to beige or grey kitchens.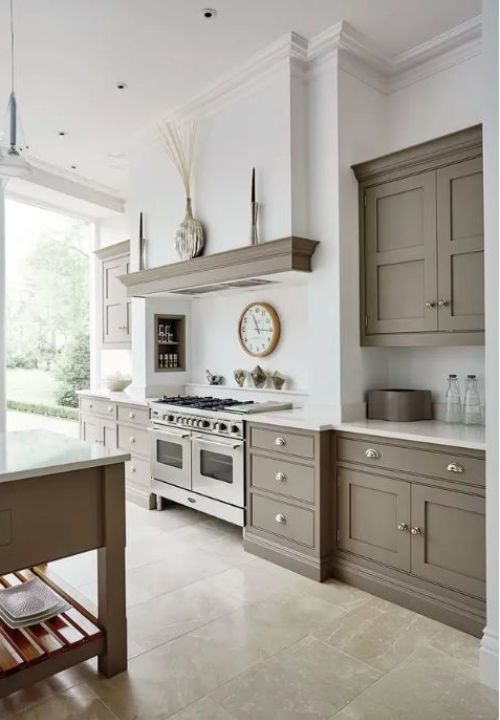 Pro Tip: Break up harsh, angular lines of kitchen cupboards whilst adding soft texture through pampas grass in vases. Not only does this maintain the neutral theme of the kitchen colour scheme but also adds visual interest.
10. Cherry Kitchen Color Scheme
For a luxurious kitchen that's both warm and inviting, try cherry wood cabinets with your white countertop. The white counters will instantly brighten the darker tones from the wood cabinets and compliment the red hues.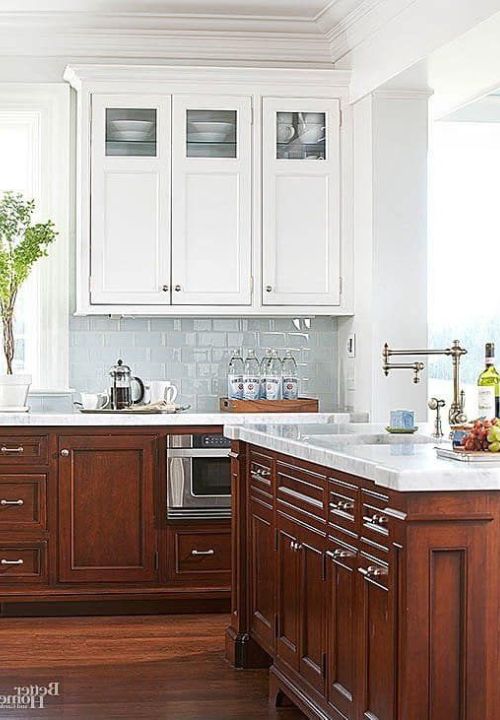 Pro Tip: Add a contemporary twist with silver hardware.
11. Sage Kitchen Color Scheme
Another earthy tone that creates a casual kitchen space is sage green. This popular colour for kitchen cabinets looks beautiful with white countertops and has a brightening effect, leaving the room feeling spacious.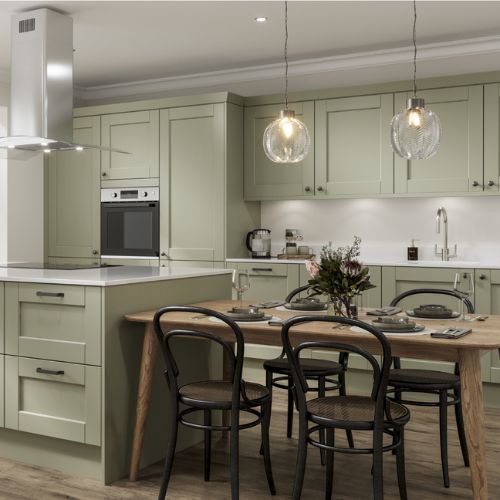 Pro Tip: Try a slate grey floor to add depth to the space as well as keeping the room feeling cosy. The green undertones of slate will really enhance the sage cabinets and white countertops.
12. Pink Kitchen Color Scheme
If you're looking for a more unusual kitchen colour scheme to go with your white worktops, then why not try this dusky blush shade? It's a unique palette without being too bold and helps to warm up the cool tones of the white counters. Using copper tones, like this kitchen, further adds warmth and helps generate an enticing atmosphere.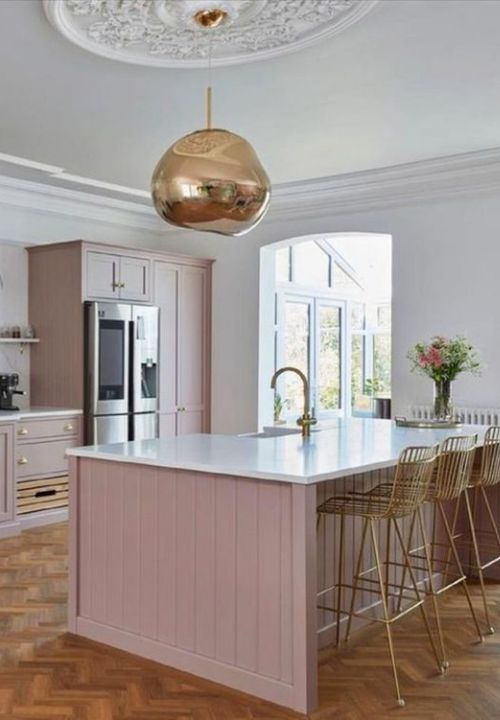 Pro Tip: When using a more unique shade like pink, don't overcomplicate the rest of the room. Keep the pink as the focal point.
White countertops offer a blank canvas in your kitchen, and they work well with most kitchen colour schemes. For a timeless palette, opt for neutral shades, such as beige or grey, but don't be afraid to try something different, like pink, either. 
Don't forget to consider elements, such as appliances and splashbacks, as these will also need to work with your kitchen worktops and cabinets to ensure the room is balanced.