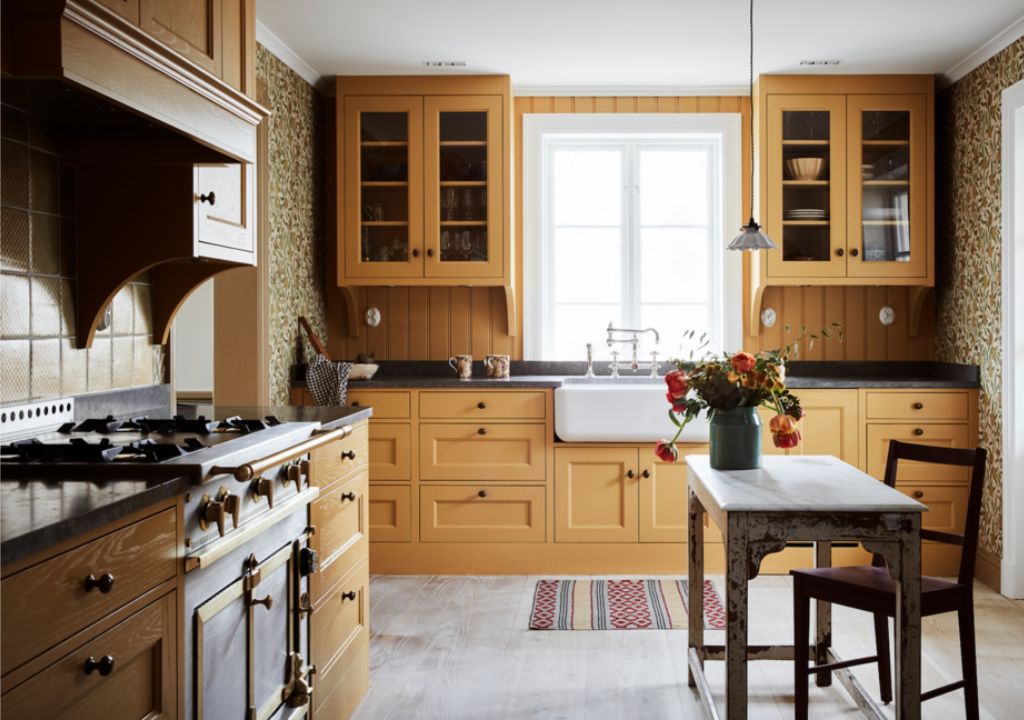 Kitchens are often a home's central hub and one of its most prominent features is the cabinets. Whilst the primary function of kitchen cabinets is the practical storage they offer, the space they take up also allows them to inject colour and style into the room.
A common colour for kitchen cabinets is brown as it's a versatile (yet timeless) shade that works well with many other colours. Particularly popular in the 90s, many homeowners are now wondering whether they should rip their brown cupboards out and replace them with an alternative, but the truth is, that isn't necessary! Simply update other features in your kitchen from the walls to accessories to bring your brown cabinets into the present day. 
Of course, there are many different variations of brown and you'll want to be sure that your chosen hue works well with the tiles, flooring, paint colours and even appliances that you opt to decorate your kitchen space with. But don't fear! We've compiled the ultimate guide of colour schemes for kitchens with brown cabinets – and with 21 of them, there's sure to be something you'll love!
How to Choose Paint Colours That Go With Brown Cabinets?
A common dilemma posed by brown cabinets is what paint colours work well with them. But the good news is that, in actual fact, brown cabinets work with a great many different paint colours. Good choices for paint colours that work with brown cabinets include:
Yellow
White
Cream
Beige
Green
Blue
Lilac
Pink
Grey
What Kitchen Colours Go With Brown Cabinets?
Here are our favourite colour combinations that go with brown cabinets!
1. Grey Kitchen Walls With Brown Cabinets
Grey walls with brown kitchen cabinets might at first seem like a dull choice. But the natural coolness of grey, when paired with classic brown tones, can create a sleek feel that balances out the brown furniture and provides a crisp contrast. Keep the grey tones lighter to avoid distracting from the brown cabinets and overwhelming the room.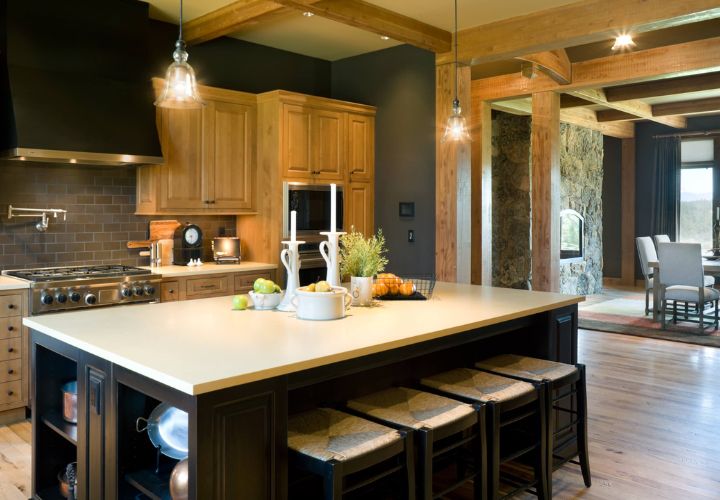 2. Natural Wood Kitchen Cabinets With White Tiles
Combining brown cabinets with white tiles will allow the cupboards to pop against the paleness of the walls. White is a great kitchen colour to go with light brown cabinets, keeping things bright, airy and modern.
The white tiles will help to add texture and lighten up the room but won't detract from the cabinets themselves. Adding some greenery for a pop of fresh colour, as well as some gold accessories, will really help tie the look together!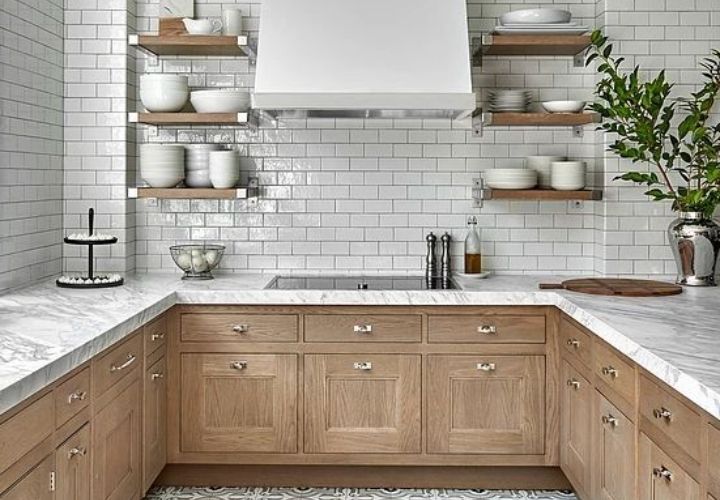 3. Orange Cupboards With Brown Kitchen Cupboards
Pairing orange and brown together is a winning combination as the warmth of the orange compliments brown hues nicely. If you're looking to create a more "retro vibe" – or perhaps even an American style diner look – then you could consider dual colouring for your kitchen cupboards, keeping the bottom ones brown and introducing orange to those higher up for a real pop of comforting colour.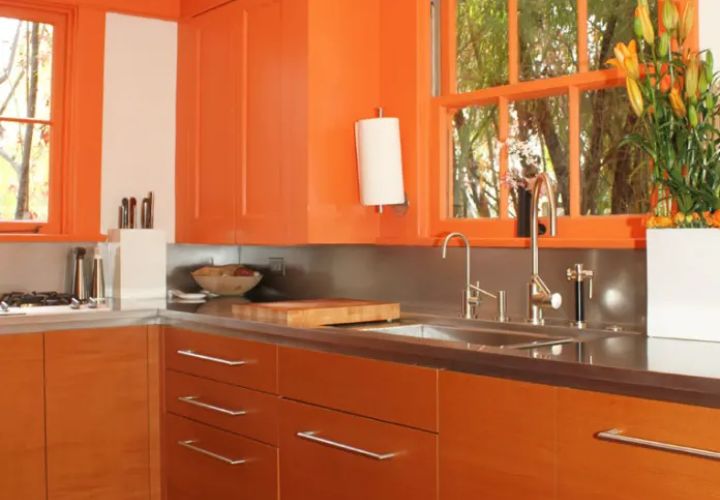 4. Sage Green Walls With Brown Kitchen Cabinets
Sage is a beautiful green shade that really compliments earthier tones of brown. This classic colour would work well for those with farmhouse, cottage, or more traditional-style kitchens. Using a sage green, marble tile would be a good way to introduce the colour into a modern home. Sage works well with any brown tones but for a more contemporary feel, look to pair sage with a cool-toned, light brown cupboard.
You could even consider a combination of sage and light brown, natural wood cupboards – like this kitchen – for an unusual but effective twist.
5. Blue Walls With Brown Kitchen Cabinets
Blue is a tranquil, relaxing colour and, perhaps not one instantly associated with a kitchen. However, for those who like to use their kitchen space to cook and unwind, it is a great choice. Blue paint colours work with brown cabinets, both light and dark, as the tones are associated with nature and create a calm, soothing atmosphere.
6. Dark Brown Wood With White Walls
It goes without saying, a white wall is a fail-safe option for any colour but paired with dark brown wood it provides a great contrast that really allows the cabinets to take centre stage.
Add in some potted plants or a beautiful flower arrangement to freshen the room up. 
The grey tiles in this room elevate the sophisticated feel of the kitchen colour and the dark brown cabinets.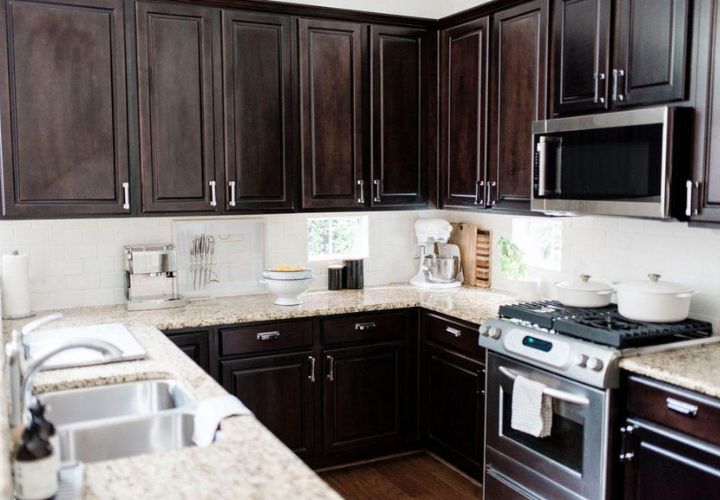 7. Red Kitchen Walls With Brown Cabinets
As red is a vibrant tone, combining it with brown kitchen cupboards is a great pairing, particularly given that they both have warm undertones. Chocolate-brown cupboards would work especially well with a bright, true red; add in some cream accessories to lighten the look and keep it from becoming too visually-intense. 
This classic-coloured kitchen with a medium brown cabinet features deep red walls, using some French patterned tiles as a splashback and a neutral tiled floor to lift the room.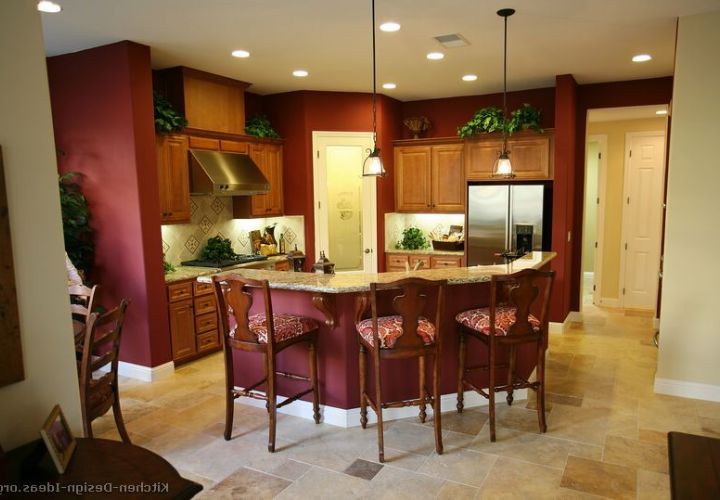 8. Brown Kitchen Cabinets With Light Wood Flooring
If you have dark brown kitchen cabinets, then keep things nice and varied by installing a light wood floor. Using light wood flooring will avoid overwhelming the room and provide a pleasant contrast to the darker hues of the cabinets.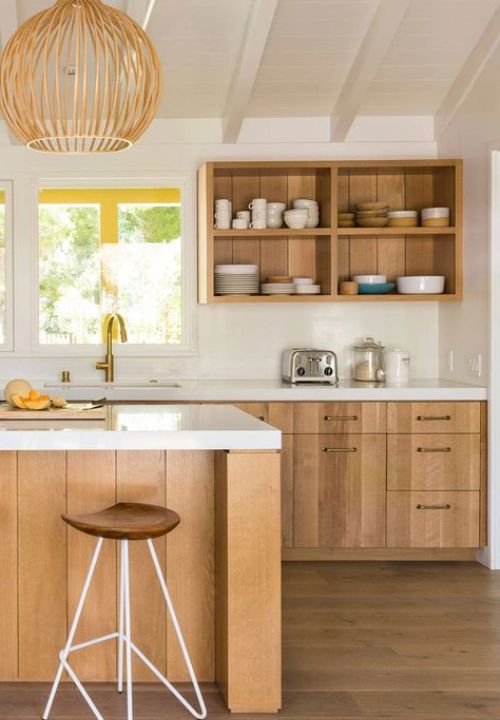 9. Acrylic White and Brown Kitchen Cabinets
If you plan to use brown acrylic kitchen cabinets, then consider having a mix of two colours for a more exciting and contemporary aesthetic. Combining the brown with white acrylic cabinets will keep the kitchen space looking stylish; dark wood flooring would then further add to this feeling of 'chic'.
Acrylic kitchen cabinets are also a great addition to a home because of their hard-wearing and easy-to-clean nature, making them great for those with a full house of kids and pets!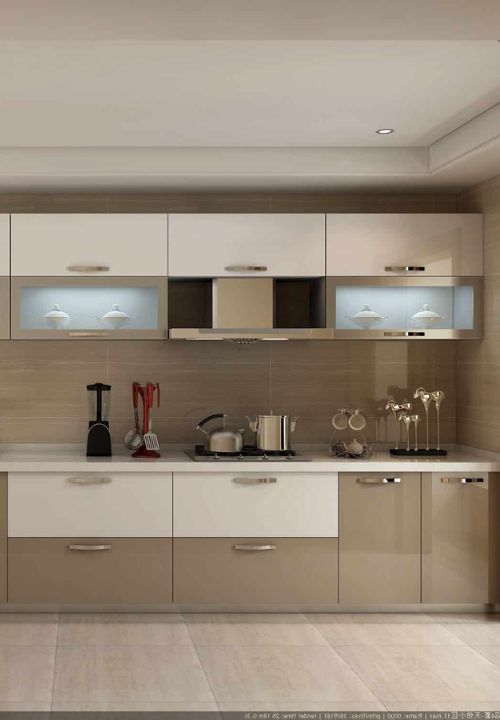 10. Yellow Walls With Brown Kitchen Cabinets
For those people unafraid to add bolder splashes of colour, yellow walls paired with brown kitchen cabinets can create a very happy and bright kitchen space. Although the idea of painting your kitchen yellow might seem overwhelming, it really helps to bring out the warmer tones of brown cupboards to create a more inviting room, overall. If you still can't be convinced, then consider using yellow accessories to add a pop of colour, keep the walls white and let your brown cupboards shine!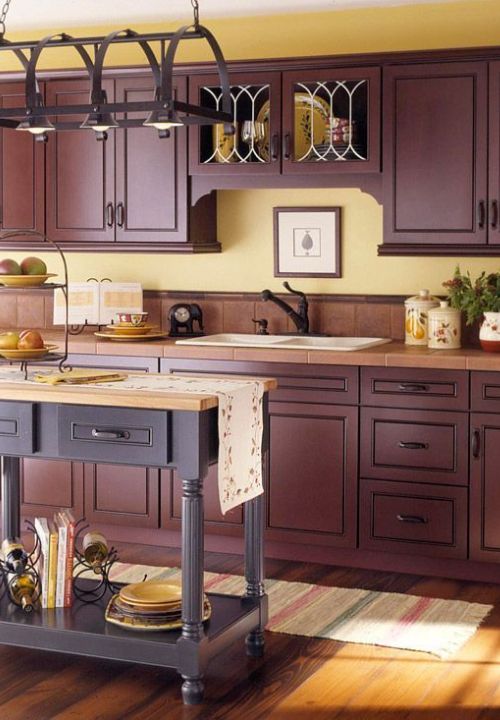 11. Pink Appliances With Dark Brown Cabinets
Keep your kitchen playful with pink kitchen accessories such as a toaster, fridge, kettle, and crockery. The cool tones of pink work beautifully with darker brown kitchen cabinets. If you're going to add such a bold colour, though, then make sure to keep the walls white to avoid overcomplicating the space.
12. Gold With Dark Brown Cabinets
Gold makes a stylish addition to kitchens with dark brown cabinets. Update the door handles, kitchen taps and any other places with metal hardware to elevate the deep brown tones of your cupboards, and contrast them nicely with the gold effect. 
This kitchen has added in a marble splashback and gold kickboard to really increase the "wow" factor.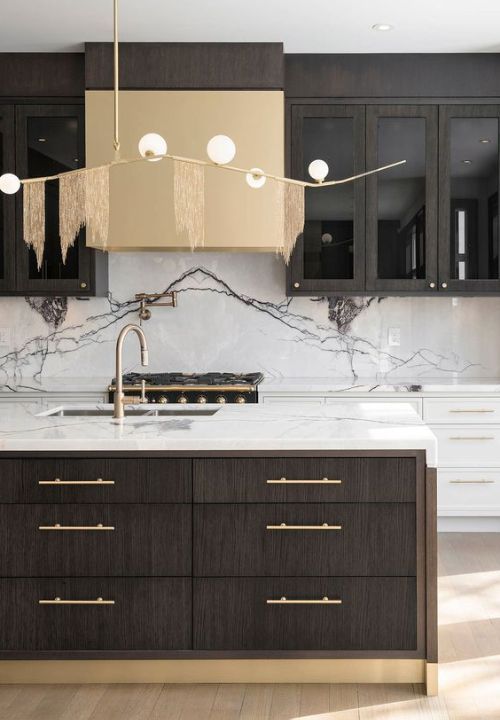 13. Neutrals With Light Brown Kitchen Cabinets
A neutral-toned kitchen combined with light brown cabinets creates an earthy, warm-yet-airy space. Pop in some cream accessories to complete an elegant look, but one that also provide some tonal contrast, too.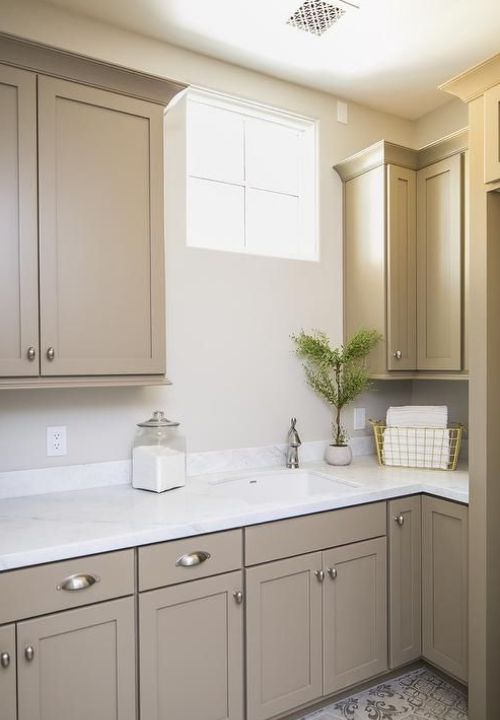 14. Navy Blue With Light Brown Cabinets
If you want a super elegant, classy, and luxe-looking kitchen then navy blue paired with light brown cabinets is a great way to do this. Navy blue also works well with darker wood cabinets, but this can be a more overwhelming colour combo, that can risk overly darkening a space.
Lighter wood offers a more stripped back, brighter accent that keeps it a little more relaxed, whilst still offering that classic and expensive look. Glass and gold accessories will really help to tie this timeless aesthetic together.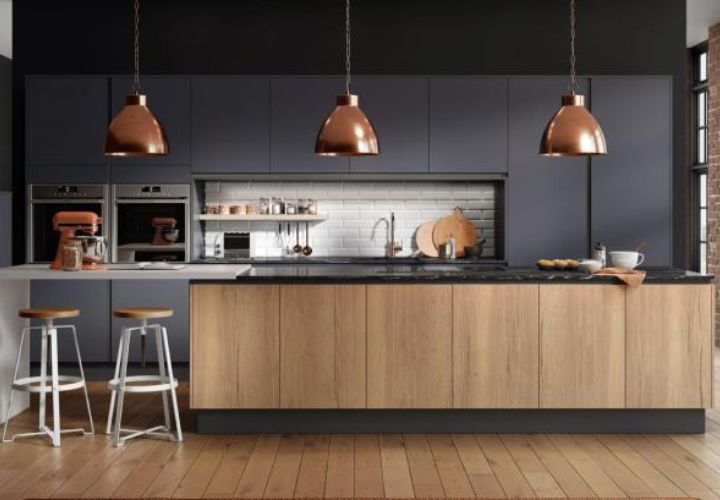 15. Silver With Light Brown Cabinets
Silver works for light brown cabinets in the same way that gold does for darker brown shades. It brings a refreshing and uplifting feel to a kitchen space; brushed silver in particular gives it a more contemporary edge. Introduce this subtle hue to your kitchen hardware, and even furniture such as bar stools and wine racks.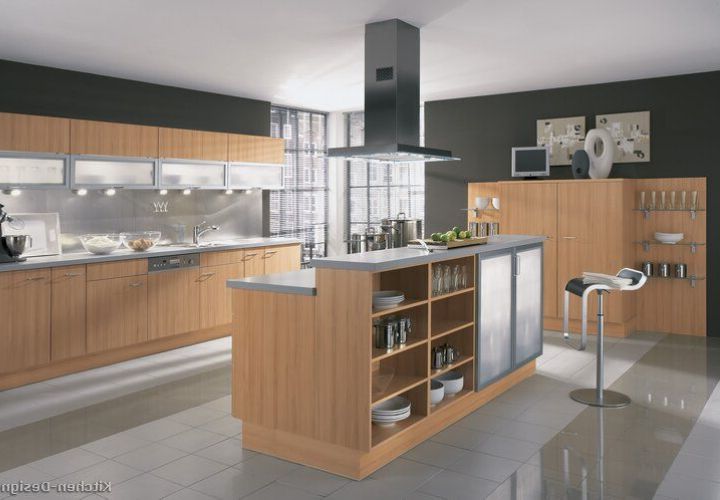 16. Cream With Light Brown Cabinets
Using cream in your kitchen with light brown cabinets is a great way to add in a light and airy feel, with just a touch more warmth than brilliant white. Of course, you can paint the walls, but cream accessories are always popular and would stand the test of time if you were to update them.
17. Green Walls With Brown Cabinets
We've already discussed sage green, however, for some people, that feels too neutral a tone – one that doesn't offer enough personality. If you want something that packs more of a statement, then explore colours such as forest green or teal. If you have dark brown cabinets, keeping the rest of the colours dark can create a strikingly beautiful kitchen space but for those with lighter brown cabinets, adding a deeper colour will provide a great contrast.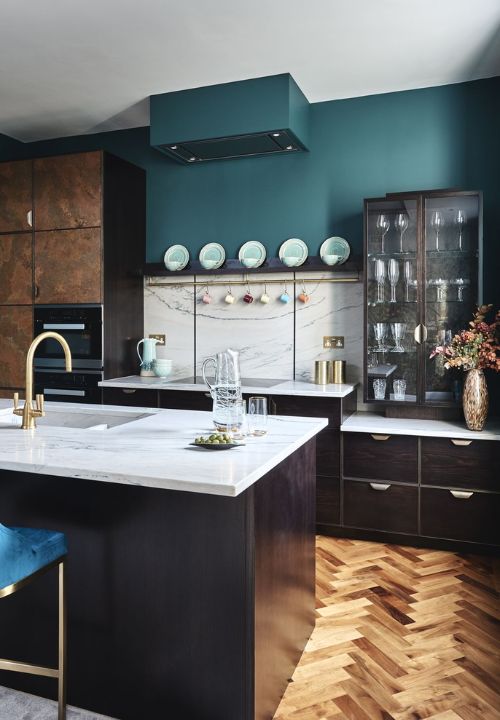 18. Dark Brown Kitchen Cabinets With Marble Countertops
Marble worktops are a timeless classic and, when paired with dark brown kitchen cabinets, make for a great, more formal kitchen space. The contrast of brown cabinets with white countertops will bring out the best of both, creating a striking balance, where neither overpowers the other.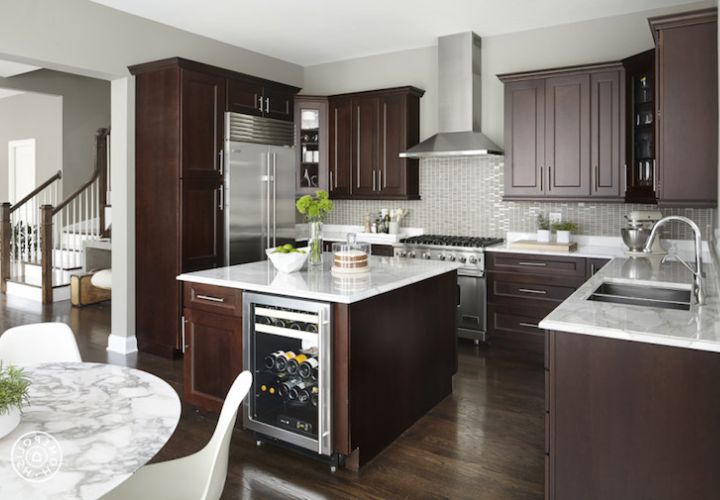 19. Brown Kitchen Cabinets With Black
Adding black accents to compliment your brown kitchen cabinets will provide your space with a modern twist. Black hardware works particularly well with stripped-back, light brown wooden cabinets. We would advise using only small accent touches of black to avoid darkening and overwhelming the room.
This kitchen has introduced a black, Moroccan-tile inspired splashback to tie the room together further as well as add some further visual interest.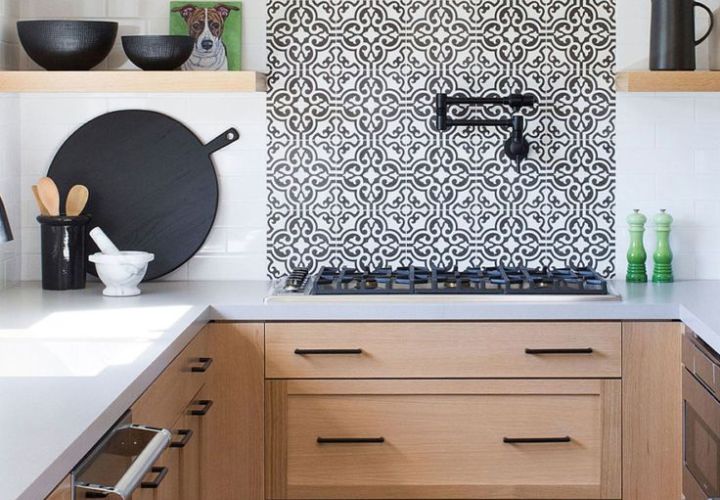 20. Light Brown Kitchen Cabinet With Concrete Flooring
Using concrete flooring with your light brown kitchen cabinets will not only add texture but also a modern, industrial feel to the space. Pair with black metal hardware for a super contemporary aesthetic. Keep your countertops and tiles white to keep the room feeling clean and fresh, and let the floor do the heavy lifting when it comes to bringing the contrast.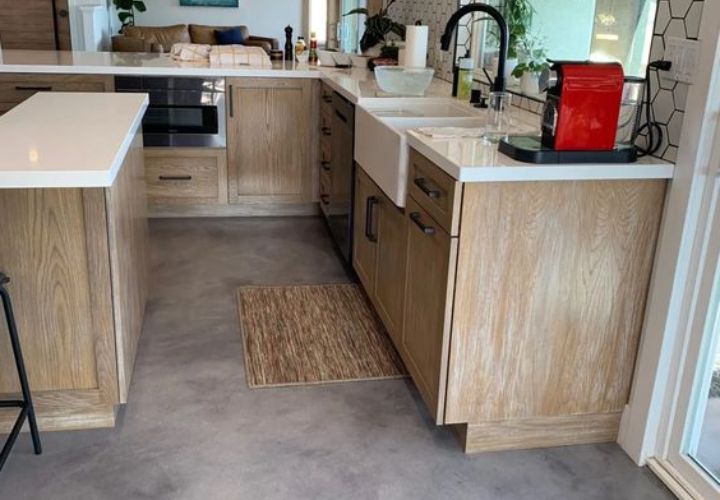 21. Brown Kitchen Cabinets With a Brick Backsplash
A red brick splashback with brown kitchen cabinets creates a cosy, cottage feel, perfect for those looking for a more traditional kitchen vibe. The warm earthiness of brick compliments the same tones found in the brown cupboards, whilst the natural texture ensures there is still enough of a contrast to maintain a good aesthetic.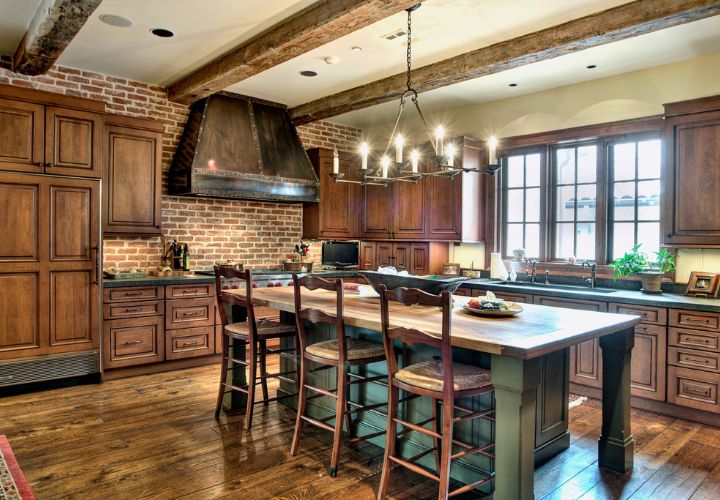 22. Brown White Kitchen Color Schemes With Brown Cabinets and White Walls
Using concrete flooring with your light brown kitchen cabinets will not only add texture but also a modern, industrial feel to the space. Pair with black metal hardware for a super contemporary aesthetic. Keep your countertops and tiles white to keep the room feeling clean and fresh, and let the floor do the heavy lifting when it comes to bringing the contrast.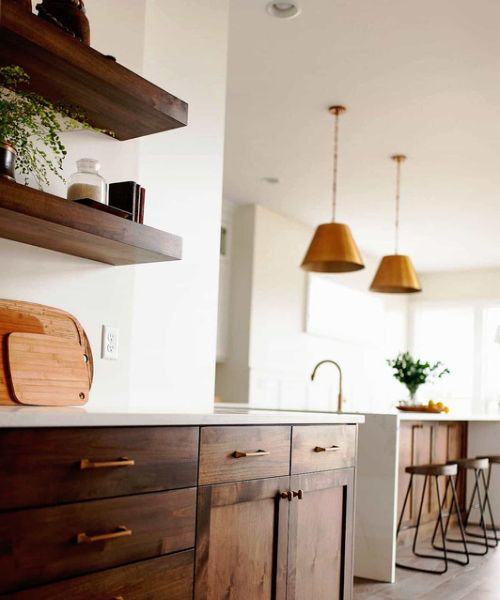 Frequently Asked Questions
Should wall colours match kitchen cabinets?
If you really want to match your walls to your kitchen cabinet then, of course, you can! However, we would suggest either using something contrasting or that works in harmony together to create more visual interest and ensure your cabinets stand out.
Are dark cabinets out of style 2022?
Lighter browns and natural wood hues are a popular choice for 2022, but that doesn't make darker cabinets outdated. Styled with marbled worktops, white tiles and gold hardware, or with deep forest green walls for a real statement, dark wood is an elegant, sophisticated option that will stand the test of time
What paint colours go with light brown cabinets?
Soft colours such as pale blue, light grey or sage would all work well to compliment light brown cabinets. You can also never go wrong with neutral palettes of white, beige or cream.
What colours compliment dark brown cabinets?
Darker colours suit a brilliant white as the brightness really works to set the cabinets apart but if you're feeling adventurous, then go for a pop of colour such as navy, teal or even a rust orange which is an on-trend colour for 2022.
What countertops should I use for my brown kitchen cabinets?
Darker brown cabinets would suit marble, white quartz or even a brown granite. For those with lighter brown cabinets marble would still work but you could also opt for a contrasting pop by using a black countertop.
How should I accessorise with my brown kitchen cabinets?
All shades of brown will suit a pop of fresh greenery from a potted plant. You could also match accessories to the colour of your hardware or introduce a complementary pop of colours to bring the room together and provide some visual interest.
Is it outdated to have brown kitchen cabinets?
Absolutely not! Brown is a classic, timeless colour and brown kitchen cabinets are definitely not outdated. If you wish to add a contemporary edge to your kitchen or feel that you want some more modern touches, then switch up your kitchen's hardware including taps or pop in some on-trend accessories.
Should your kitchen cabinets be lighter or darker than walls?
Choosing whether your cabinets are lighter or darker than your walls will all depend on the aesthetic you wish to create. If you want a bright and airy space, opt for lighter kitchen cabinets. For a strong, attention-grabbing and bold look, on the other hand, then choose darker kitchen cabinets.
How can I modernise my brown cabinets?
If you're looking to upgrade some existing brown cabinets to bring them more inline with current trends, some affordable options include: 
Upgrading the hardware; gold works well with darker brown cabinets, black or silver for lighter browns. 

Switching out the countertops for a more contemporary style such as marble or quartz. 

Painting the walls white

Changing the splashback

Installing new, modern lighting

Upgrading kitchen appliances
How do you brighten up a kitchen with brown cabinets?
Keeping the walls white or using white countertops will help to brighten the kitchen space but also utilise accessories such as mirrors and feature lights to instantly relieve darkness.
Brown kitchen cabinets are a timeless choice that can be easily updated to fit the latest home interior trends. The earthy, natural hues of brown kitchen cabinets work well with a variety of colour schemes from colour pops to complementary tones. Use your brown cabinets as the perfect neutral base to build your stunning kitchen palette from!