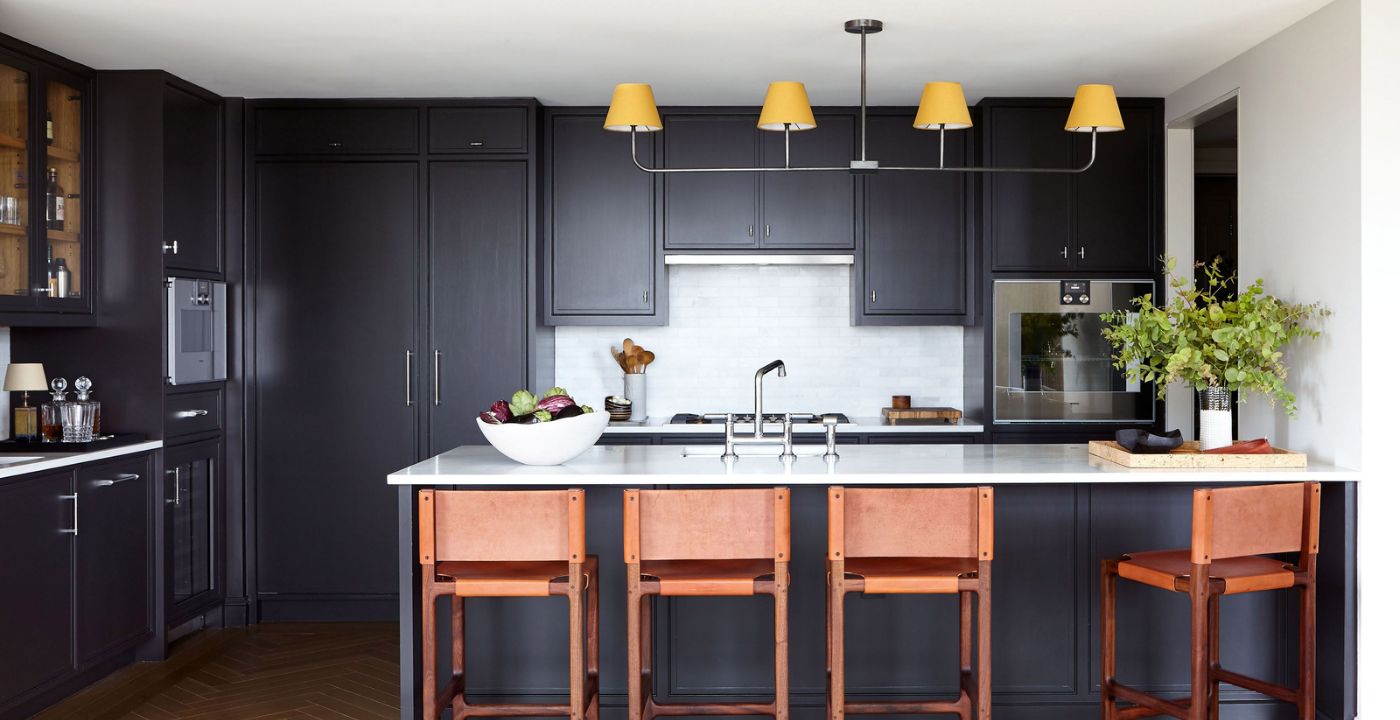 You may not think so, but the colour of your appliances is an important choice when decorating your kitchen. Picking the right colour can help to tie the room together, creating a more harmonised and aesthetically pleasing space overall.
Whilst many opt for the neutral tones of white or stainless steel, an ever-growing, popular trend for kitchen appliances right now is black. But when searching for black appliance kitchen ideas, the results are limited. 
Kitchen refits are an investment, and you don't want to get it wrong by pairing your black appliances with the wrong colour scheme. Don't let that put you off, though, as we've got 15 kitchen colour schemes to go with black appliances that suit all tastes and offer timeless style!
What are the Best Colour Schemes for Black Appliances?
If you're looking at how to make your black appliances look good, then don't underestimate the power of selecting the right colour scheme. The colour you should paint your kitchen if you have black appliances will be dependent on the kitchen cupboards, but if you have brightly coloured cabinets, then stick to simple wall colours such as white or beige.
Choosing a monochrome colour scheme to sit alongside black appliances is a contemporary way to decorate your kitchen. It offers a sleek, modern edge whilst keeping the space effortlessly balanced, light and spacious. Tie in the black appliances with matching coloured flooring, lighting, accessories and hardware – you can even match your kitchen sink!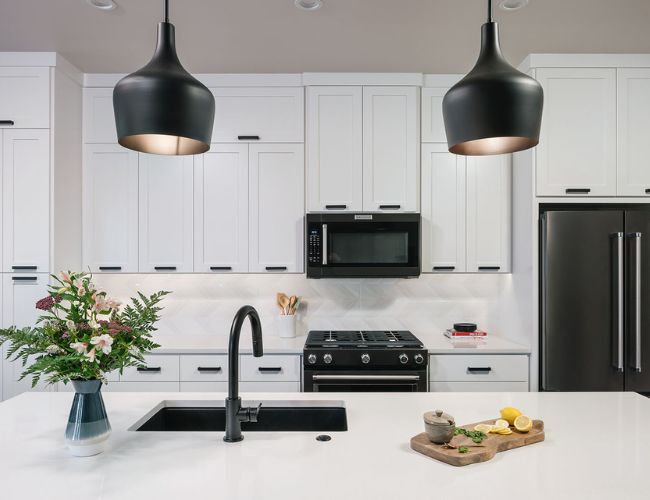 The ideal mix of beige and grey, this elegant shade offers warmth without darkening or overpowering a space which means it is a suitable pairing for black appliances. If you choose on-trend greige kitchen cabinets then keep the walls white or consider a soft, marbled tile to further enhance the cupboards and appliances.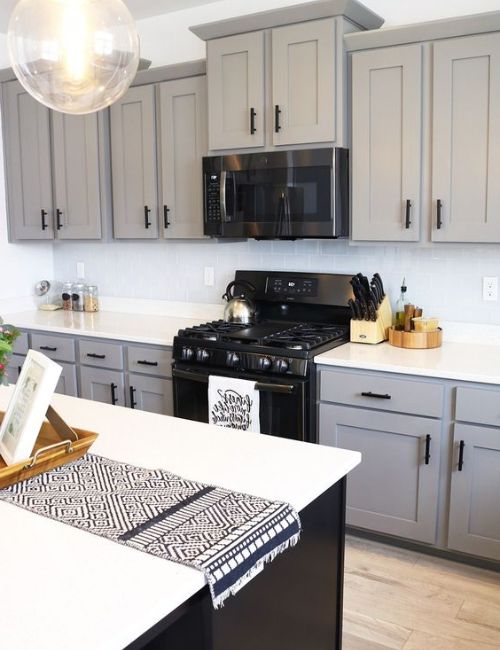 A totally white kitchen with black appliances offers an ultra-modern aesthetic so if you like the minimal look, then this is certainly one for you!
Whilst you may not think black appliances would look good in a white kitchen, the stark contrast between the two colours will soften the darkness of the appliances whilst also creating breaks in the room that provide definition.
Opt for high-gloss cabinets and matte appliances for a more premium feel and a distinction in texture, but be prepared for lots of cleaning!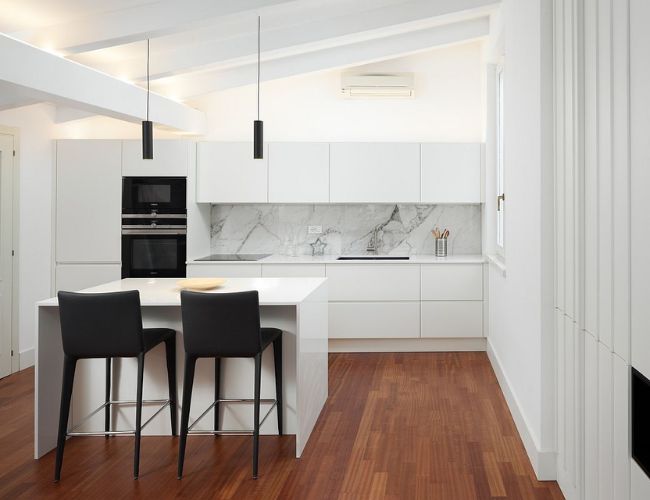 Sage green is a classic, earthy-toned shade that works in perfect harmony with black appliances. It instantly softens the harsh tones, leaving you with both a cosy and inviting kitchen space. Pair with white tiling and cool-toned wood flooring for a more contemporary vibe.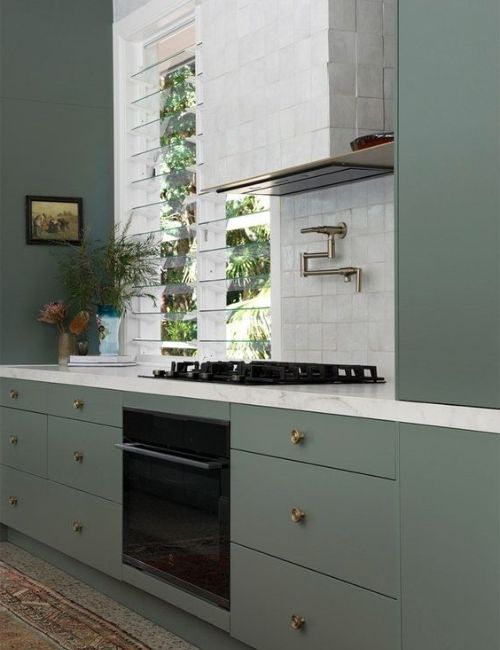 If you're looking for a sleek, cool-toned kitchen then opt for slate grey cabinets as they complement black appliances. Darker grey kitchens with black appliances are what's known as a low-contrast colour scheme and, as such, will help to create a seamless and larger kitchen space overall. Combine with a super light, soft grey wall or tiles to help the cupboard and appliance combo really stand out.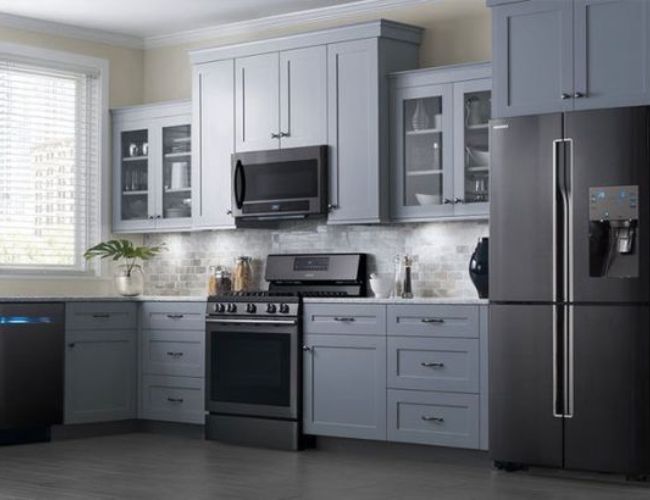 Opting for black cabinets to pair with black appliances might seem like an off-putting notion to begin with but they help to provide more visual depth to your space, even in smaller kitchens. Although bold, it is a highly sophisticated look. Introduce some gold or copper accents to break up the look and keep the walls simple in white or a super pale neutral.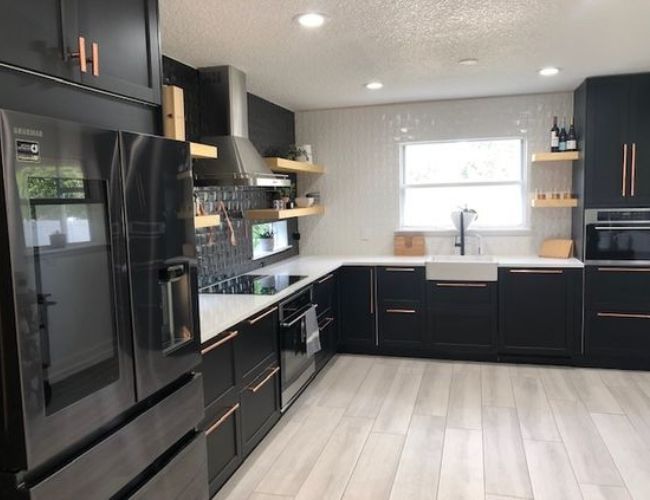 A super adaptable shade, taupe lightens up a kitchen with black appliances but also works to achieve a more moody, industrial vibe if that's your style. Pair with dark wood and exposed brick or concrete for the epitome of urban chic.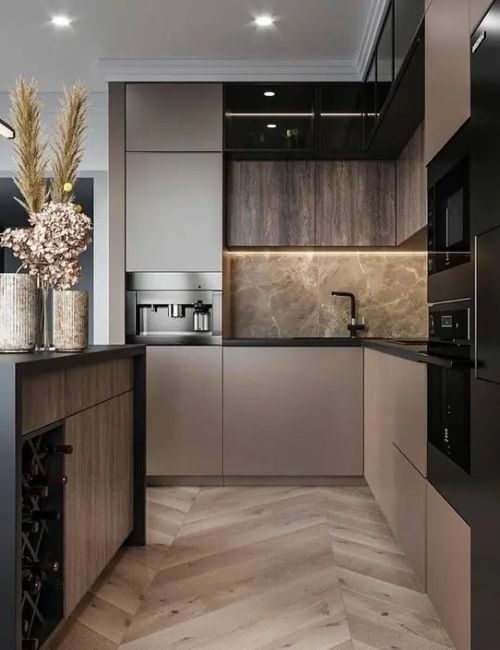 For a more unusual, quirky colour scheme, consider this teal and copper! If you've got black appliances and you don't want them to stand out, then this colour scheme will allow them to more seamlessly blend in. 
Don't be afraid of using a darker shade; contrary to popular belief, a dark, solid colour will help to enlarge a room, not shrink it. Teal and copper are a luxe pairing and using a copper splashback like the one below adds warmth and depth.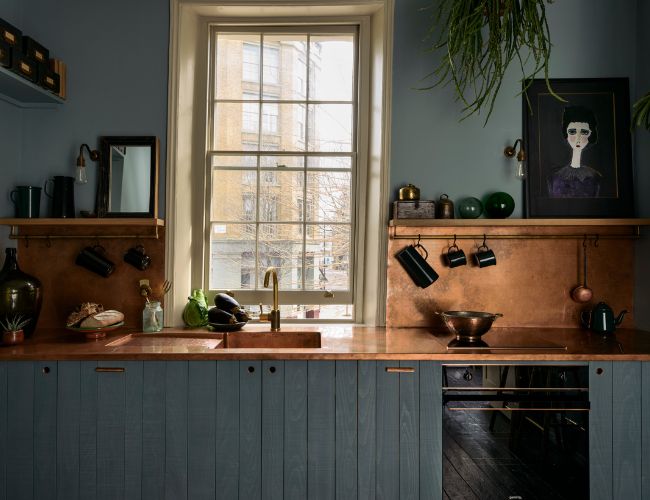 A bold colour scheme, this is not for those who like more minimal interiors, but yellow and charcoal grey help to harmonise the harshness that black appliances can bring to a kitchen. Yellow hues always help a space feel cheery and warm, but the charcoal helps to stop it becoming too loud and overwhelming.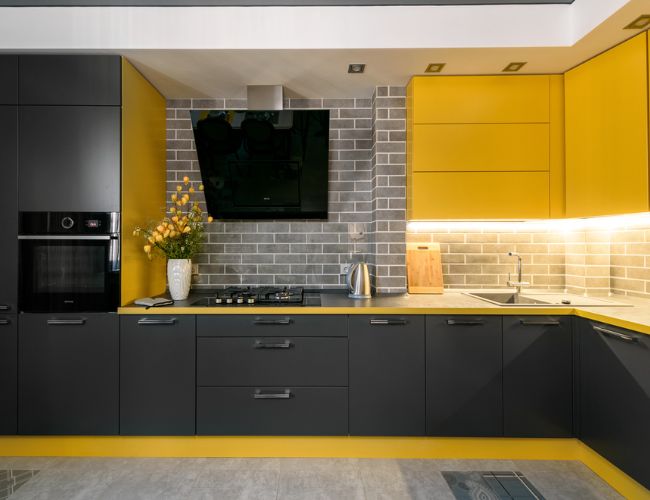 A bold colour scheme, this is not for those who like more minimal interiors, but yellow and charcoal grey help to harmonise the harshness that black appliances can bring to a kitchen. Yellow hues always help a space feel cheery and warm, but the charcoal helps to stop it becoming too loud and overwhelming.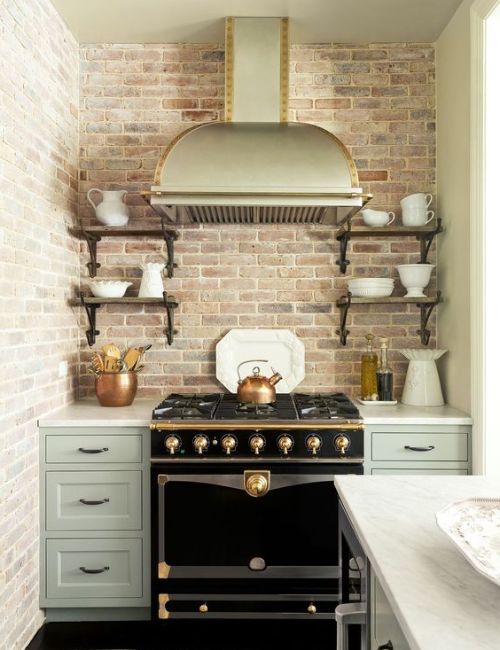 Cream is a softer version of white, and together with black, is a classic colour pairing that's ideal for more traditional or farmhouse style kitchens. Soft cream walls and cupboards are a calming colour choice that create a homely, inviting room but when combined with black appliances, it brings a slight depth to the room for a more statement feel.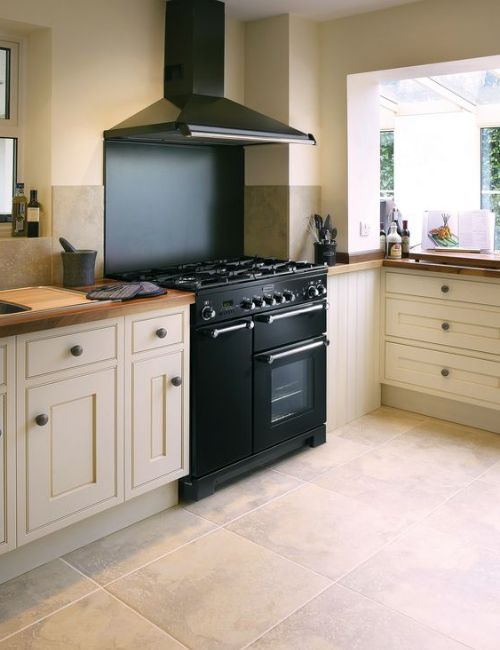 Light, natural-wood cabinets, such as oak, provide a lovely contrast to black appliances and are ideal for a modern kitchen. If you have a more traditional style home, or would like added warmth, then opt for classic cherry wood cabinets. Whatever wood you go for, add metallic touches to add some more dimension and lift the space.
Pairing your black appliances with vivid red will give you a real statement kitchen. The vivid red hue will tone down the harshness of the black to create a more harmonious space.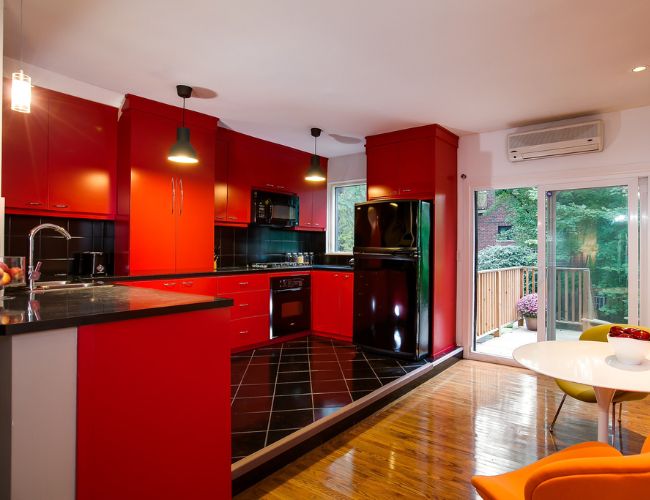 Blue and white have a calming effect when used together and help to tone down the harshness of black appliances. Paint the walls blue and use white cupboards to open up the space to maintain an airy feel.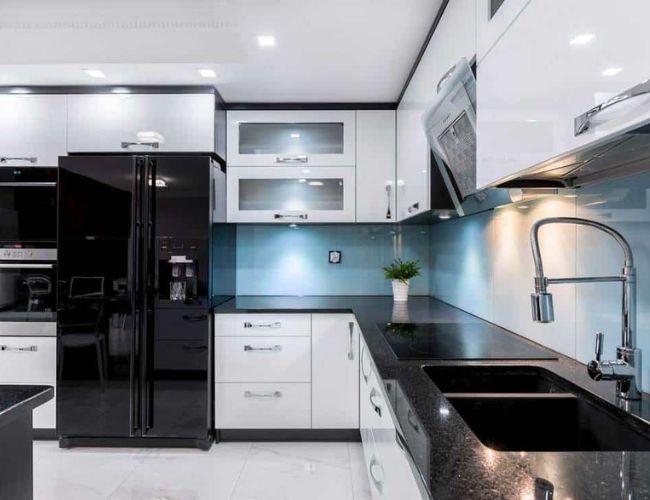 Perhaps more of an unconventional choice, purple brings subtle elegance to a kitchen space. Avoid a super matte finish to cabinets if you have matte black appliances as this can overwhelm the room and lose any depth present.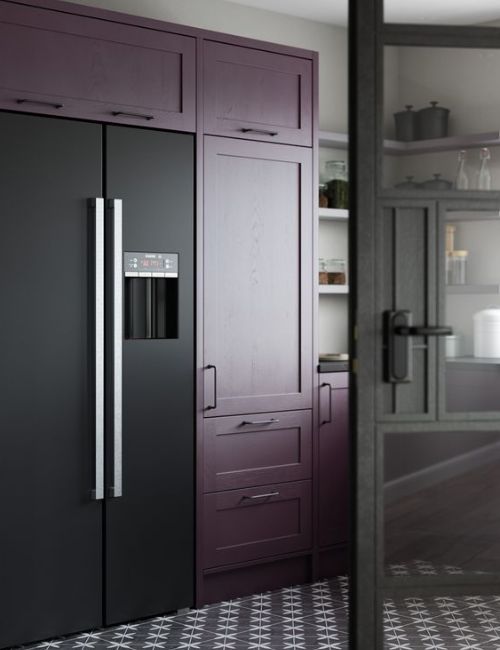 Frequently Asked Questions (FAQs)
Are Black Appliances Outdated in 2022?
Black appliances are only growing in trend and are now considered a contemporary classic style for kitchens. Their ability to seamlessly fit in with a whole variety of styles and colour schemes make them a popular option for those wanting to steer away from the more typical white or stainless-steel options.
What are the Best Colour Cabinets for Black Stainless-Steel Appliances?
For a timeless pairing, black stainless-steel appliances work well with dark oak cabinets as the rich, chocolate tones flatter your kitchen essentials resulting in a sleek, elegant look. Natural woods add depth and dimension to a space, maintaining aesthetic appeal and texture.
How Can I Brighten My Kitchen With Black Appliances?
Opt for light colours such as whites, pale greys, and creams if you want to create a bright and airy space. If you prefer more colour, pale blues and greens will also have a brightening effect whilst keeping things more visually interesting.
Black kitchen appliances should be considered just as much as white or stainless steel counterparts as they offer modernity to a kitchen space. With a wide range of suitable colour schemes for black appliances, they'll be sure to stand the test of time!