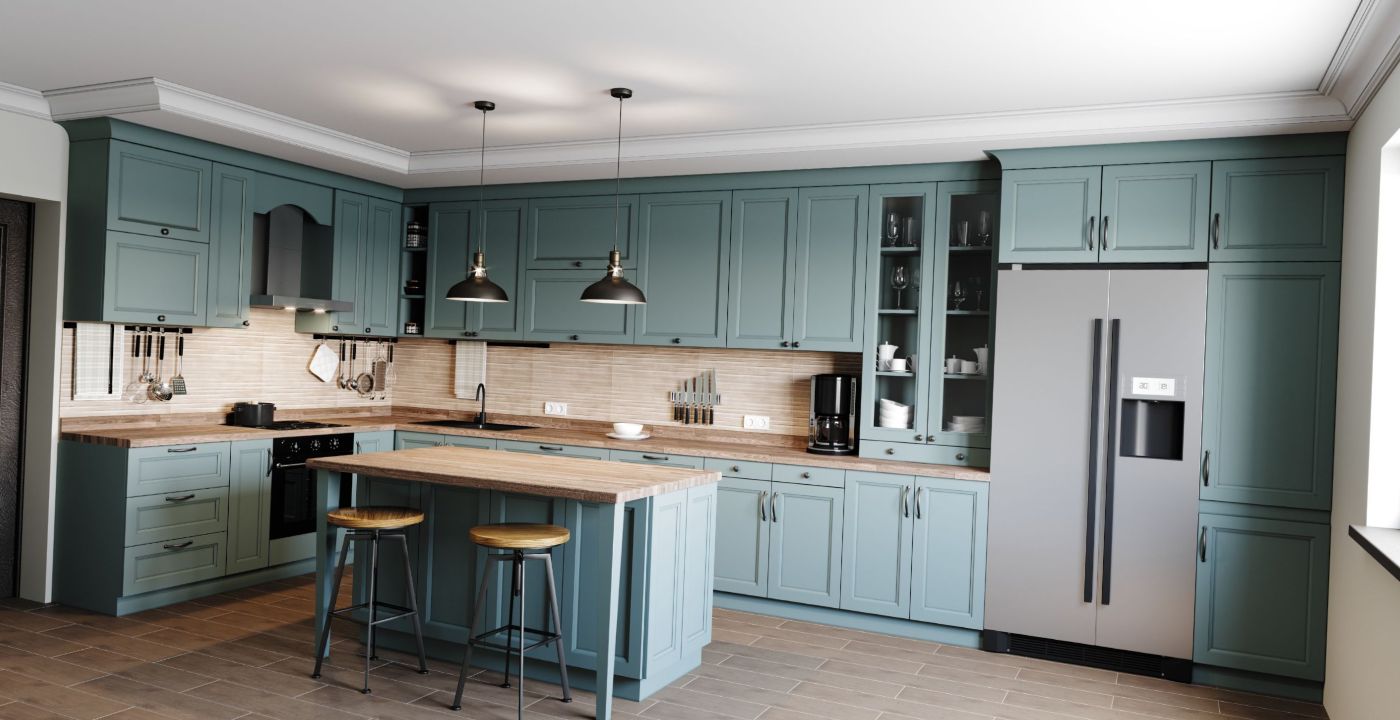 Turquoise is a quirky but versatile shade that adds a real pop of colour to any kitchen space it graces. If you like a relaxed, beach-like vibe, then using turquoise is a great way to achieve this. Although definitely a more unique style, turquoise kitchen cabinets are becoming increasingly popular and are high on the list of 2023 kitchen trends. 
There's no doubt that turquoise can be a tricky colour to execute well in the world of interior design, so it's only natural that you might be approaching this trend with apprehension. Put the panic to one side, though, as we're here with 15 top colour schemes to pair with your turquoise kitchen cabinets.
Top 3 Turquoise Cabinet Paint Schemes
Why are Turquoise Kitchen Cabinets Popular in 2023?
Turquoise kitchen cabinets are trending in 2023 because they bring a unique combination of colour and style to a space. A colour that not only adds vibrancy, but also has a soothing quality to it, turquoise is a great choice for those wanting to really add a touch of personality to their kitchen.
Additionally, the beach atmosphere that more distressed turquoise kitchen cabinets can evoke in the space is very popular, and it can easily create both a relaxing and inviting atmosphere in your kitchen. Whether you're looking for modern or rustic turquoise kitchen cabinets, this shade is perfect for freshening up your heart of the home.
15 Colour Schemes for Turquoise Kitchen Cabinets
1. White and Turquoise Kitchen Cabinets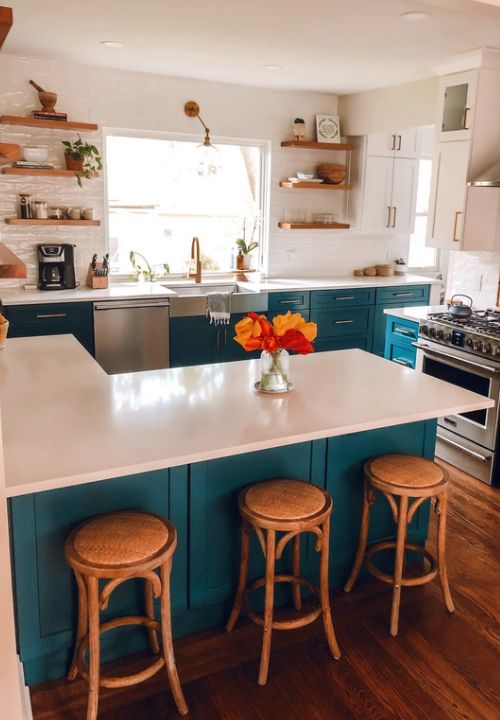 If you're looking to design a kitchen that's truly timeless and long-lasting, then pairing turquoise cupboards with white is a great choice. Fresh and inviting, let your cupboards do the talking by keeping the walls and countertops white. This is a modern classic colour combination.
2. Turquoise Cabinets and Copper
Combine the coolness of turquoise with the comforting warm notes of copper to create a unique but balanced space. Using copper touches (such as a splashback) throughout your kitchen will create a contrast for an inviting and balanced space. Copper tones are highly versatile, adding a luxurious touch whilst lending themselves well to both modern and rustic homes, alike.
3. Turquoise Cabinets and Black
Bring a touch of drama to your bright turquoise cabinets by adding black to the colour scheme. This really is a statement look, and not one for the faint-hearted, but there's no question that it will create a wonderfully striking kitchen space. If you like the colour scheme but find it overwhelming, then an alternative is to try using black, patterned wall tiles to add some texture. To complete the look, keep kitchen appliances black, too.
4. Grey with Turquoise Cabinets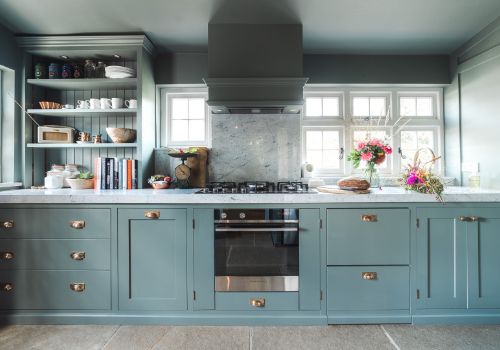 Keep your kitchen space tranquil by using a grey and turquoise kitchen colour scheme. Grey is a modern-day neutral tone that will help to create a gentle and calming backdrop for the bolder turquoise cabinets. As well as adding grey to the walls, you could also consider using the shade on the floor, too.
5. Turquoise Cabinets and Yellow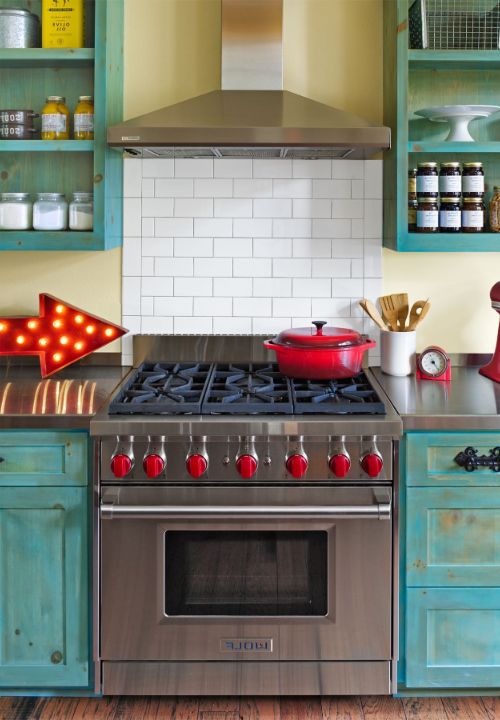 Keep it light and playful by adding a splash of yellow to your turquoise kitchen. Giving all the retro vibes, yellow walls are going to create a fun, casual kitchen environment as well as being a real talking point when you've got guests to entertain. The warmth of the yellow keeps the space feeling inviting.
6. Pink with Turquoise Cabinets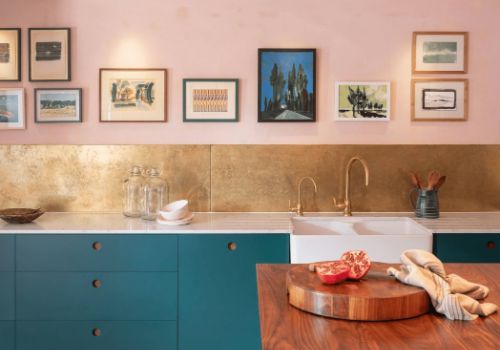 Keep things pretty in pink by using this delightful shade with your turquoise kitchen cabinets. We love the soft, whimsical nature of this dusky blush shade that offers delicate contrast against the bold turquoise cupboards.
7. Turquoise Cabinets and Green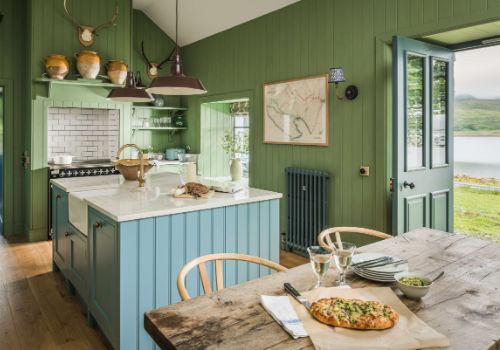 If you want a colour scheme that feels fresh, pair your turquoise kitchen with a shade of green. Not only will this colour combo evoke feelings of nature, but using green also gives a subtle contrast that gently blends the colours for a more seamless style. Use silver or gold hardware to give this colour scheme a lift.
8. Navy Blue and Turquoise Kitchen Cabinets
Keep things feeling calm with a combination of blues. Turquoise creates an almost nautical theme when paired with navy. Keep the navy off the walls to avoid overwhelming the space but utilise it in splashback tiles around the sink area, or even as an island feature colour, to create a serene space overall.
9. Orange with Turquoise Cabinets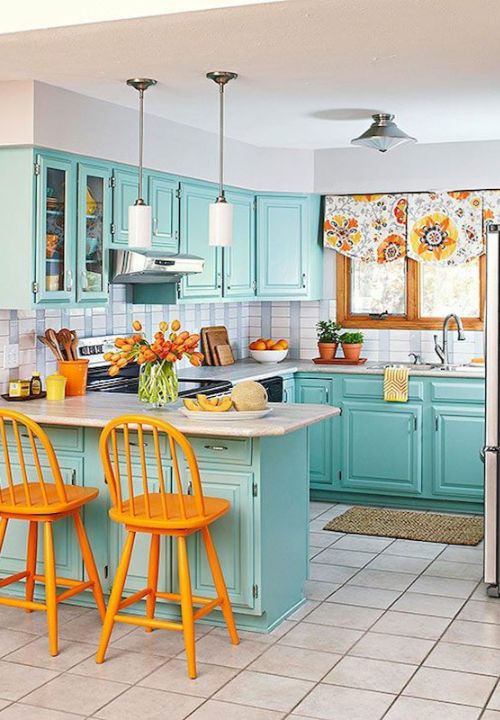 For a vibrant and energetic kitchen space that has a touch of the tropical about it, try adding orange to your turquoise kitchen cabinet colour scheme. Whilst this isn't a colour scheme for those wanting a more relaxed space, it's certainly one for people wanting to feel refreshed and invigorated when they walk into their kitchens! If you're keen on adding orange to the walls, use it as an accent colour on bar stools and accessories.
10. Turquoise Cabinets with Purple
If you're looking to add a vintage vibe to your kitchen, then try pairing purple and turquoise together. Offering a fun, playful design, this kitchen style will feel both kitsch (in a good way) and inviting. We'd recommend adding a colour pop or two, such as yellow, through countertop accessories to ensure the addition of a little more depth.
11. Turquoise Cabinets and Red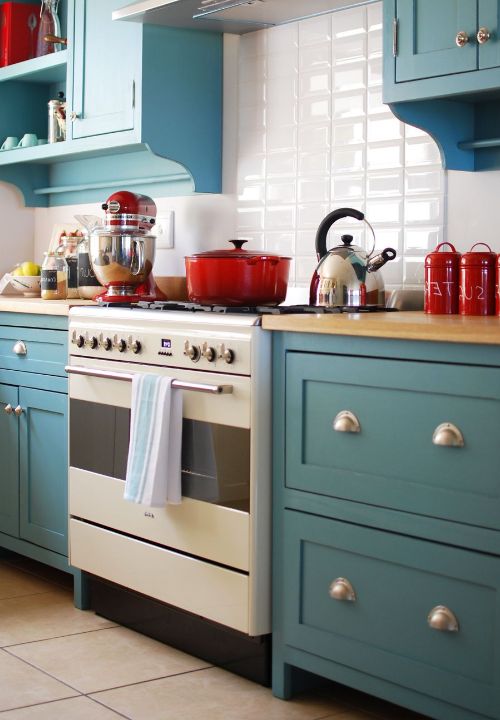 Turn up the heat and create a real contrast of colours with a red and turquoise kitchen. Whilst you could use paint or tiles on the wall to add warmth, you could also add red through accessories as a more subtle nod to the colour combination, instead.
12. Aqua and Turquoise Kitchen Cabinets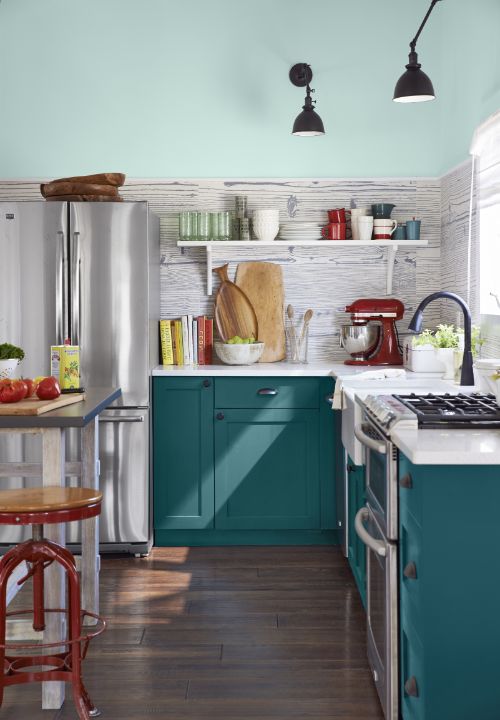 Opt for differing tones of the same colour with this turquoise and aqua kitchen. Using a lighter shade on the walls enhances the deeper tones in the cupboards, allowing them to stand out more. The blue notes within these shades creates a calm, peaceful space that has a touch of individuality to it.
13. Distressed Turquoise Kitchen Cabinets and Brown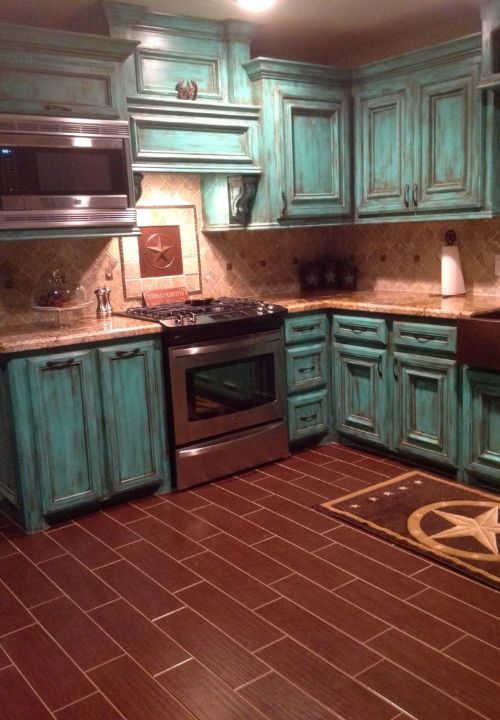 Rustic-style kitchens with turquoise cabinets (especially distressed cabinets) look great paired with a warm, earthy brown tone. Not only does this shade act as a neutral base for the cupboards but it also adds depth. If you feel that brown would overwhelm your kitchen if added to the walls, then you could choose a brown flooring instead. Utilise natural wood throughout the kitchen to continue adding brown tones to the room.
14. Turquoise Cabinets and Beige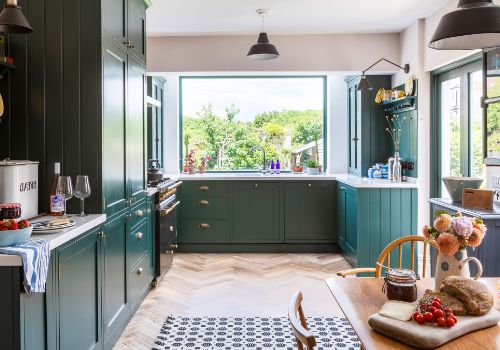 For a timeless, elegant interior design style, choose a beige and turquoise kitchen cabinet colour scheme. A more sophisticated neutral compared with white and cream, applying beige to the walls will really help your cabinets pop whilst adding a delicate warmth to the space.
15. Turquoise Cabinets and Metallic Shades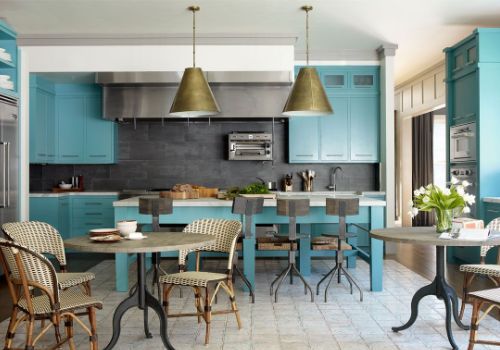 Bring a touch of glamour to your bold kitchen cupboard choice by adding metallic tones of gold and silver to the space. You can, of course, choose one or the other of these metal shades, but for a more contemporary look that brings luxury to the kitchen, try combining both. Add these shades to areas such as the sink, lighting, taps, door handles, and even splashbacks.
Turquoise kitchen cupboards are a fun addition to your kitchen space that work well for those looking to add a pop of colour. Whilst there are many ways to incorporate colour into your kitchen, choosing turquoise cabinets is a more unique take that can underpin many a striking colour scheme.
Whether you're looking for a timeless and classic look, or a bold and dramatic statement, there's a turquoise kitchen cabinet colour scheme that will suit your style. With turquoise kitchen cabinets becoming increasingly popular in 2023, if this is a style you've always admired, now is the time to try it!