When it comes to kitchen design, colour plays a crucial role in creating the overall aesthetic of the space. One trend that's becoming increasingly popular in 2023 is the use of forest and dark green kitchen cabinets.
These rich and earthy hues add a sense of warmth and natural beauty to any kitchen, making it a cosy and inviting space for cooking and entertaining. In this post, we will explore 15 different forest and dark green kitchen cabinet colour scheme ideas to inspire your next kitchen renovation.
But first, though, just why exactly is dark green such a popular shade at the moment?
Why are Dark Green Kitchen Cupboards Popular Right Now?
Forest and dark green kitchen cabinets are becoming increasingly popular in the interior design world, especially in 2023, for a variety of reasons. Green is often associated with nature and sustainability (an understandably important issue at the minute) and can create a calm atmosphere that many people desire in their kitchen spaces. 
Forest and dark green tones also work to create warmth in the room, making it feel cosy and inviting. Its versatility makes it hugely appealing to those redesigning their kitchen space and the use of dark green kitchen cupboards offers a modern alternative to the more commonly-used navy kitchen cupboards we often see.
Dark Green Kitchen Cupboard Paints (Our Favourite Shades)
If you love the look of a forest green kitchen, but don't love the cost of installing a whole new one, then why not try painting your existing cupboards? It's fun, easy and much more inexpensive than an entire kitchen refit. Below, we've listed our favourite shades of dark green so you can recreate the look yourself:
Stunning Dark Green (and Forest Green) Colour Schemes
1. Forest Green Cabinets with Light Green Walls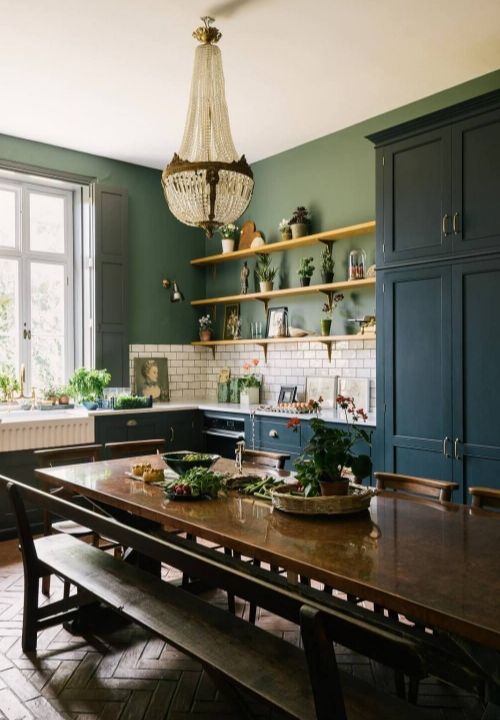 To maintain a relaxed, natural look in the kitchen, pair forest green cabinets with light green walls. This potent combination creates a contrast that makes the space feel refreshed, yet at the same time tranquil.
2. White and Forest Green
For a crisp, clean style, introduce a white wall to your kitchen with forest green cupboards. Not only will it brighten and open up the room, but it will ensure all eyes are on the cabinets, making them pop against the pale wall.
3. Forest Green and Beige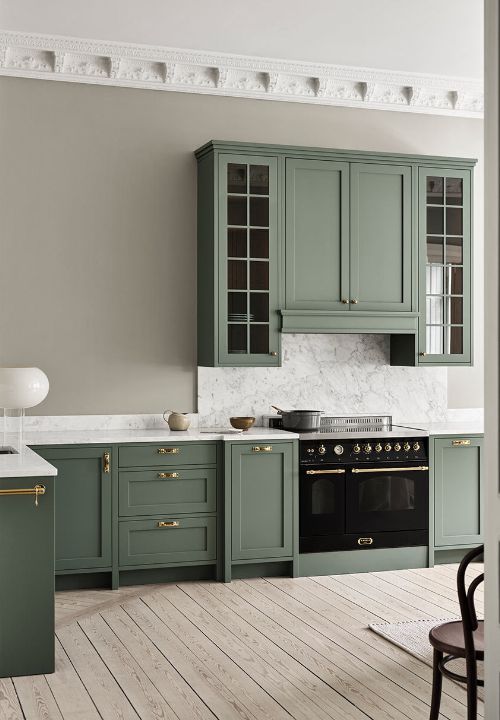 Warm up your kitchen walls with a splash of beige. This is a useful way of contrasting against cooler-toned dark greens that adds a cosy, inviting twist. Beige is the perfect, contemporary alternative to white whilst still retaining a classic, neutral edge.
4. Slate Grey and Dark Green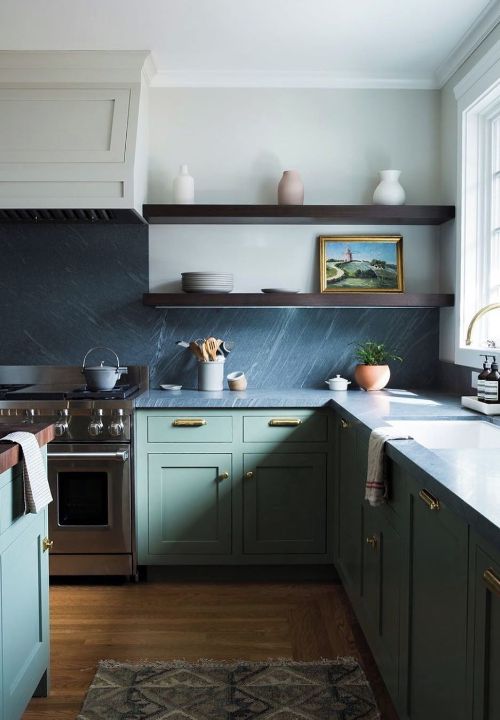 The cool tones of dark forest green work in complete harmony with the warm tones of slate grey. This balance makes for a sophisticated and contemporary kitchen space that offers an unusual twist on more frequently-used neutral colour patterns. As well as adding grey to the wall space, you could even consider using grey flooring to further enhance the green cupboards.
Black walls, countertops, appliances and splashbacks will create a bold, dramatic look; note, however, that it can be overwhelming in rooms that lack natural light. Don't be afraid to use darker shades in smaller spaces – contrary to popular belief, black walls can actually make a space feel larger rather than smaller.
6. Forest Green and Cream
Forest green cupboards work well with cream in a kitchen because the deeper, warm tones of the green cabinets provide a nice contrast to the lighter, neutral tones of the cream walls. This creates a more cohesive look to the space overall. Additionally, the cream walls help to brighten up the room, allowing the cabinets to stand out more.
7. Navy Blue and Dark Green
Navy blue walls offer a more elegant alternative to paler blue shades. If you are after a dramatic, darker style, but one that still offers more softness than the harsh tones of black, then this is a rich and elegant colour combo that will bring a striking aesthetic to your kitchen space.
8. Yellow and Forest Green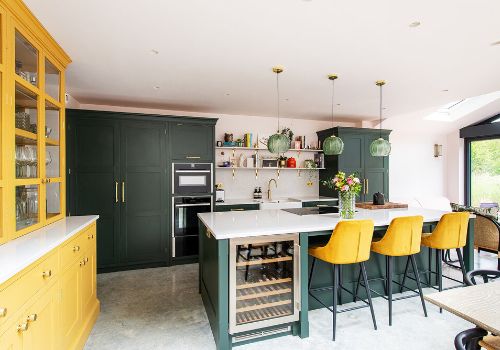 Yellow walls will help give your kitchen a cheerful and happy look that will complement the dark green cabinets nicely. If you aren't keen on adding yellow to the entire wall area, then consider creating a feature wall or yellow accessories for a brightening effect that adds a fun pop of colour.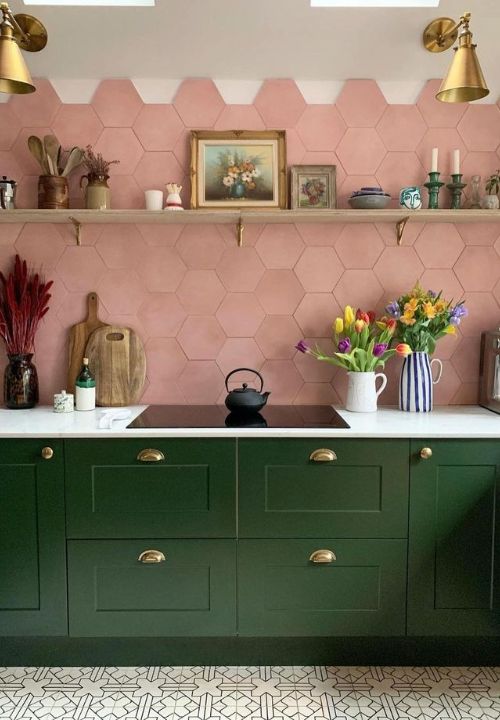 Combining pink with dark green helps give a playful and feminine look to any room, but particularly a kitchen. Dusky pink works especially well with forest green as the muted tones in the pink offset the more intense shades of the green to create a style that's visually exciting, but also one that remains balanced.
10. Purple and Forest Green
Purple will create a rich and elegant look when paired with forest green cabinets, but be warned: it's a bold choice and, if executed poorly, can certainly look odd. If done well, though, it can make a unique focal point of your kitchen. So, if you're willing to take a bit of a risk, then purple and forest green could well be the colour combo for you!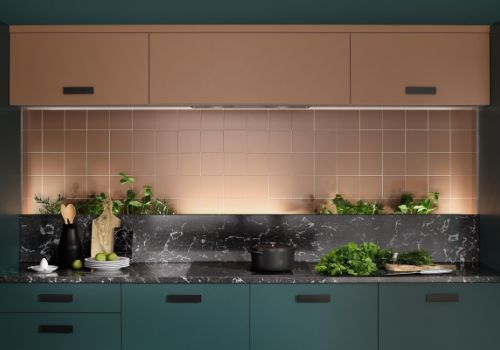 Whilst brown might not be your first choice to add to your kitchen colour scheme, there's no denying that it perfectly complements dark green cabinets. Providing an unusual contrast with plenty of warmth, this colour combo gives just the right ingredients for a kitchen that's both cosy and inviting!
12. Forest Green and Gold
Adding gold to your kitchen colour scheme is both luxurious and sophisticated, giving a premium finish. Although you might not want to paint your kitchen walls in gold, you could add a gold wallpaper to create a feature wall behind a breakfast table. Keep all hardware in the room gold and create a gold feature splashback behind the sink to continue this opulent theme throughout.
13. Silver and Dark Forest Green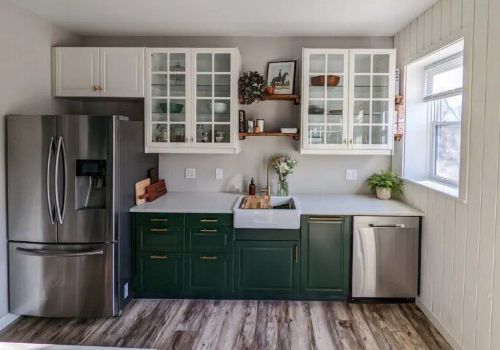 If gold isn't your style, then silver will work just as well, as the cooler metallic tones offer a sleekness that gold can't provide. The contemporary nature of this colour will help to bring your kitchen that feeling of modernit without losing the natural ambience that those forest green shades introduce.
14. Copper and Dark Green
For a warm, metallic edge, try using copper. We'd recommend using this colour subtly to avoid the look becoming tacky in any way. A copper painted border on white paint with matching accessories would be the perfect way to create this colour scheme with dark green cabinets.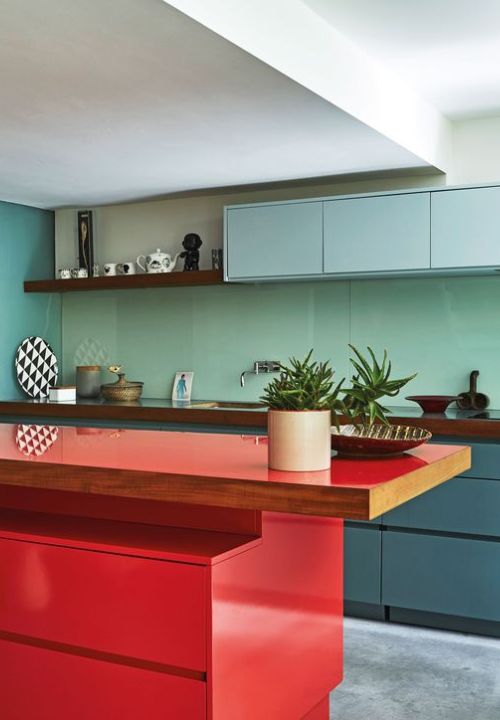 Turn the heat up in your forest green kitchen with a splash of red. This bold shade injects some energy into your space that feels both playful and inviting. If you don't like the idea of adding this to your walls, you could always add a feature island, like this image shows, or add in red accents through the addition of accessories.
Dark green kitchen units are a growing trend in interior design, evoking a warm and inviting atmosphere in the kitchen. This colour choice is popular for its association with nature, sustainability, and versatility in complementing various design styles.
Additionally, it can be paired with other colours to achieve unique looks. Although the colour is versatile, you'll want to consider the amount of natural light and overall design style to ensure a harmonious kitchen space that doesn't become overly dark.