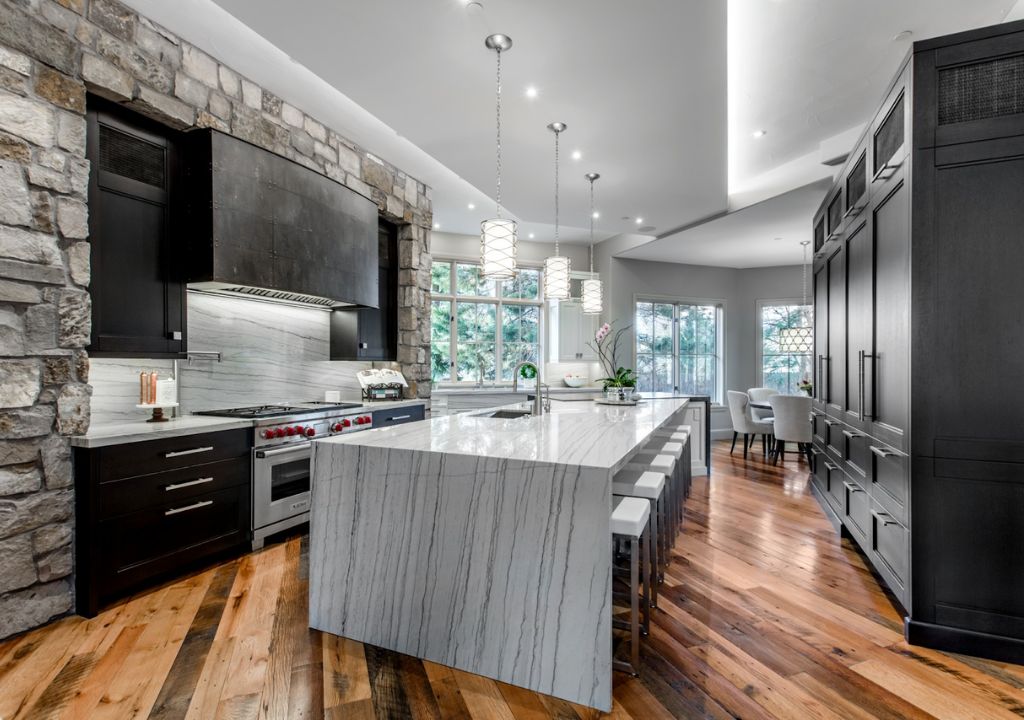 Whether your style is a classic Georgian design or a cutting edge, contemporary talking point, then dark cabinets in your kitchen will make a huge impact and have your friends scrabbling for their paint brushes!  
Dark cabinets simultaneously create warmth, drama and intrigue and have so much more personality than their more neutral cousins. Choosing other colors to decorate with alongside your dark cabinets can create a myriad of effects. So, depending on what ambience you wish to achieve, read on and we'll give you our 25 best color schemes.
Using the same color on the wood paneled splash back gives this kitchen a Nordic, wooden cabin feel.  To stop it becoming too intense, it's matched with a white work surface and sink and lit brightly with downlight pendants. Using a glass-fronted cabinet also breaks up the block effect. The beautiful, deep blue is perfectly complemented by the wooden, rustic chopping boards hanging on shaker pegs.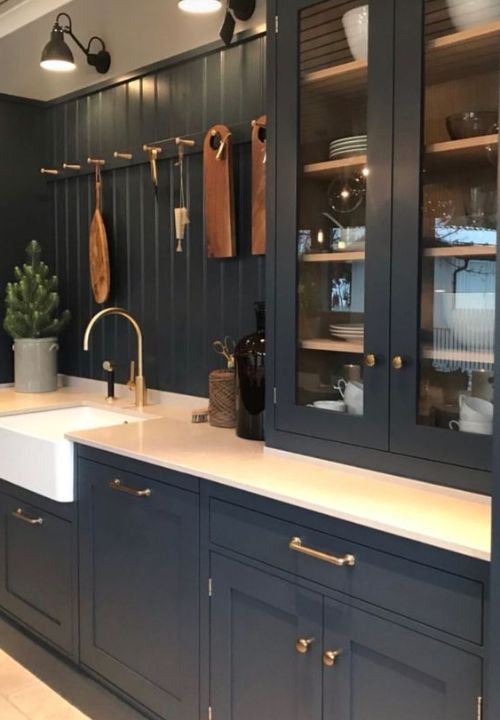 Dark kitchen cabinets offer the perfect foil for a decorative splashback. Opt for a contrasting color in a warm tone – rust is the current color of choice. It can be decorative tiles, coloured perspex or even textured paint. This large, open kitchen allows for the splashback to fill the whole wall, up to the shelf, and due to the amount of natural light available, it becomes a real feature. If you have a smaller space, then you may wish to scale it back somewhat and introduce some focused lighting to really set it off.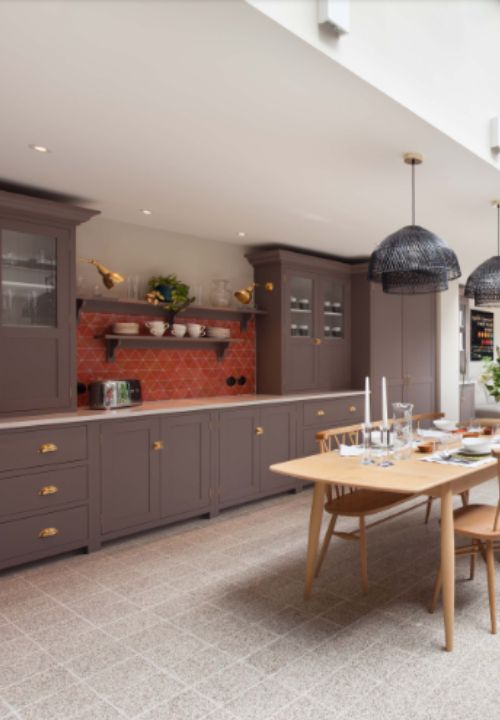 Look to the natural world for inspiration to create a color scheme that's both soothing and classical. Here, the green with off-white echoes color combinations seen in plants, flowers and trees in bloom. Avoid brilliant white, opting instead for that warmer off-white shade. This color scheme works wonderfully with burnished wood floorboards.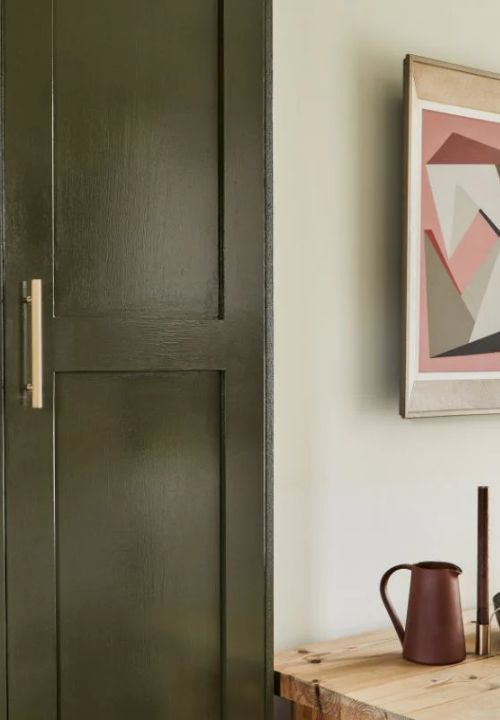 This charcoal kitchen is lifted by pale work surfaces and floor. There are also lots of glass-fronted cabinets which help to soften the impact. The large island features a striking wooden surface and contrasts beautifully with the rest of the scheme. Introduce some jazzy bar stools for an uber cool overall vibe.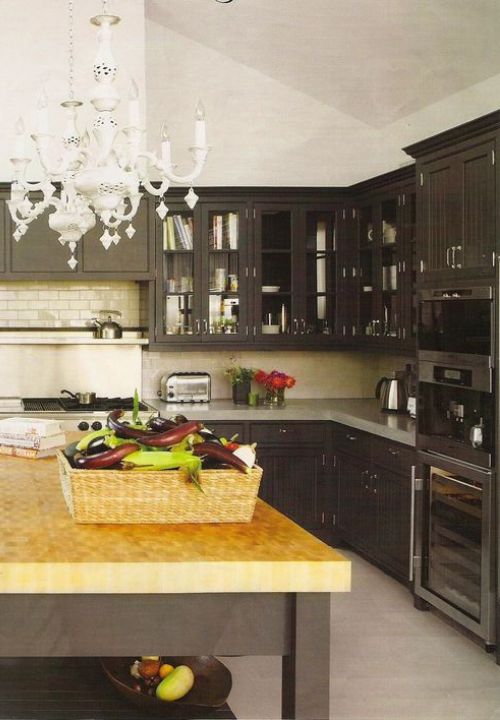 Deep blue, matte cabinetry is matched with white washed floorboards and rafters, here. A feature copper sink and taps, along with a vintage clock, transports us to the charming depths of rural France. You can almost smell the croissants baking!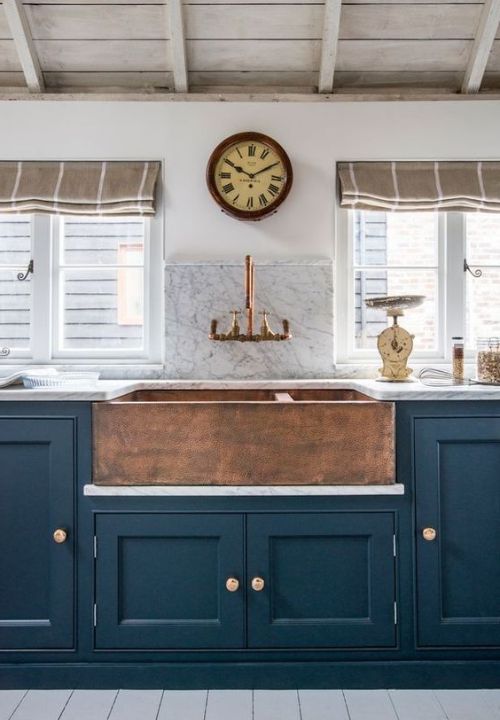 How brave are you feeling? This moody kitchen is achieved by using the same paint on the kitchen units, walls and crucially, even the ceiling. Even the shelf has been incorporated into the scheme to give a seamless, designer look. White accents from the sink, work surface and the touch of a floral accent really set the whole scheme off. The antique, polished floor saves this kitchen from feeling too cold and clinical.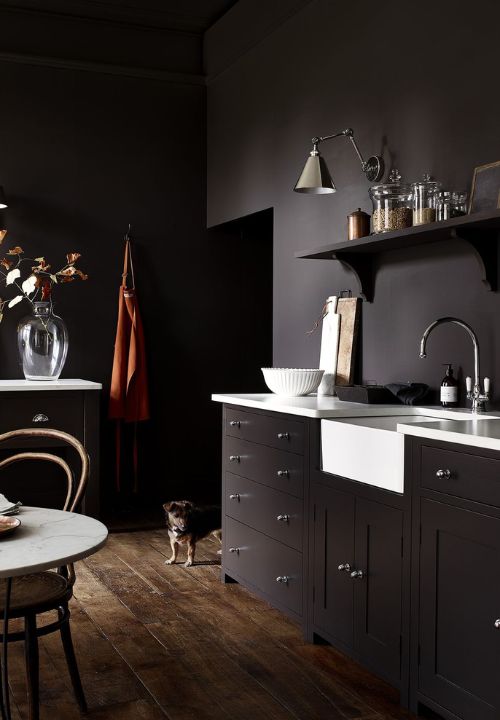 If you need some inspiration for kitchen color ideas with dark cabinets, then how about going for a decorative splashback in a contrasting color to your units? Then, pick out the same hue in your floor, blinds or tea towels. This creates a cohesive, thoughtful look that truly stands the test of time.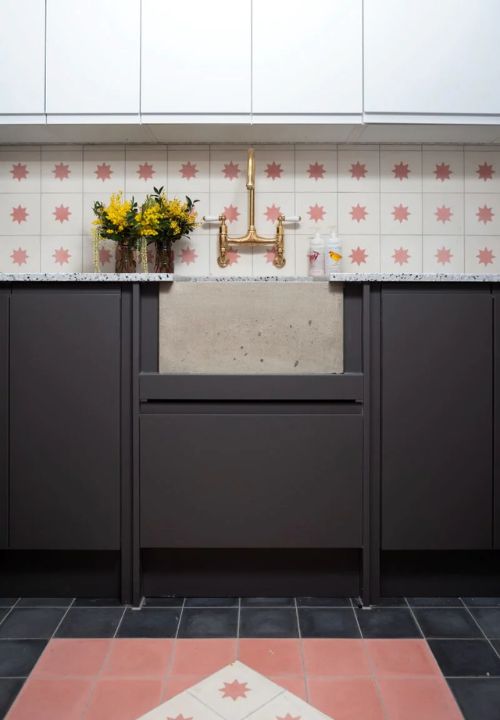 This color combination is a classic and creates a calm, unfussy (yet still designer) finish to your kitchen.  The lack of wall cupboards here helps to keep the space airy and light – as does the large bay window.  By using a contrasting, wooden island and traditional stove the effect created is both warm and comforting, and not cold.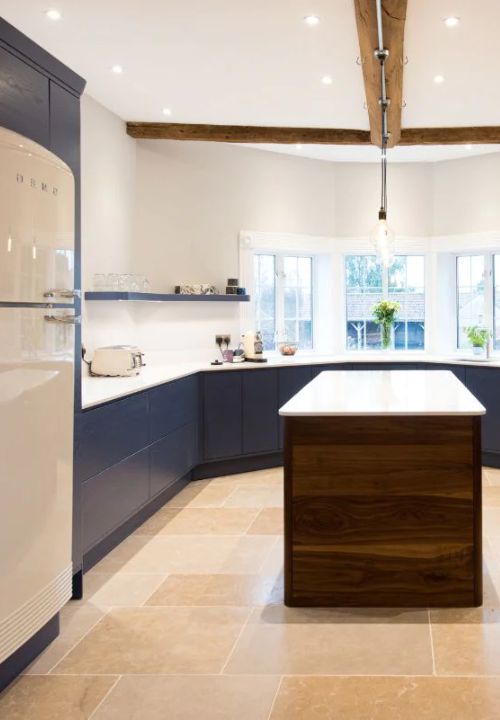 When designing kitchen color schemes with dark cabinets, introducing different textures can be a sure-fire way to achieve a more pleasing finish. Combining rustic wood, marble-effect paintwork and a vintage Berber rug all contribute towards creating what is an immensely striking kitchen here.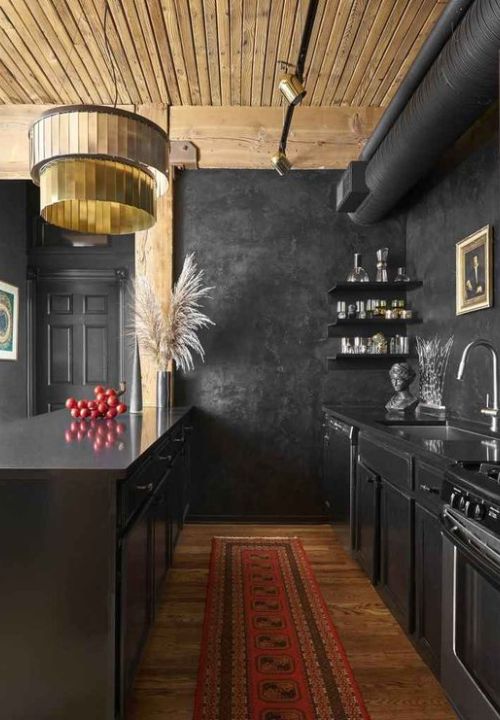 If, as someone who loves country living, you've been mulling over what the best kitchen colors with dark cabinets are, then mull no more! This dark blue is lifted by a white ceiling, work surface and sink. Rustic beams and the country-style stool complement the color perfectly, whilst a space for logs enhances the cozy feel. The end result? The ultimate rural, hygge escape.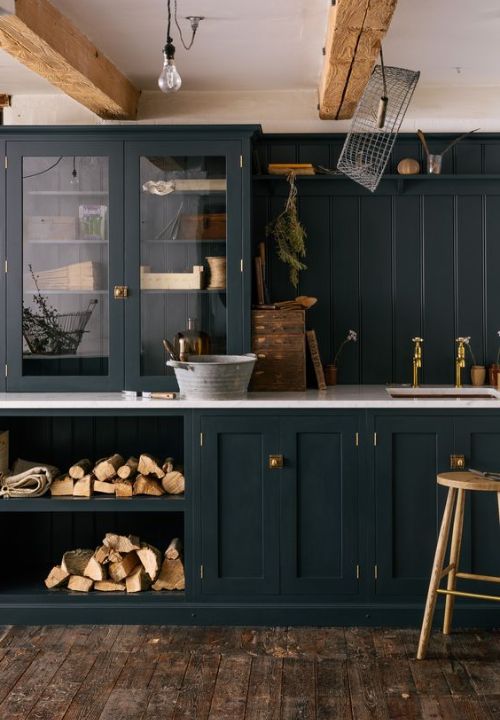 If you really want to stand out from the crowd, then why not be bold and go for an eye-catching, contrasting color or colors to your dark cabinets? This is also a really good way of keeping your kitchen modern and up-to-date. In the above photo the oh-so fashionable pink is painted on the walls, whilst it's paired with a gray ceiling just to really round off the design.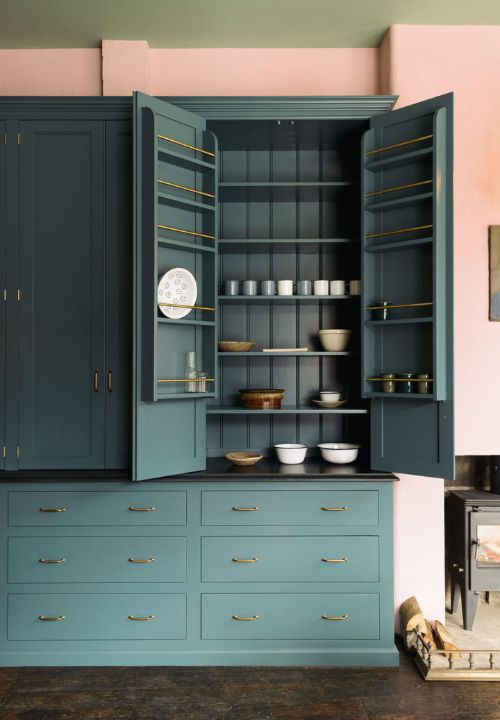 If you're searching for a sophisticated, brighter look, then try pairing your dark cabinets with reflective materials. This room takes advantage of the abundance of natural light flooding in by using a high-gloss work surface, glass lamp shades and glass-fronted cabinets.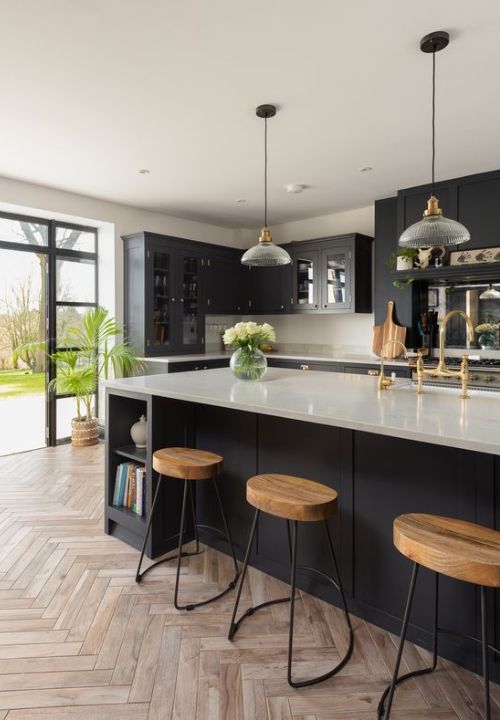 Create an urban dream by combining metro tiles with a dark-hued kitchen. This style works well in a smaller apartment where you might not have much (if any) natural light in the kitchen area. Use a large mirror or fake window in place of the view to help really maximize that illusion of space.
Just because your kitchen is on the small side doesn't mean you have to stay clear of dark kitchen color schemes. Promoting a feature of a smaller room by using a dramatic color can be a stylish way of making a small kitchen more exciting. Go for an unfussy, simple scheme and use some open shelving instead of a unit to enhance the space, rather than close it off further.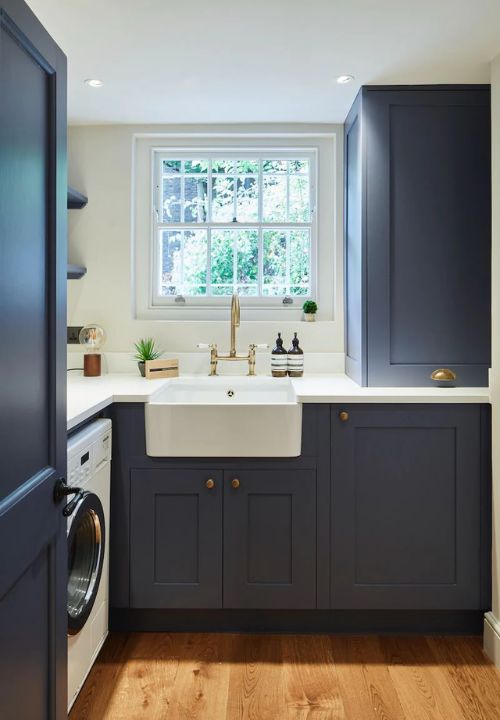 A dark kitchen doesn't have to be dull. In fact, far from it! Choose some beautiful, highly decorative tiles and copper kitchenware to set off your dark kitchen cabinets. These vibrant, hand-made tiles set off the burnished copper beautifully and bring alive the charcoal-painted cabinetry.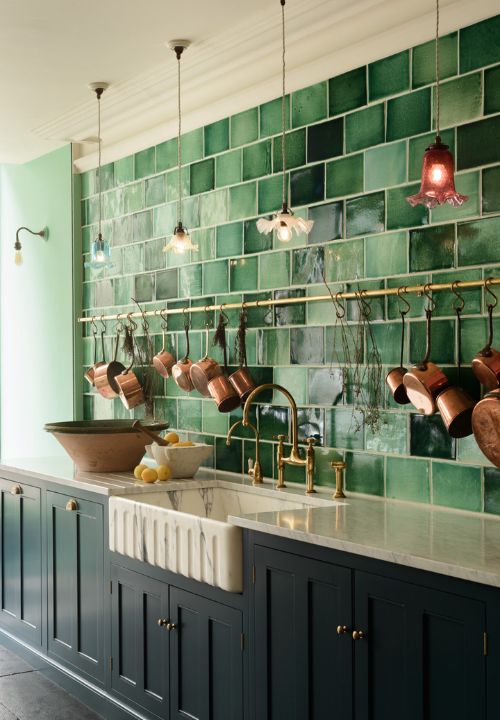 If you're stuck for ideas on wall colors for kitchens with dark cabinets, then why not take inspiration from history? This color combination of deep red and pale yellow was a favorite amongst the Georgians and looks as fresh, today, as it did back then. The use of mirrors here really helps to make the most of the light, too.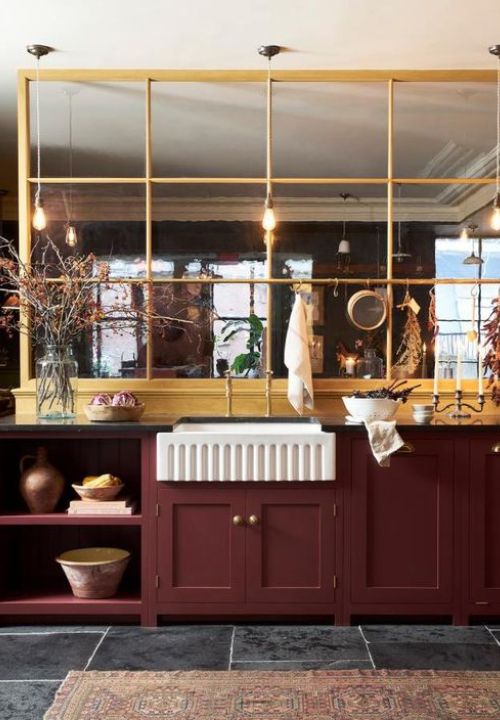 The same color kitchen paint with dark cabinets can look very effective as illustrated in this chic kitchen above. Using contrasting patterns on the floor and introducing pops of color throughout ensures that the whole scheme is lifted to a designer level.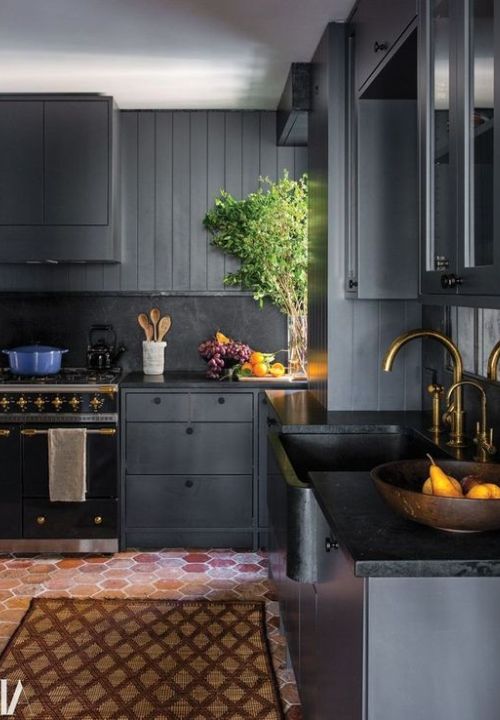 A mixture of dark, modern cabinets and classy wood can create a sophisticated space worthy of any Manhattan apartment. Keep the units sleek by choosing handle-free doors and keep clutter to a minimum to ensure that streamlined, minimalist feeling prevails.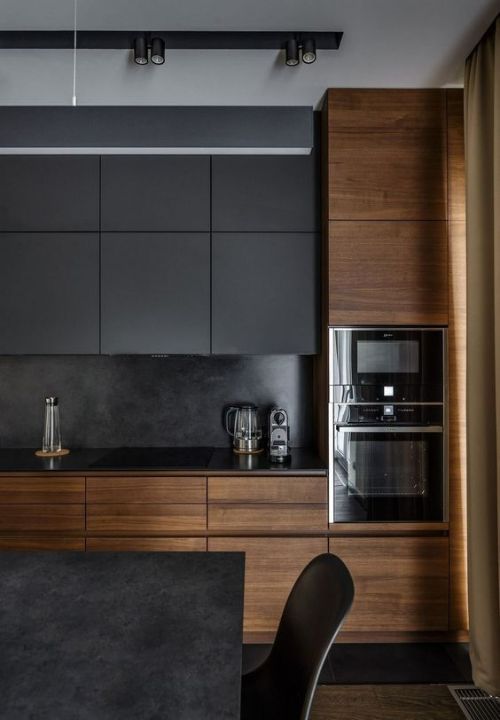 Green kitchens really are in-vogue, so why not go for it with the same kitchen wall color with dark cabinets? The overall impact really makes a splash and will be the envy of your dinner guests. Use lots of pictures on the walls and incorporate a contrasting wood to soften the edges. This color scheme works better with kitchens that have a plentiful supply of natural light. Otherwise, it can become somewhat oppressive.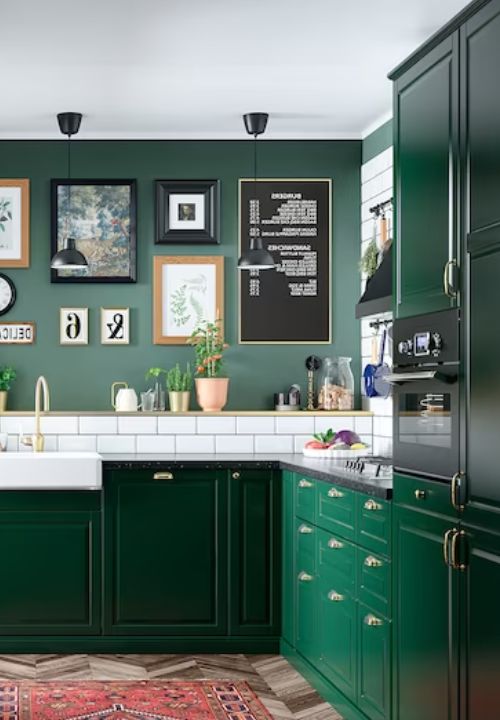 It doesn't get much more dramatic than black and white. By sticking to these two colors, this kitchen becomes a stylish place to enjoy a cocktail or two, and obtains a timeless feel that will never go out of style. Using a patterned tile splashback and lots of white decorative pieces helps introduce further visual interest.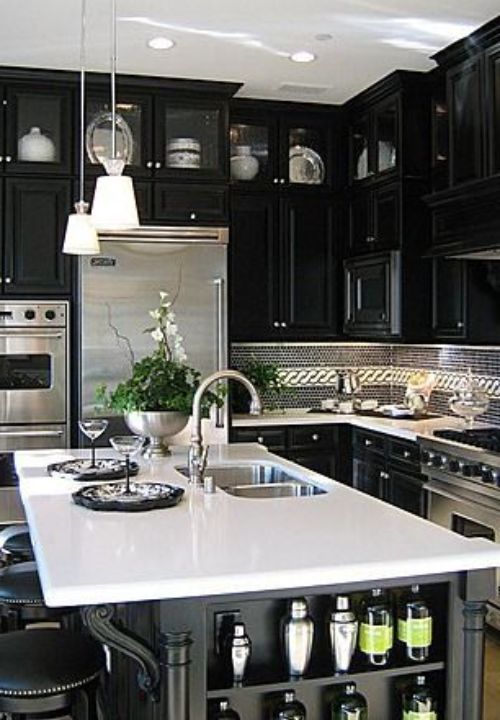 If you're not ready to take the plunge into a completely dark kitchen, then why not opt for something that's half and half? The dark wood island, sink and floorboards here really complement the long swathe of white units running the length of the kitchen. This is perfect for those properties which are a bit older and come with a bit more character (like the exposed beams in this example), as it offers them a chance to both modernize and retain their aged charm.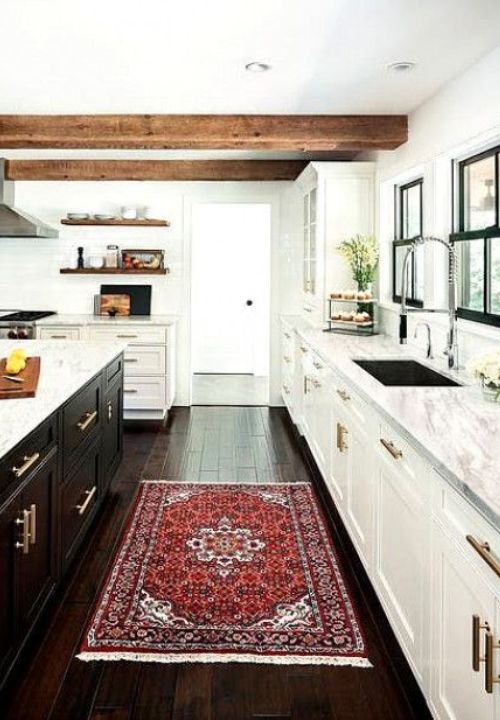 To avoid a dark kitchen becoming overbearing, remember to think simplistic and pare down the number of units and doors you actually need. If you're lucky enough to have a pantry, then this look works well for you. Wood on the walls and a concrete work surface give this kitchen a pleasing, utilitarian air. With so much technology available to us these days, and the sheer quantity of "stuff" we have, dialing it all back can be refreshing.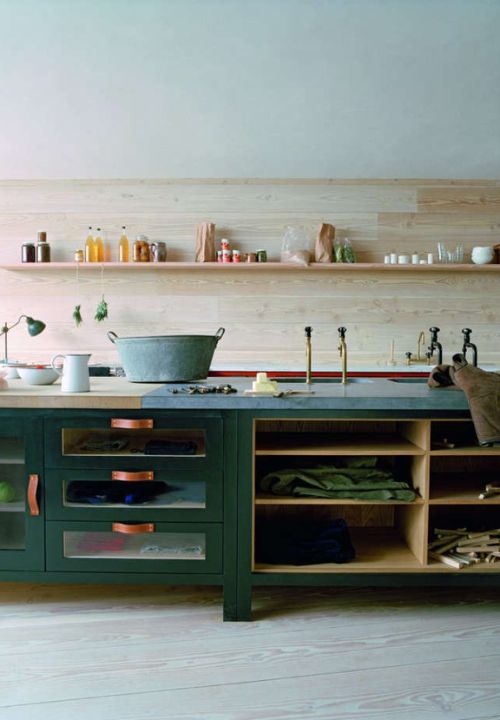 Dark and funky kitchen cabinet colors are a perfect choice if you love the maximalist style of decorating.  You can be as colorful as you like and use bright patterns throughout the kitchen. Large tile motifs, vibrant, patterned blinds and eclectic rugs will show off your dark kitchen to perfection.
When considering what kitchen color with dark cabinets to go for, think about incorporating some gold or silver notes. Interior designer Kasia from Show me Design explains how it can add style to the space.
This beautiful, gold splashback really gives this dark kitchen a richness that can't be achieved in any other way.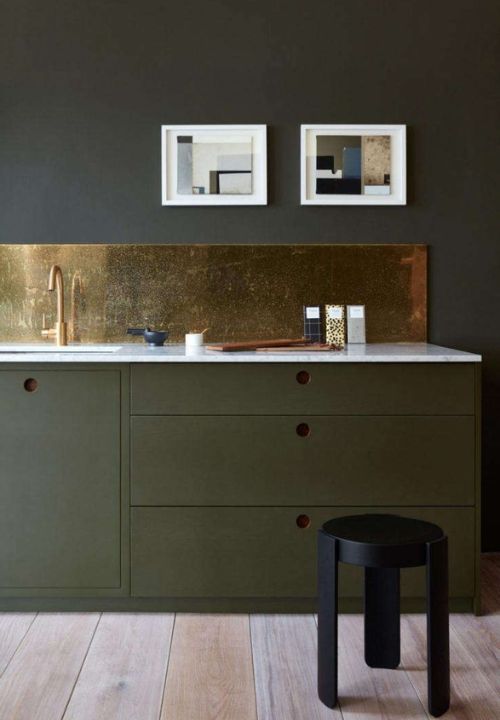 Stand out from the crowd and paint your cabinets your favorite, dark color. Off-setting dark kitchen cabinets wall colors by using a creamy off white tone will work every time.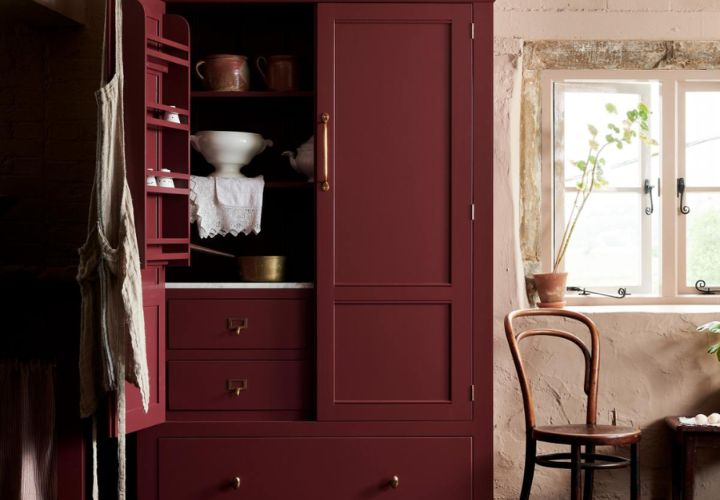 We hope you've found some inspiration here to look at your kitchen anew and think about the look you want to achieve. Even changing some small aspects like a feature wall or new door handles could transform your kitchen into a thing of beauty.