Stainless steel has long been the popular choice for kitchen appliances but white is making a comeback in 2023. White appliances offer a versatility that many other colors can't provide and can be paired with a wide variety of color schemes, but this level of choice can make selecting one feel overwhelming. 
If you have white appliances but are struggling to pick the perfect kitchen color scheme that works with these items, as well as your own personal style, then read on because we've got 21 incredible options – as well as few to keep clear of!
Our Top Three Kitchen Diner Ideas
1. Best for Unique Style | Lavender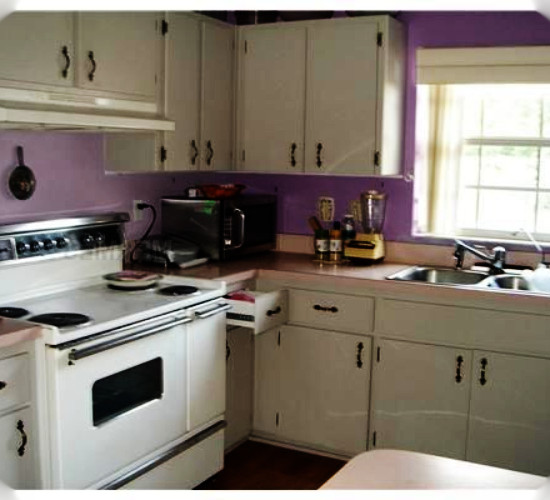 2. Best for Cheerful Tones | Orange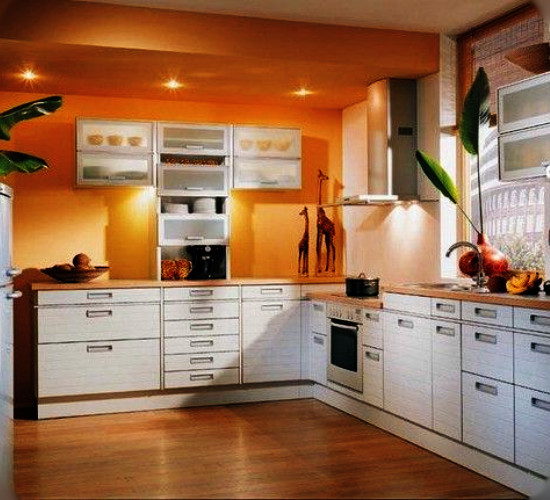 3. Best for Monochromatic | White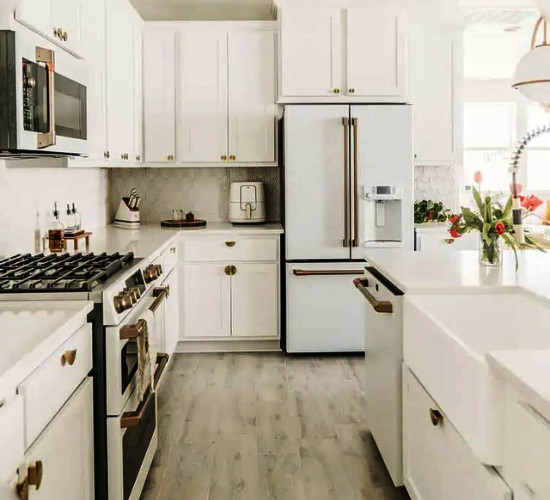 How Do You Choose a Color Scheme to Work With Your White Kitchen Appliances?
Choosing a color scheme to complement your white kitchen appliances will need you to take into account a few factors, including the style of your kitchen, the vibe you want to create, and your own personal taste. 
When selecting a color scheme, not only will you want it to work with your appliances but you should also think about the lighting and size of the room, as some colors won't work in darker or smaller spaces. 
Whilst these are all important aspects to consider, ultimately you should select a color scheme that you love as this is a space that you will be spending plenty of time in, so you need to like it!
21 Colors for Kitchens with White Appliances
A calming and serene color scheme, the pairing of sage green and white makes for a beautiful kitchen color combination. This timeless combo works well with natural textures such as wood, brick and rattan. If you're looking for a kitchen idea with white appliances that will stand the test of time, then sage green is a great option!
Keep pretty with a pastel pink color scheme that works well when paired with white appliances. Pink tones offer a cosy and feminine feel that offers a subtle color pop.
A light blue color scheme is a great way to create a calming and peaceful environment in the kitchen. Blue and white are a great color pairing so this will work well with white appliances in a more casual kitchen space.
For a kitchen color that works with white appliances and dark cabinets, try forest green. It's a sophisticated kitchen shade that offers a natural, earthy feel. It pairs well with white appliances because the deep, rich tone of the green creates a bold-yet-balanced look that adds both depth and texture to the space.
Inject some energy into your kitchen space with a bold and lively mustard yellow shade. This warm tone adds an inviting color pop to your kitchen that will work well when combined with white appliances.
A pop of teal color can add a refreshing and vibrant feel to a kitchen with white appliances. If you're looking for a color splash that has a more unusual feel to it, then this deep turquoise shade is great.
For a neutral and timeless color scheme, beige walls and cabinets with white appliances work perfectly together. Beige is a color that will stand the test of time, creating an effortlessly-striking space that offers a welcoming vibe.
Pastel yellow can create a cheerful and inviting atmosphere in a kitchen. The shade pairs well with white appliances because the soft, muted tone of the yellow complements the clean and neutral look of the appliances without competing with them.
Using an all-white kitchen color scheme can create a clean, bright, and timeless look that pairs perfectly with white appliances, helping them to blend seamlessly into the space. This all-white color scheme offers versatility, allowing other design elements to shine through.
Tan and wood kitchens with white appliances can add a sense of warmth and earthiness to the room. These caramel tones feel welcoming as well as creating a gentle contrast that helps the space feel defined but balanced.
Are there any Color Schemes to Avoid With White Appliances?
While white appliances can look stunning in any kitchen, choosing the wrong color scheme can clash with the clean and neutral look of the appliances. To help you avoid a color scheme faux pas, we've rounded up some of the shades to avoid:
Avoid pairing colors that clash or create a jarring effect. For example, if you have warm-toned appliances, avoid using cool-toned colors in the kitchen. Similarly, if you have cool-toned appliances, avoid using warm-toned colors. The contrast can be too strong and create an unbalanced or confusing look.
While bold red accents can add warmth to your kitchen, deep red colors like maroon or burgundy may not work well with white appliances. This pairing can create a stark contrast which feels jarring to the eye.
Bright, neon oranges can look appealing, but when paired with white appliances, they can be overpowering and create a disjointed feel. Instead, consider lighter, deeper or more muted shades of orange or peach that can provide a similar pop of color without overpowering the space.
With white appliances making a comeback in 2023, it makes sense to find a color scheme that will work cohesively with them to create a visually-appealing kitchen space. Whilst it can be hard to settle on a color for kitchen cabinets and walls with white appliances because there are so many to choose from, our extensive list shows that there is a shade out there for everyone. 
Remember to take into account the size and lighting within your kitchen space as well as your own personal preferences before settling on your perfect kitchen color with white appliances.