Off-white cabinets are an attractive choice for kitchens as they offer a versatile style that has a softer finish than harsher white tones. 
It can, however, be hard to choose the right color scheme for your off-white cabinets as this neutral shade is suited to most shades which can make choosing a color feel overwhelming. There are some colors that you will want to avoid too as pairing the wrong color scheme with your off-white cabinets will make the room feel unbalanced. 
We're here with 11 exciting color schemes that will work perfectly with off-white cabinets, and, don't worry, we'll let you know which ones to avoid, too! Read on to find out more.
In a Rush? Here's Our Top 3 Colors that Go With Off-White
1. Best for Earthy Warmth | Dark green
2. Best for an Injection of Happiness | Pale Yellow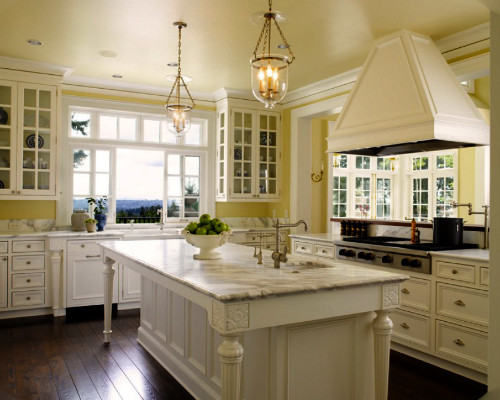 3. Best for Versatile Neutrals | Taupe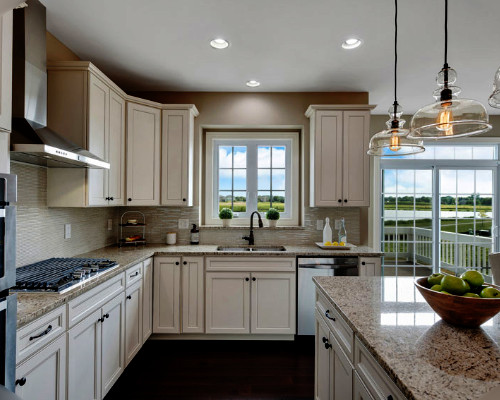 How Do You Choose the Right Color Scheme for Your Off-White Cabinets?
When it comes to choosing the right color scheme for your off-white cabinets, you will need to consider factors such as the style you want to achieve, the ambience you'd like to have, and existing décor. 
A good place to start is to decide on a main color or theme that you'd like your kitchen design to focus on and then focus on shades that work well with that and your off-white cabinets. 
We would always recommend taking into account the amount of natural light in your kitchen as well, as certain colors on walls and cabinets may be altered in different lighting conditions. Ultimately, you should choose a color you love but be sure to follow these tips to create a visually-appealing and harmonious space.
What Colors Go With Off-White? 11 Color Schemes
1. Off-White and Navy Blue
The pairing of navy blue and off-white is a classic color combination that will leave your kitchen looking highly elegant. Navy is a timeless shade that will add a chic pop of color to your kitchen with off-white cabinets, whilst also adding depth at the same time. The white will help to keep the space light and airy, making for a perfectly-balanced space.
2. Off-White and Dark Green
Add a freshness to your off-white cabinets with a dark green color scheme. The earthy green tones are lifted by the light cabinets for a more cohesive space, overall. Provide some texture with natural wood elements.
4. Off-White and Pale Yellow
For a warm, inviting shade that creates an appealing kitchen space, try pairing pale yellow with your off-white cabinets. This touch of sunshine will leave you with a casual room that still retains a lively energy within its core. One that lifts your spirits every time you enter! Use natural wood tones and gold hardware to add texture and dimension.
For a touch of drama and the creation of a striking kitchen space, introduce a black color scheme with your off-white cabinets. This high-contrast look will have depth from the black whilst the white will lift the space, to make it feel bright and open. This is also a great base combination for those who want to add in an accent color on top of these two shades.
6. Off-White and Pastel Pink
Pink is the perfect shade to add a soft, feminine touch to your kitchen space. Keep things sweet with pastel shades that will perfectly compliment the off-white tones in your cabinets, and finish with natural wood counter tops for some added depth. If you're looking for a more unique style from your wall color/off-white cabinet pairing, then this is a great choice!
7. Off-White and Turquoise
Opt for a more unique style with a turquoise and off-white color combination. This fresh, vibrant pairing adds a pop of color that's softened by the off-white cabinets. Keep countertops white or wooden so as not to overwhelm the space.
Create a warm, vibrant space that feels more unique to other more traditional kitchen color pop shades. Add a touch of the tropical that will help your off-white cabinets shine. Pair with natural wood countertops and gold hardware for a perfectly-harmonised space.
Using taupe in a kitchen with off-white cabinets will create a warm space that feels both serene and peaceful. This color scheme will suit modern spaces as well as more traditional kitchens. However, it can lack depth as a palette, so be sure to introduce some additional texture through accessories, hardware and countertops.
11. Off-White and Sage Green
If you like the idea of mint but would prefer something more muted and timeless, try sage green. This calming color helps to create a relaxed kitchen space that will stand the test of time.
What Colors Should Be Avoided With Off-White Cabinets?
There are some shades that won't work very well off-white cabinets, these include:
Bright and bold colors like neon pink, green, or orange can be too overpowering and create a jarring contrast with the neutral off-white cabinets which can lead to an unbalanced, cluttered-feeling space.
Brown can be a tricky color to pair with off-white cabinets, as the two colors can blend together and create a dull, monotone look in the kitchen. The lack of contrast can leave your kitchen looking uninspiring.
Colors that are too similar to off-white, such as cream or beige, may not provide enough contrast and make the space feel bland and lacklustre.
Frequently Asked Questions (FAQs)
What Color Countertops Go With Off-White Cabinets?
Neutral colors like gray, beige, or tan work well with off-white cabinets. You can also opt for a darker shade of off-white to create a monochromatic look. White countertops can also work well with off-white cabinets.
The combination creates a clean and classic look, and the slight contrast between the two shades adds depth and interest to the kitchen but be sure to choose a white counter that has enough variation and texture to avoid a flat or sterile appearance.
What Color Backsplash Goes With Off-White Cabinets?
A light blue, green, or gray backsplash would complement off-white cabinets well. If you're looking to add more depth and texture to the space, consider using a metallic or marble backsplash to lift the space and provide more visual interest.
Are Off-White Cabinets in Style?
Off-white cabinets are on-trend for 2023 and offer a softer alternative to harsher, bright white tones. Although they are currently in style, they are considered a timeless look so you don't need to worry about your off-white cabinets going out of style anytime soon!
Off-white cabinets are an excellent choice for kitchens, as they offer a versatile style that's gentler than some white tones. We know that choosing the right color scheme for off-white cabinets can be challenging, and it's essential to consider factors such as the style you want to achieve and lighting. 
By following these tips and our color scheme suggestions, you can create a cohesive and visually-appealing kitchen space that suits both your style and personality. Remember to choose a color that you love and complements your off-white cabinets for a beautifully-harmonised space.