If you have been looking at  buying a wine rack, you will have realised there are a lot of designs out there and it can be confusing trying to decide which one is best for you.  As well as choosing one that you like the look of you will need to consider the space you have
and where you are going to put it in your home 
There are many different types of wine racks, which are used for particular purposes.  Take a look below at some of the common types we have selected and find the one that works best for you.
Tabletop wine racks are the most accessible and can be used anywhere you have a sturdy surface, whether that's a kitchen counter or sideboard.  There are a huge array of designs to suit all pockets and also more scope for decorative designs with this type of wine rack – so let your imagination run riot.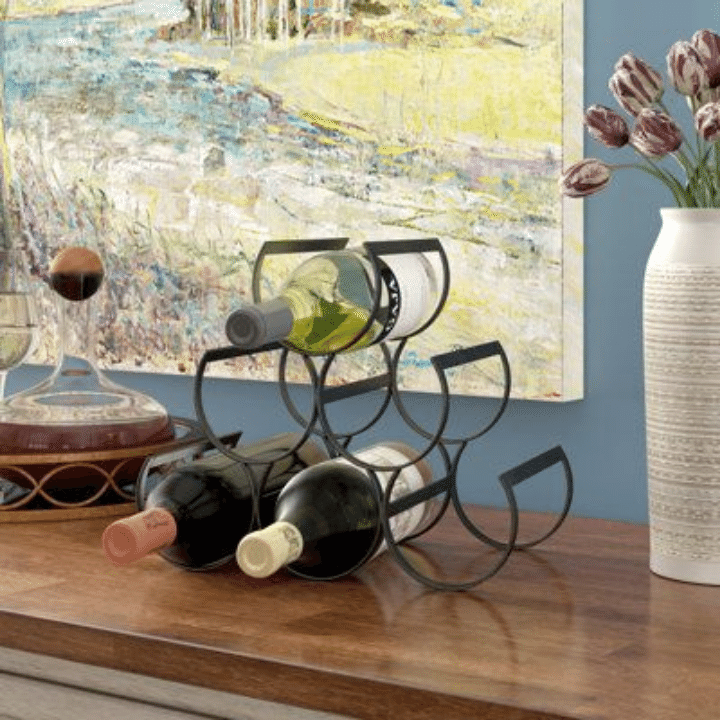 Tabletop Wine Bottle Rack
Pros
Cons
Limited storage
Not ideal for long term storage
2. Free-standing Wine Rack
Generally with a larger capacity than a table top, these wine racks are versatile and come in a variety of shapes, sizes and materials.  You are sure to find one that matches your decor while keeping your wine in great condition.
3. Wall-mounted Wine Rack
Wall mounted wine racks look great and are an effective use of space too.  They often come with room to keep your glassware.  Bear in mind the more bottles they hold the heavier it will be, so you will need a solid enough wall to handle it, as well as making sure it is properly drilled on. Otherwise, you might find yourself with an evening of mopping up a stained floor, rather than winning and dining guests.
Pros
Neat and stylish
Space saving
Affordable
Cons
Needs to be installed
Wall must be sturdy
If you are starting a collection and want to lay down your wine, a stackable type wine rack could be the perfect option for you.  
Remember, if you do use a stackable wine rack for storing your wine over 6 months, it needs special care. If it isn't kept in the correct conditions wine will spoil.  This can happen if air gets to it, there are changes in temperature or exposure to sunlight.  Even vibration can affect the quality as sediment in the bottle mixes with the liquid. 
Place your stackable wine rack away from direct sunlight and preferably where the temperature doesn't exceed 15 degrees to ensure the wine is kept well. Some stackable wine racks also tilt downwards in order to keep the cork moist which stops air getting to the wine.  
As your collection grows you can simply add more units.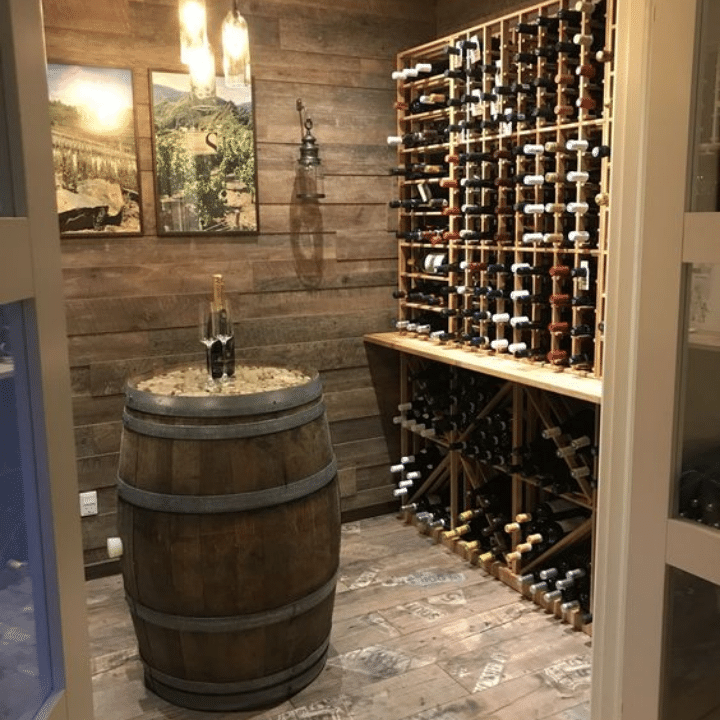 Galvanised Metal Wine Rack
Pros
Cons
Not aesthetically exciting
Need space
A wine rack you can move from kitchen to dining room perhaps?  A great way to show your guests what vintages are on offer.  Hand-held or on wheels – choose what suits your lifestyle.
If you haven't got the space for a full on wine cellar but still wish to create a modest collection of vintages, a wine cabinet could be the next best thing.  Designed to hold around 20-30 bottles, a cabinet can help moderate the temperature and keeps the wine away from direct sunlight which can really damage your wine.  They usually have room for glassware too.
Perfect for alfresco quaffing, how about a foldable wine rack?  When not in use it can be stashed away taking up very little room.  Perfect for apartments and small space living.
Pros
Cons
Limited design
Only holds small quantities
8. Bespoke/Built in Wine Rack
If you are about to design a new kitchen or want to get serious about collecting, think about how to store your wine to the best effect. A bespoke build means you can get exactly what you want and be designed around the space you have.  Of course it will be the more expensive option. 

Try and consider all the different elements that make a good wine rack. Such as, material, capacity, versatility, angle, stability and design. All these considerations will have to be weighed up based on your desires as you are unlikely to get the best out of all of them. However, taking a detailed look at what you want will only help with achieving the wine rack of your dreams.
Pros
Cons
Limited design
Only holds small quantities
A modular wine rack gives optimum versatility as it can be configured as you please and arranged to suit any room.  If you like varying the changes in your home this would be a good option for you.
Pros
Cons
Limited design
Only holds small quantities
A wine fridge is a perfect way to store your wine.  Opt for a dual temperature model which will keep your white nicely chilled and your red at ready to drink, room temperature.  Low vibration is also important if you wish to use your fridge for long term storage to ensure sediment doesn't spoil the wine.
Pros
Wine is ready chilled
Classy looks
Cons
Priciest option
Uses power
What are the 4 kinds of wine storage?
Generally speaking wine can be stored in 4 basic ways:
Wine rack

Wine cooler

Wine cabinet

Wine cellar
Why is wine stored horizontally?
A horizontal bottle keeps the cork moist, so it doesn't dry out and shrink. If this was to happen it lets in oxygen and spoils the wine.  If the wine is in a screw top bottle it can be stored at any angle.
Should a wine rack be tilted?
If you are laying down wine or have expensive vintage wine, the rack should be tilted to keep the cork moist.  If it dries out it can cause oxidation of the wine which will affect the quality and taste of the wine.
Now you have discovered why there are so many different wine racks available, we hope you will be able to make an informed choice on the best one for your home, leaving valuable time to savour that sauvignon.