One of the best parts about drinking at home is being able to stock your own personal wine collection. Having a wine rack in your home also offers personal style to your kitchen or dining room.
But what makes a good wine rack and which is the best type of wine rack?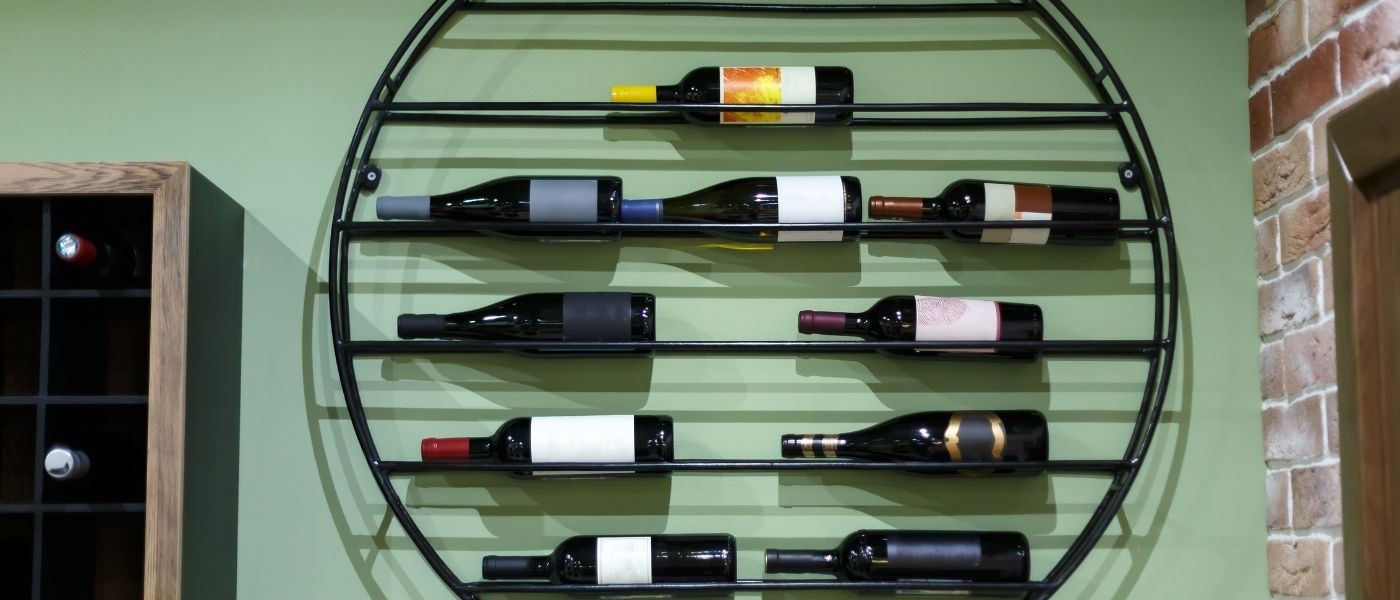 This article covers everything you need to know about wine rack shopping, while also listing some of the best wine racks available.
How To Choose The Right Wine Rack
When choosing a wine rack, there are various factors to consider, although the most important things to look for is the wine rack design.
There are a wide range of wine rack designs available, which are suited to different spaces in the home. To help you get a better understanding of the different types of wine racks, here are some of the most popular options:
Space Saving Wall-Mounted Wine Rack
Best for space-saving, wall-mounted wine racks don't take up any floor or counter space. So they're a great option if you have a small kitchen, living room or dining room.
Here are our top three picks for the best wall-mounted wine racks:
This MDF and veneer wine rack is the perfect addition to a kitchen or living room, due to the compact storage benefits it offers. This wine rack can hold up to 50 pounds, and accommodates eight bottles of wine, while also providing space for glasses and mugs on the five upper hooks above the wine racks.
To ensure the wine rack matches existing decor, you can choose from a range of finishes including hazelnut, ivory and vintage walnut.
Pros:
Various colour options
Great for small wine collections
Offers a contemporary rustic design
Cons:
Requires assembly
Not ideal for large bottles of wine
Requires a robust supporting wall
Show off your favourite wine bottles with this rustic-style metal wine rack which holds up to seven bottles. The distressed metal looks offers a unique aesthetic that is guaranteed to impress guests.
This wine rack will look perfect overhanging an outdoor bar, with the industrial vibe it offers. While it does not accommodate a large amount of weight, it is sturdy enough for your chosen wines of the week.
Pros:
Unique design

Sturdy

Great for indoor and outdoor use
Cons:
May not work well with some decor styles

Only holds 7 bottles

May not be suitable for champagne
If you're looking for a sleek wine rack that will complement your monochrome kitchen decor, look no further than Ebern designs Deshazlor wall-mounted wine rack. This simple wine holder can accommodate up to eight bottles of small to medium-sized wine.
One of the biggest advantages of this wine rack is its versatility as it can actually be hung up in a large fridge or placed on a countertop. It also has a rust-resistant coating which means it can be used in an outdoor bar without fear of it being damaged.
Pros:
Versatile design

Rust-resistant coating

Sleek aesthetic
Cons:
Might take up too much wall space

Too big for a small room

Not as sturdy as other designs
The best option for a large wine collection is a freestanding wine rack, as they can generally store more than the other types. It is also a great option if you want to display a few glasses or other pieces alongside your wine rack. 
Here are three of our favourite  freestanding wine racks:
Want a bar but simply don't have the room? The next best thing is Williston Forge's floor rack which can hold up to 30 bottles of your choice. This can be placed in the corner of your living room for a day of entertainment or outside for nighttime festivities. 
This floor rack is extremely durable, as it is made from robust MDF and metal, which ensures that your wine bottles and glasses are safe. It also has wine glass racks, so you can keep your favourite wine glass nearby when pouring your wine.
Pros:
Long-lasting

Doubles up as a bar

Wine glass storage
Cons:
The colour differs from the advertised image

It may be an inch shorter than expected

Not ideal for small spaces
If you want a floor wine rack but have limited space, you should opt for Dripex's 7-tier wine holder which offers a slimline design but can hold up to 27 bottles of wine. This is the perfect accessory for parties, as it allows you and your guests to access the wine collection easily without having to root in the cupboard.
This wine rack works with almost any decor style and offers a natural aesthetic as it is made from 100% bamboo. It is also very easy to assemble, so you can start storing your favourite wines in no time. 
Pros:
Slimline design

Holds 27 bottles

Easy to put together
Cons:
Not ideal for tall bottles

It  can be fiddly

The screws are on show
Looking to brighten up your decor? Why not opt for the Lille floor wine bottle rack in blue? This not only looks stylish but it is also practical, as it can hold up to 16 bottles of wine. It also has additional storage space for bottle openers and utensils in the drawer above the wine racks. 
This floor wine rack is made from solid and manufactured wood which ensures it is sturdy enough to hold your special occasion wine. It also offers a luxury aesthetic without the expensive price tag. 
Pros:
Unique blue design

Available in other colours

Ready assembled

 
Cons:
Not suited to large wine bottles

Requires care when placing bottles on racks

May not be suitable for small spaces
The countertop is the smallest type of wine rack and in our opinion, the best for the kitchen. Countertops are limited to the amount and size you can fit on them. So you may need to buy more than one. 
To help you choose the right countertop wine rack, here are some of our favourites:
Are you in need of a wine rack in your small kitchen? Ferfil's stackable wine rack is the perfect solution, as you can place it on your worktop for easy wine access. This features eight slots, however, it can actually store up to ten bottles of wine when it is fully extended.
The great thing about this wine rack is that you can actually fold it away when it is not in use. This is an excellent way to avoid accidents, as you can put your wine rack away while cooking and you can also keep your precious wine away from any children.
Pros:
Extendable

Easy to store

It holds 10 bottles
Cons:
Only small bottles of wine can fit

Not very sturdy

Silver nails are visible
If you're picky and only like a small collection of wine, the Hahn Pisa freestanding wine rack is ideal. This simple product holds up to six bottles of wine and is the perfect size for your kitchen countertop or outdoor bar.
Despite its small size, this wine rack can actually hold champagne bottles up to 75cl. It is also sturdy and durable, as it is made of powder-coated steel, which looks great and is long-lasting. 
Pros:
Durable

Readily assembled

Holds champagne bottles
Cons:
Only holds 6 bottles

Does not hold very tall bottles

No other colours are available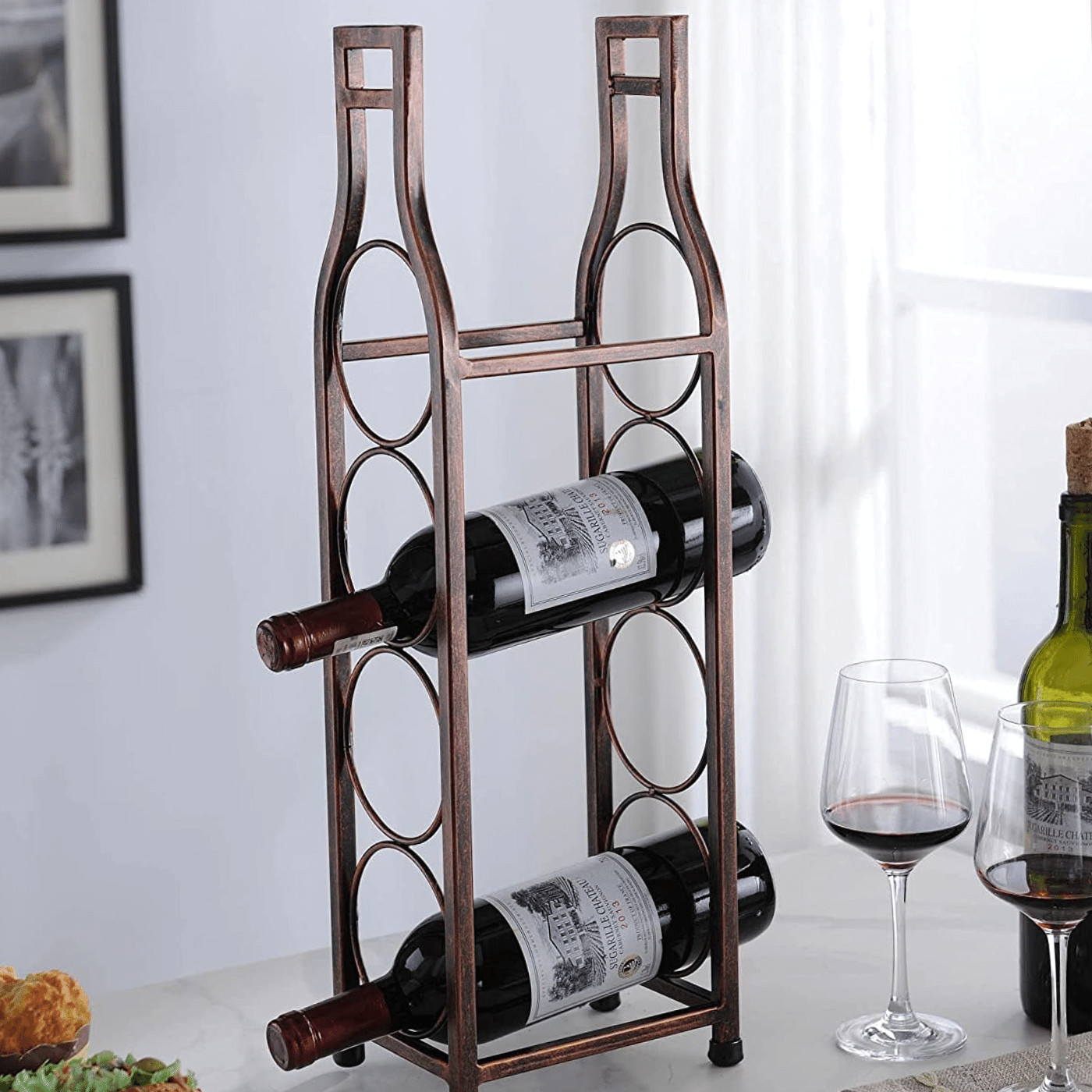 Pilaster Design Rockford Countertop Wine Rack (Overstock £47.80)
This Rockford wine rack is the perfect choice for red wine drinkers who only enjoy one or two wine brands. You can place this in any room, such as your kitchen, living room or even outside when you are entertaining a small group of friends, as it can hold up to four bottles of wine. 
The Pilaster Design wine rack is made of brushed copper metal which offers an industrial feel while the wine bottle shape provides a hint of elegance. 
Pros:
Great for dinner parties

Unique design

Ideal for picky wine drinkers
Cons:
Requires assembly

Too small for large parties

Not suitable for large wine collections
Tips to Consider Before Buying a Wine Rack
Before purchasing one of the above wine racks, you need to consider the following tips:
If you are wondering, are wood or metal wine racks better? The answer will depend on your own preference. When it comes to materials, wine racks are commonly made from either wood, metal, or plastic.
If you are looking for a long-lasting material and plan to use your wine rack outside, you are best choosing a metal rack with rust resistance as they will last longer. If you are using it indoors for social gatherings, then plastic or wood are the preferred choice, as they tend to match interiors better.
The most important thing is that the wine rack will accommodate the quantity of wine that you want to store and will fit into whatever space is available.
Most wine racks will only hold a standard 750 ml bottle. They tend not to hold anything larger than this, not even a champagne bottle would fit. However, there are a few exceptions, which can accommodate larger bottles.
A decent wine rack will allow you to fit a variety of bottles in all shapes and sizes, from champagne bottles to Sauternes wines.
Freestanding wine holders typically feature wine glass racks or drawers, where you can store any bottle openers. Some styles also act as an extra side table or worktop, which are perfect if you're entertaining.
If you are wondering what angle should a wine rack be? You should try to look for a wine rack that is designed horizontally at a 45-degree angle, with the cork facing down. Storing your wine this way will help to preserve its flavour. 
This is why wine racks lean forward. The wine needs to be in constant contact with the cork to stop air from getting into the bottle. A wet cork will expand, seal the bottle better, and prevent the wine from spoiling. If you're storing sparkling wine, a dry cork and air bubbles will make the wine flat.
No matter what type of wine rack you go for, make sure it doesn't wobble or collapse.  Before purchasing a wine rack, you should check the weight capacity to prevent smashing your wine collection. 
If you have heavy wine bottles, you should try to look for a wine rack that can hold larger bottles such as champagne, as this will offer reassurance that your wine collection is safe.
You want should want a wine rack that adds a little style to your home. Think about how you'd want your wine collection to be displayed within your home. For example, if you have the space, you may want to add a freestanding wine rack in your living room that will act as a home bar, this is one of the coolest types of wine racks you can get your hands on. 
Even if you have limited space, you can place an elegant countertop wine rack on your kitchen worktop to create a sense of luxury.
Now you know the best types of wine racks to buy, why not check out our post on finding the perfect coffee table to complete your home?