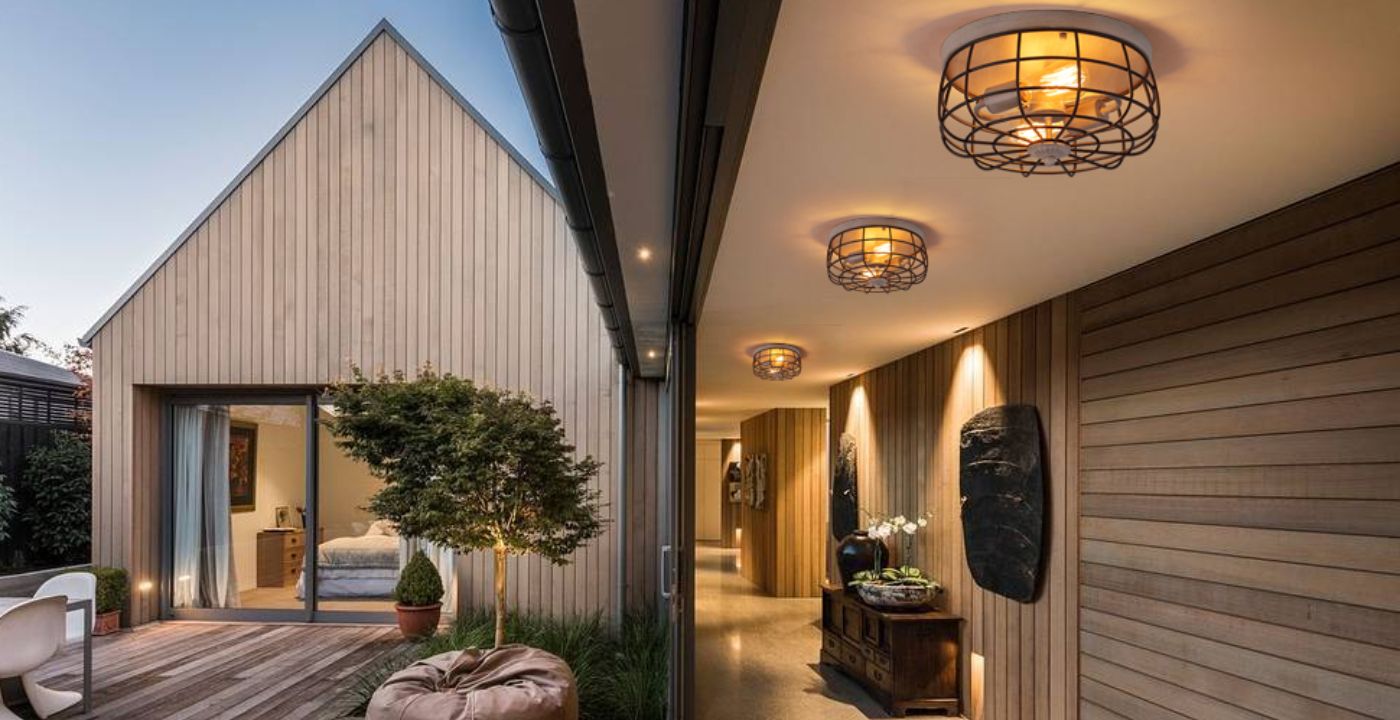 Good lighting for a hallway is non-negotiable. This task-based area of your home needs to be well-lit, but if you have a farmhouse style property, then you may have lower ceilings which can make choosing a light fitting more challenging. 
Never fear, though, because we've got the solution! Installing flush mount lighting in your farmhouse hallway gives you stylish lighting without having to sacrifice or compromise upon headspace. 
These lights sit tight to the ceiling making them a favourite for lower ceiling heights, but this doesn't limit the brightness that this fixture type emits. The light spreads wide, across the entire room, to ensure maximum visibility. So, if you need some lighting ideas for your farmhouse hallway, then keep reading!
Farmhouse Flush Mount Hallway Lighting Ideas
1. Rustic Hallway Flush Mount Lighting
A rustic-effect metal light fitting provides a beautiful contrast to the often-muted tones of farmhouse interiors. The caged shade shown in this image allows for maximum light to shine through which is perfect for a task-focused farmhouse hallway with flush mount lighting.
Pros 
Open style of the shade allows light to shine through
Visually-attractive contrast
Cons
Some metal flush mount lights would be better suited to a more industrial (rather than farmhouse) style home
2. Glass Shade Flush Mount Ceiling Light
To further enhance the light within the room, and maximise brightness, use a glass-shaded flush mount ceiling light. It adds a delicate and subtle (yet still stylish) look to hallways without overpowering the room.
Pros 
Helps to reflect, retract and evenly disperse light
Cons
Not as bold a style as some other farmhouse lighting
3. Crystal Flush Mount Ceiling Light
You may not have the headspace for a chandelier but that doesn't mean that you can't add a touch of sparkle with a flush-mount ceiling light.
Adding a crystal light fitting to your farmhouse hallway adds a whimsical quality to the space, as well as a hint of traditional style that compliments typical farmhouse décor well.
Pros
Reflective nature brightens a room
Cons
Traditional hints won't suit more modern farmhouse décor
4. Frosted-Glass Flush Mount Light
To create a more atmospheric entrance way, use a frosted glass flush mount fitting that will help to diffuse the light. This design matches perfectly to the soft style of farmhouse interiors, with the antique metal effect only further adding to the rustic vibe.
Pros
Takes away harsh brightness of exposed lights
Creates a pretty atmosphere
Cons
Reduces visibility for tasking
5. Farmhouse Flush Mount Bell Light
If you like the idea of a glass shade as part of your farmhouse hallway lighting, but want something a little more visually-pleasing, why not try an alternatively-shaped shade? This bell-shaped glass light still has the capability to effectively brighten a room, but looks trendier. You could even try a rippled-glass shade to create pretty, reflective patterns around your entrance way for a more atmospheric welcome.
Pros
Bright light for maximum visibility
Cons
Show dust easily so will need regular cleaning
6. Semi Flush Orb Mount Light
If your ceiling heights allow for it, you could opt for a semi-flush mount ceiling light instead. Semi-flush lights can help to create the illusion of space. So, if you have a small hallway then this is a great option without losing as much as space as if you had installed a pendant light fixture, for instance.
Pros
Creates the impression of more space
Round shade softens harsh lines in hallway
Cons
It isn't totally flush which may not suit considerably lower ceiling heights
7. Star Shaped Flush Mount Ceiling Light
For something that offers more of a statement that still sits flush to the ceiling, a star-shaped light fitting (like the one pictured) would make a great feature. Its angular nature would help to break up any soft lines in the hallway from blankets or hanging coats and bags, whilst its vintage style works perfectly with the farmhouse interiors.
Pros 
Angular shape breaks up soft lines
Statement light that is more visually exciting
Cons
Bold design wouldn't suit all tastes
8. Open-Caged Light Fixture
Much like the rustic design we saw earlier, this open caged light fixture has the same style with its matte black metal, but it has a wider base which will make it more generous with its light dispersal.
Pros
Rustic style is perfect for farmhouse interiors
Produces more light as it gets wider at the bottom
Cons
Dark colour of the metal can overwhelm the room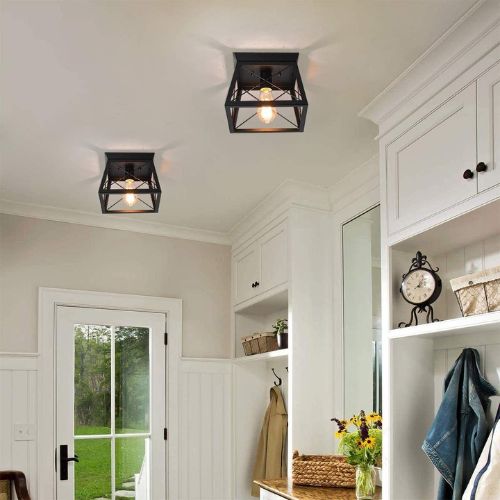 9. Semi Flush Mount Drum Light
For a more contemporary finish to your farmhouse hallway, use a drum light. Using one that is semi-flush, as shown here, adds a touch of elegance to the shape. This versatile style, with a glass casing, offers a great lighting solution for a hallway that requires maximum illumination.
Pros
Glass shade allows for more light to shine through
Cons
Many drum flush mount lights come as semi flush which won't necessarily work in a hallway with shorter ceiling heights
10. Textured Flush Mount Ceiling Light
For something more visually exciting that also injects an element of texture into your hallway, then a laser cut metal lamp shade could work well. It's interesting to look at, adds dimension and maximises space, too. With its antique metal tones, this would suit a farmhouse hallway perfectly.
Cons 
Might be overpowering in smaller hallways
11. Metal-Rimmed Farmhouse Hallway Lighting
If you're short on space but want to maximise lighting, then using a stylishly-structured flush mount light, like the one pictured, would work well.
This is a particularly great style if you're looking for modern flush mount lighting to gently contrast against your farmhouse hallway interiors. Some people believe that modern decor can't work in a traditional setting, but this couldn't be further from the truth provided it's done tastefully.
Choose a metal rim that compliments style your entrance way décor and enjoy the fact you can put your shoes in illuminated glory!
Pros
Simplistic, versatile style that work well in farmhouse style home
Short depth for low ceilings
12. Open-Domed Farmhouse Flush Mount Light
Add a curved silhouette to your hallway lighting with an open-domed flush mount light that's just perfect for a farmhouse style, particularly when implemented in a rustic metal finish. It adds a contemporary edge to your entrance way and the wide nature of the open dome ensures the space is bright enough for enhanced visibility.
Pros
Allows for brighter light
Helps to soften any harsh lines
Cons
Can be hard to find domes lights that are short enough for lower ceilings
Using flush mount lighting in your farmhouse hallway will create a welcoming ambience whilst ensuring maximum visibility for tasks such as removing coats and shoes. As you can see from our comprehensive list, there's a wide range of styles that would work well with farmhouse décor, but at the same time that won't see you compromising on space!