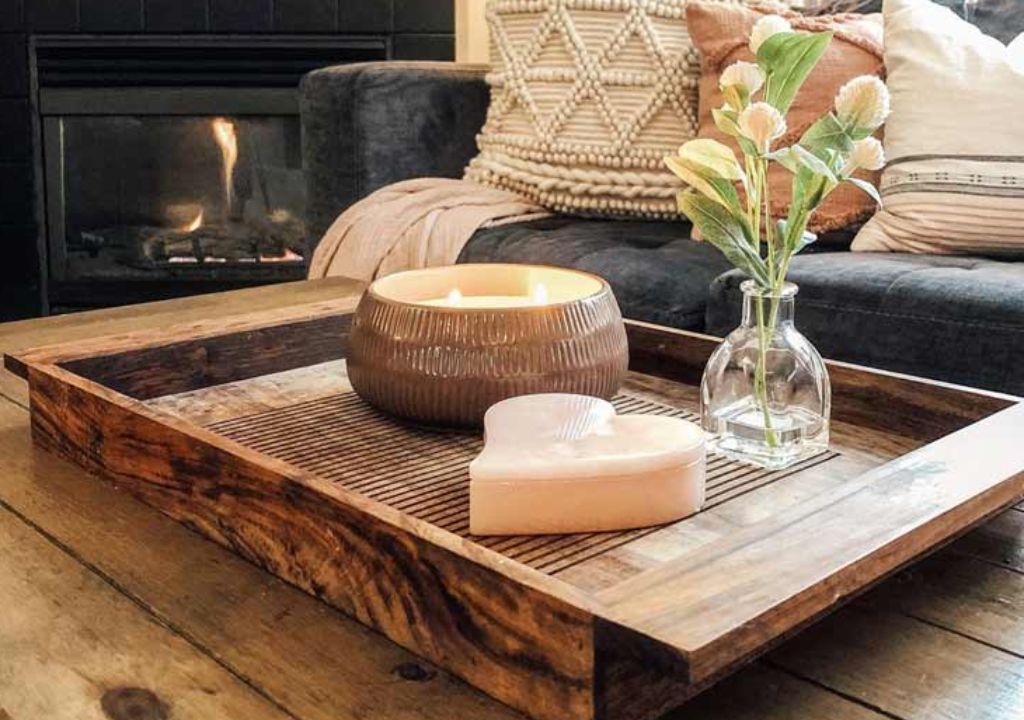 Farmhouse coffee tables offer a versatile style that can work with traditional, rustic, cottage or modern homes. This adaptability makes them a popular choice for living spaces and when it comes to styling them, the options are just as plentiful.
Think beyond a place to pop your drink down upon, your farmhouse coffee table is likely to be the centrepiece of your living room and it's time to explore its decorative potential. With so many ways to style a coffee table, from seasonal styling to a simple flower arrangement, it can be hard to choose which décor path to go down. 
Fortunately, though, we've got plenty of tips to help you on your way. And whilst it's easy to get carried away, styling your farmhouse coffee table doesn't need to cost a fortune either!
How to Style Your Farmhouse Coffee Table: 10 Affordable Tips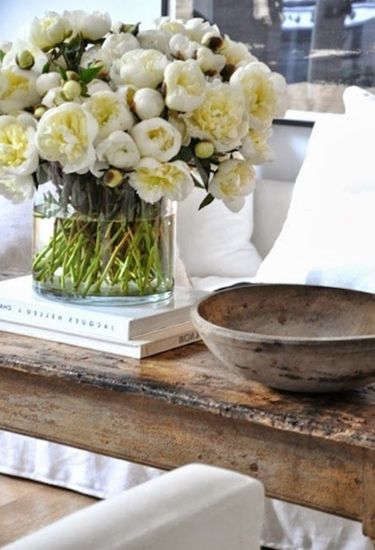 There can be no denying that flowers brighten up even the dullest of spaces so they can be a great addition to a coffee table. However, a fresh bouquet every week is going to add up, financially speaking. For a more budget friendly option, therefore, opt for a faux floral display.
There are some great affordable arrangements available and some that are a bit more on the spendy side, however cost-per-use compared to buying real flowers every week still makes this a more purse-friendly alternative. Floral arrangements are also an ideal farmhouse coffee table centrepiece that will provide maximum impact.
To keep with the farmhouse style of your coffee table, particularly those with a cottage home, choose classic flowers, such as roses or hydrangeas, in soft pastels or neutral tones as they will help to tie this together and soften any harsher lines in the space.
Key benefits:
Soften harsh lines

Inject colour

Good for cottage or traditional style homes
If you'd prefer a fresh bouquet, then consider using a subscription service which can provide savings on regular flower deliveries. Urbanstems offers subscriptions that would suit a wide range of budgets. The luxe edit is $105 per delivery but includes a premium vase with the first order.
A great low-cost décor idea for coffee tables is to add a potted plant; not only do they bring warmth to a room, but they also provide texture and colour, too. You can even find plants in your local supermarkets these days at relatively low expense, so it's an easy and affordable way to brighten up your coffee table and improve the visual impact. Choose a pot that works with the rest of your room's scheme to ensure that everything remains harmonious and blends well.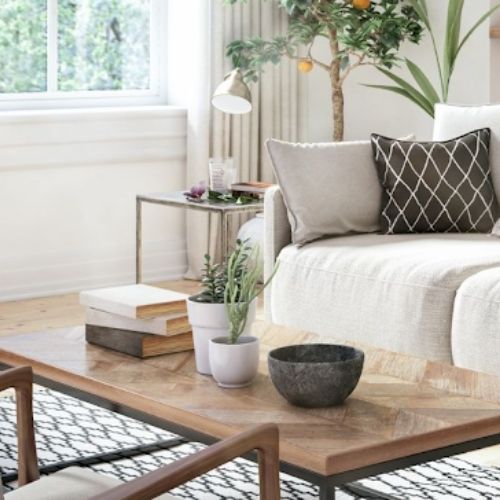 Not only do plants look great but studies have shown that they have some great health and wellbeing benefits too as they help freshen the air we breathe and encourage productivity. One downside to plants is the pressure to keep them alive, so if you think that this is something you may struggle with, then switch to artificial plants instead!
Key benefits:
Mood enhancer

Reduces stress

Increases productivity

Reduces blood pressure

Reduces tiredness

Lessens headaches
Vases are a great way to inject texture and colour, but they allow you to play with heights too, keeping the dimensions on top of your farmhouse coffee table more appealing. As vases are often larger features on a coffee table, they are great for making a statement, but you will want to opt for something that is obviously different to the table.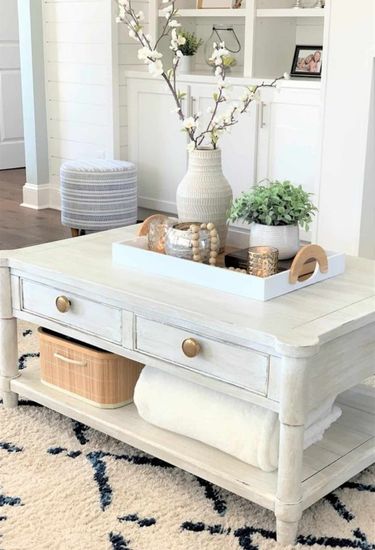 Farmhouse coffee tables are often made from wood, so a glossy ceramic or glass vase would balance out those natural wood tones well. For those wanting farmhouse rustic coffee table décor then look for a distressed, pottery jug like our top pick below!
Key benefits:
Adds texture and colour

Plays with scale

Statement making
Adding sculptural pieces will help to create more unusual points-of-interest on your farmhouse coffee table. Using sculptures will also give you the chance to inject your own personality into the room by using pieces that have personal meaning to you. Consider using it as an opportunity to display items such as those you've found on your travels like a shell, or something more visually delicate such as a paperweight.
For those wanting modern farmhouse coffee table décor, using some minimalistic sculptural pieces will help to give your table a more contemporary feel. If your table is rectangular or the room is made up of sharp lines, then a more fluid, rounder-shaped sculpture would help to break this up.
Key benefits:
Brings a more personal touch

Good for a more modern home

Can break up sharp lines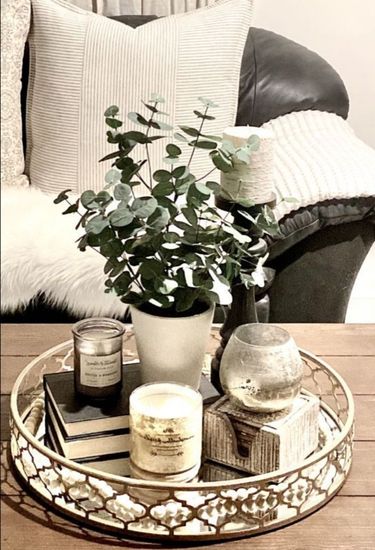 Functional and inexpensive, a lit candle can really help to create a cosier, inviting ambience in a room with the naturally warm light bringing life to a space. Pick a coloured candle that compliments the rest of your living space as well as your farmhouse coffee table. If you are planning on using a tray on your table, candles are a great accessory to keep on top of them.
Studies have shown that scented candles, in particular, play an important role in boosting mental health, including improving moods and relieving stress. So, not only can they create a pretty vibe in a room, but they also bring a mood enhancing atmosphere, too!
Key benefits:
Creates a cosy ambience

Boosts mood

Relieves stress
For those with a larger budget, consider opting for this Neom candle. Made with essential oils, it's effectively a spa treatment in a candle but with its sleek, elegant packaging, it's going to give your farmhouse coffee table a real edge.
Stacked coffee table books are always a popular way to accessorise and better still, if you raid your own collection, then you can achieve this look for free!
For the avid readers among us, you could even create a mini coffee table library and use your more attractive looking books as readable pieces of art. Fashion, travel, and art books are commonly placed on top of a coffee table but anything large with an interesting cover will work well.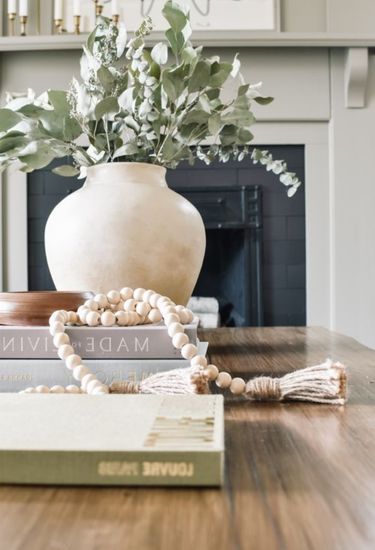 Stacking books also helps when playing with scale as you can use them to raise the height of other items but avoid going higher than three books at a time as this can look too much.
Key benefits:
Brings a more personal touch

Good for a more modern home

Can break up sharp lines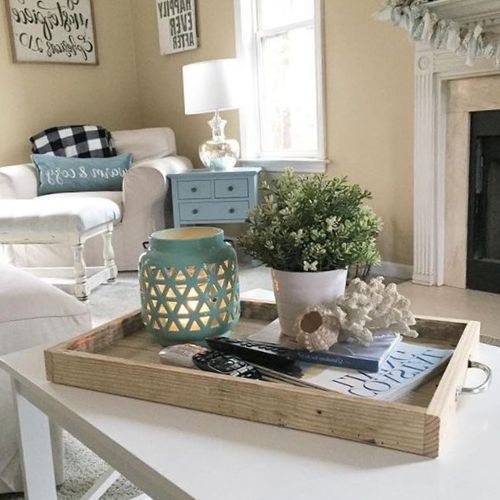 Trays help to contain any bits and pieces and help keep your farmhouse tabletop clutter-free. If you're not a fan of trays, then you could always use a decorative box or bowl instead. Adding a tray can also help to take up some space if you don't have much else to add to your farmhouse coffee table.
Keep your tray the same shape as your table, unless it is an oval coffee table, where opposites provide a great contrast without looking odd. Trays, as well as adding a decorative touch, can also keep your surface protected, for example, place vases on top of them to avoid water marks.
Key benefits:
Keep surfaces clutter free

Take up space
If you're looking for a more statement piece, then consider investing in this luxe-looking tray. It may be on the upper end of the pricing spectrum, but it offers classic style that will stand the test of time.
You'll want your chosen farmhouse coffee table décor to pop, rather than blend in, so choose items in colours and materials that don't get lost. For example, if you have a wooden coffee table then use decorative pieces comprising metal or glass materials.
If you have a darker coloured farmhouse table, then stick to lighter accessories, and vice versa, as this will create a point of variation and keep textures and tones interesting. 
You could also consider using items such as storage baskets, in a varying tone or texture, to be placed on top of your coffee table, as well as underneath, or on any shelves there may be, in order to create that point of difference.
Key benefits:
Adds pop of colour

Keeps textured varied
Using textiles can help to soften a room making it more inviting and cosier. If you have a farmhouse coffee table with a shelf underneath, you could store additional cushions or throws under there but for those with no shelf, then a table runner is a great way to add a softer texture. Often more affordable than cushions and throws, a complementary-coloured runner will help balance the harmony of the room to create a pleasant aesthetic overall.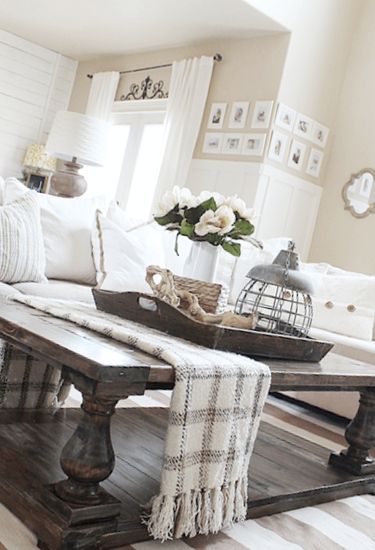 Key benefits:
Softens room

Creates a cosy environment
The great thing about accessories is that they're easy to switch up, so if you are someone that gets bored quickly, then you can change your farmhouse coffee table decorations with the seasons, or with specific events – Christmas and Halloween, for instance.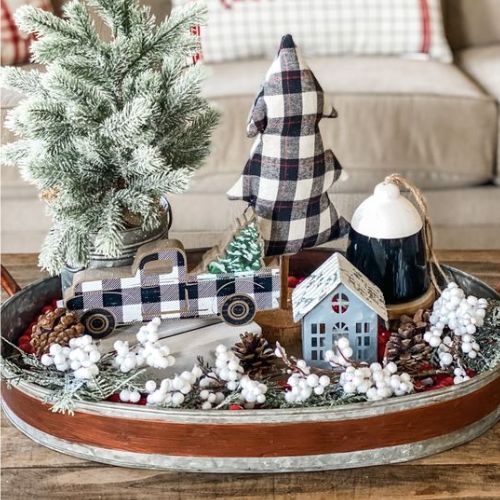 That's not to say you need to change every item on the table – as that could become a costly habit – but you can often find seasonal decorative items, such as pumpkins at Halloween, for a relatively low cost that will keep your table from getting boring!
Key benefits:
Keeps things interesting

A good way to decorate for seasonal events
Frequently Asked Questions (FAQs)
How Should I Arrange My Farmhouse Coffee Table Décor?
The rule of three is an important one to keep in mind when it comes to styling accessories on your farmhouse coffee table. Placing items in odd numbers is more aesthetically pleasing, and three is an ideal number as it creates balance and doesn't overwhelm. Placing accessories in a triangular shape will also help to equally distribute the décor. 
Use stacked books to elevate shorter items and create more visual interest. If you want items to be more contained and controlled, or if you have a smaller farmhouse coffee table, then use a tray to hold your decorative pieces.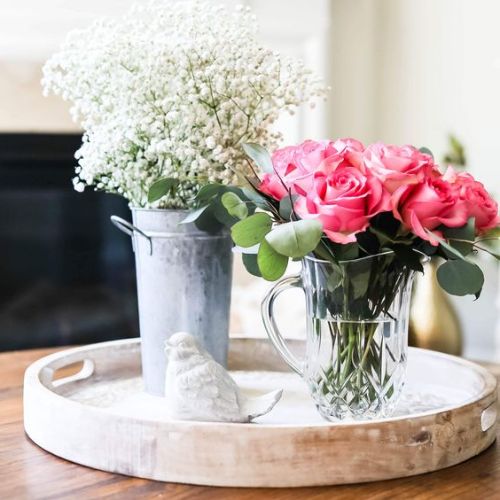 Don't forget that although giving your farmhouse coffee table a makeover with new decor will help bring the room together by creating a focal point and injecting some character, it is still a functional item.
You'll want to leave some space for snacks, drinks, remote controls, and any other items you may need surface space for. Generally, you should aim to leave around 60% uncovered with the rest taken up by your home accessories.  
Of course, farmhouse coffee tables will vary in size, shape, and colour meaning there will be an element of figuring out what works best for your table, but we've given you some serious inspo to help you on your way to finding your own unique style!