If you want to inject some new life into your living space but don't want to redecorate,  take a look at changing what you have on your coffee table.  It's easy to get stuck in a rut with the same old tired magazines and day to day items cluttering up what actually is the focal point of your living room.  
A great way to style your coffee table is to decorate a tray on your table. Not only does it help organise the items you need (but may not want to see), it is a decorative item in its own right. Also allowing for functionality, as you can whisk it away if you need more table top space for nights in with friends. If you don't have a coffee table, a tray can transform your ottoman into one.
In this article we will look at ways to style a tray to get that designer finish and give you a wealth of ideas about what you can try.  Let's dive in!
Coffee table tray styling process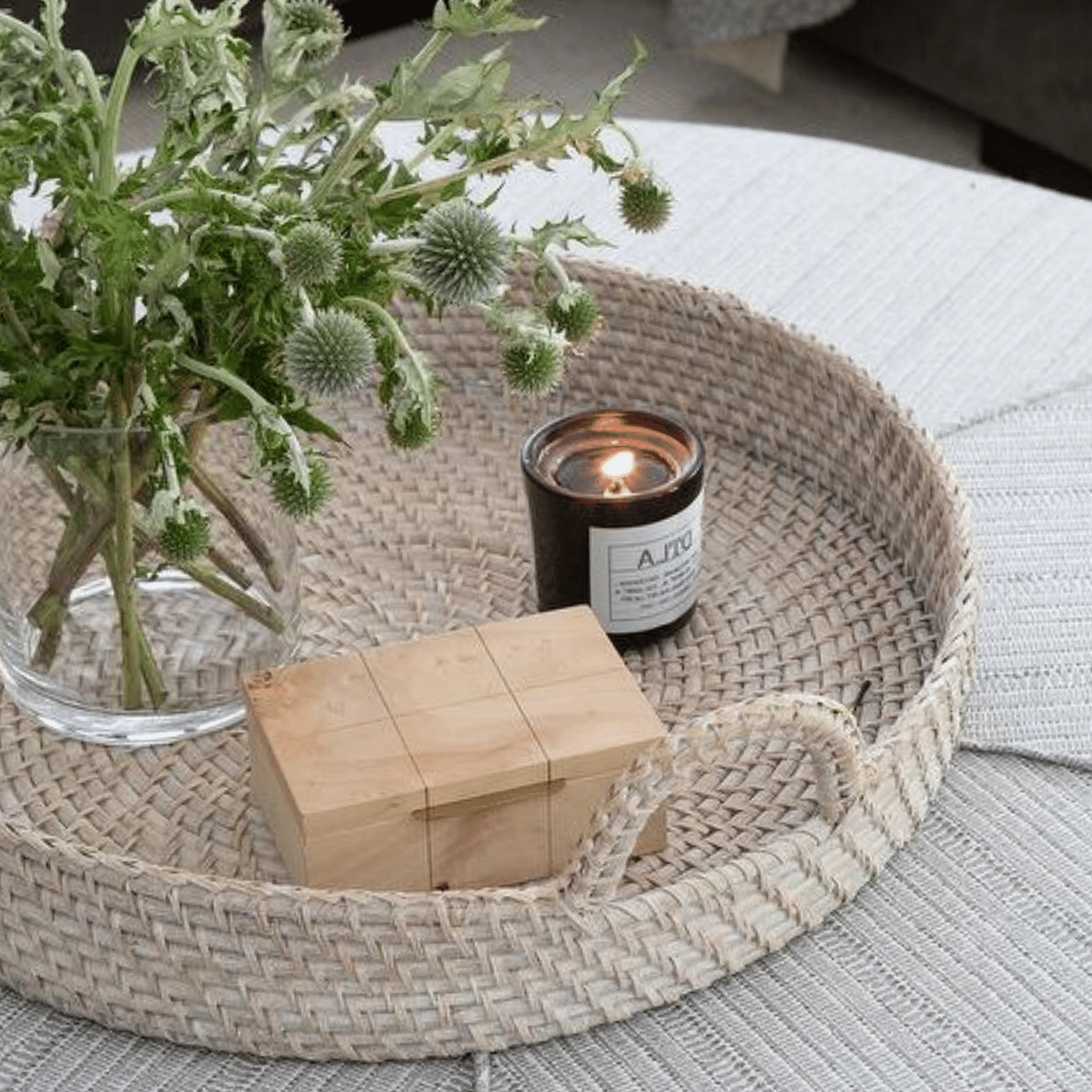 Here we will go through the steps you need to achieve that professional finish. As with coffee table styling in general the tray should tell a story, inviting the viewer into aspects of your life. A tray is perfect for creating a vignette to reflect your interests and tastes. The idea is for it to look natural, loose and organic – which is actually quite a skill.
First of all, decide on a tray.  Round and rectangular are the most common shapes and probably the easiest to style. 
Consider the material and colour and how this will fit in with your decorating theme.  Look for a material that will contrast with your coffee table top.  
This antique, black metal tray would really compliment a rough-hewn,wood table top.  Also think about any theme you may wish to portray.  If you are creating a natural, outdoors look, then rattan or seagrass trays would be ideal
Choose a size that works on your table space.  A tray can be used on its own or in conjunction with two other placements.  You want there still to be room for the table to be functional but equally not just a small item placed in the centre.
Most coffee tables have items we need to use everyday like a remote control, keys and mobile phone chargers.  To avoid them cluttering up your coffee table, place a decorative box on the tray to keep them to hand, but out of sight.
To create interest and depth, inject some height into your tray.  The easiest way to do this is by adding a vase with some greenery or flowers.  You could also go for a candlestick or sculptural object if you prefer.
Now choose a linear object – it could be a coffee table book, glossy mag or a smaller tray.  You can use more than one book but keep it to a maximum of three.  This also creates a perfect platform for adding more objects at a different height.
Consider placing an object on top of your books to give greater depth of field.  This could be a scented candle or decorative sculptural item like a ceramic bird.
Depending on space you could also add another item in the corner of your tray such as a coaster set. Look for some that come in a container to keep them neat. Choose a decorative set that matches your theme – it will look good and also keep your coffee table protected.
What do you put on a coffee table tray?
Essentially you can place the same items on a tray that you would place on the table top, but keeping in mind the amount of space you have, choose maybe 3 or 4 items such as:
Decorative box

Trinket tray

Vase

Candle sticks

Scented candle

Coaster set

Succulent

Coffee table book.

Paper weight

Sculptural item

Fresh/artificial flowers
Coastal themed coffee table tray
Lucky enough to live by the sea – or aspire to?  Use your tray to bring the outside in and enjoy some escapism.  Add in a sea breeze scented candle, close your eyes and feel the waves lapping at your toes.
Spring themed coffee table tray
By using seasonal flowers and a touch of nature by using a pretty ornament,  you can create a simple vignette welcoming the spring.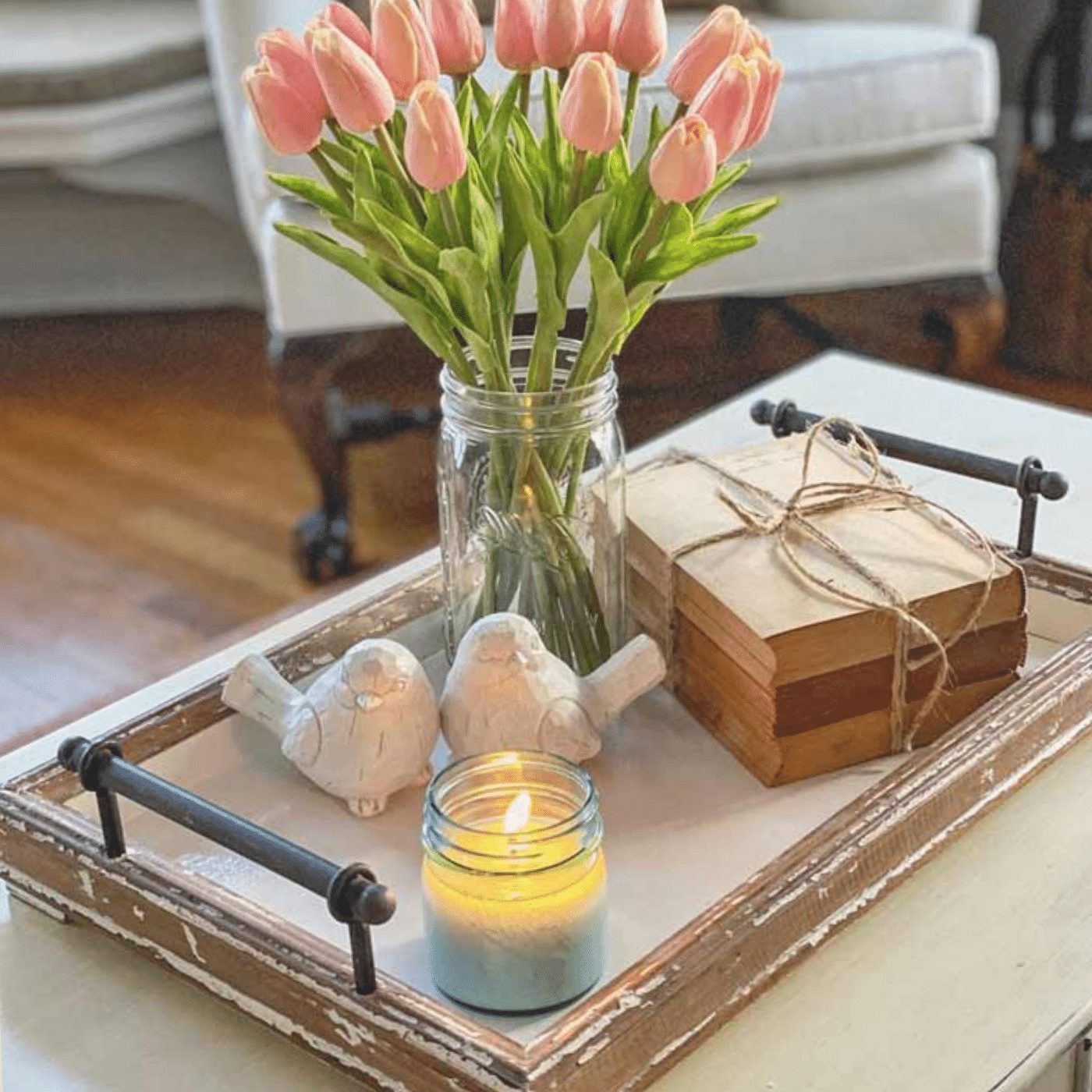 Classical coffee table tray theme
To create a luxurious feel invest in a beautifully made classic tray and add a couple of your favourite coffee table books, some traditional flowers and an elegant ornament or two. This tray design is perfect for styling a rectangular coffee table as well.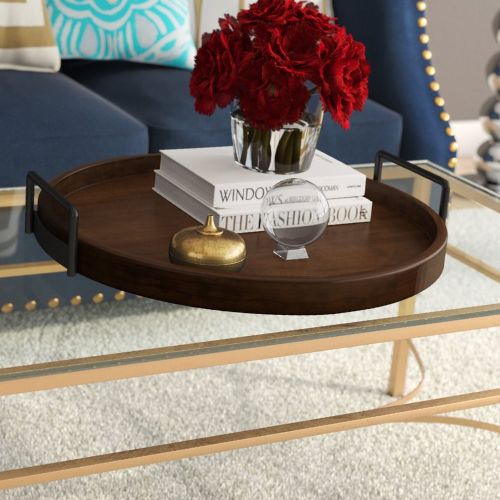 Calming coffee table tray theme
Looking to create some Zen in your living space?  Smooth, tactile shapes create a calm and timeless mood here. Using clear glass with a coloured tray and a pared back colour scheme also contribute to the overall effect.
How do you style a decorative tray?
If you have a highly decorative tray that you'd like to show off then you can try a couple of approaches.  If you love the maximalist style of decor then you can really get creative here and mix and match colours and patterns.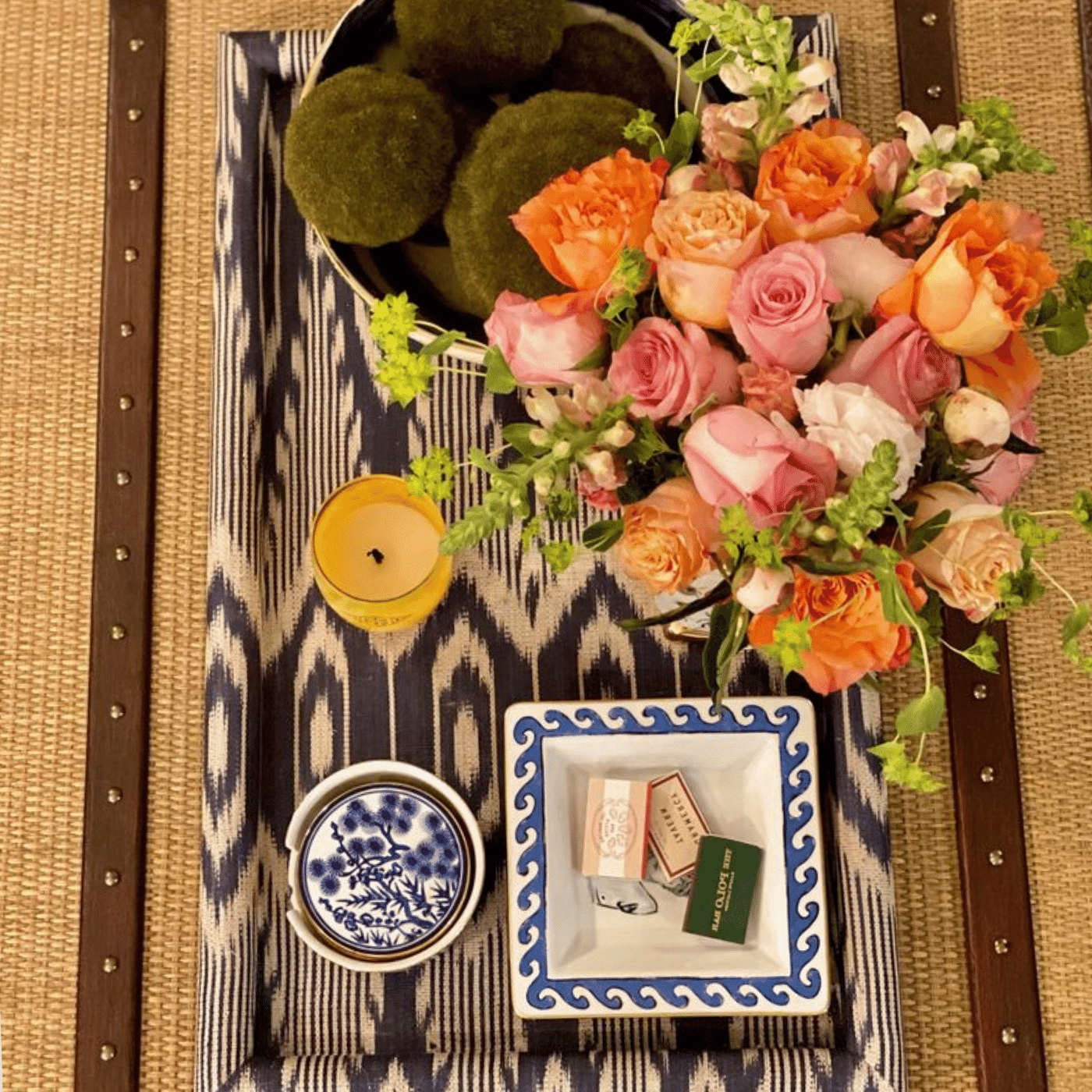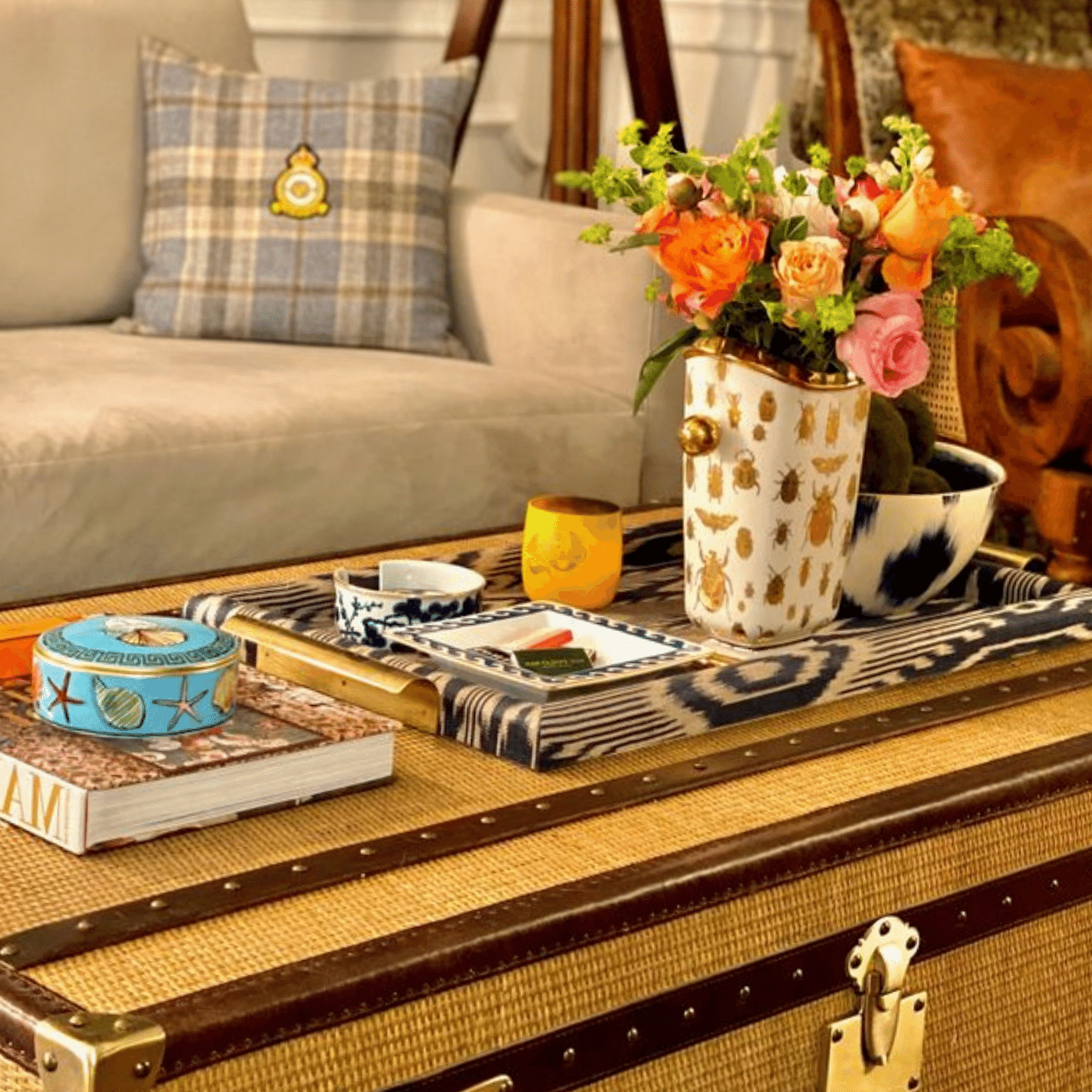 Alternatively, pick out the colour of the tray in a few items and contrast with another.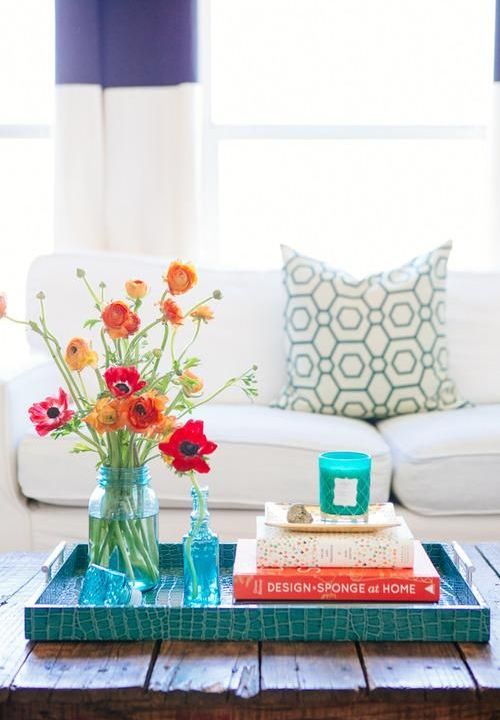 What should I put in my centrepiece tray?
Want to make a  big impact?  Go for a large tray and follow the steps already outlined.  The great thing about using a tray is it can be changed quickly to create a different theme.  At christmas time you may wish to use pine cones, candles and gold accents or in the spring fresh colours to reflect the season.
How do you decorate a mirrored tray?
A mirrored tray can add glamour and excitement to your scheme.  As they catch the light they can really make an impact. For maximum effect keep the items you choose to a single pallet with maybe one accent colour, in the flowers for instance.  Using glass and metal really will make your tray shimmer and lighting a candle in the evening will reflect beautifully.

Also consider what coffee table will work best with a mirrored tray.  By using it to style a glass table, as below, more reflection is created whereas a black table will add to the drama.
Even if you have a small coffee table you can still use a tray-just scale down the placed objects. A single stem vase can look pretty teamed with a plain square box and a mini candle.
With such a large choice of trays and objects that you can use to decorate them, there is a world of looks you can try out.  It's not a fixed scheme like changing your wallpaper or furniture, so you can chop and change as your mood takes you.  Spend some time before you begin to consider what you want your coffee table tray to say about you and enjoy experimenting with different items.