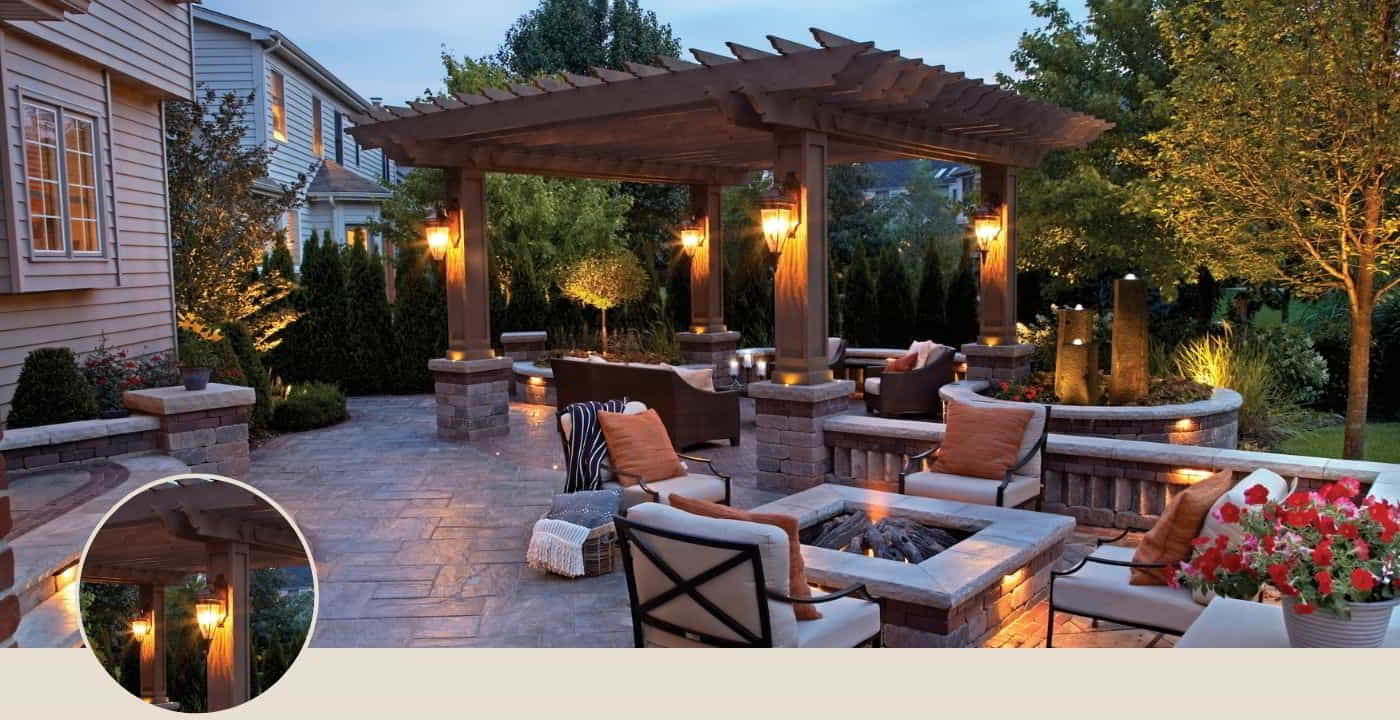 Outdoor lighting is a beautiful (and affordable) way to transform your outdoor space by adding a warm glow once the sun goes down in the evenings. 
Not only do outdoor lights add a pretty aesthetic to your garden but they're also a functional addition, allowing you to enjoy your home's outdoor space at nightfall in a safe manner. With lighting options available from a whole manner of stores these days, the idea of selecting the right ones for your garden can be a tough prospect. 
We're here to help you through the process by gathering 25 of the most stylish, practical and on-trend creative outdoor lighting ideas that will help transform your garden into a truly magical space.
What Type of Lighting is Best for Outdoors?
There are two types of lighting that are typically used for outdoor garden lighting, these are:
Mains powered:

offers strong, bright light but requires that you have an outdoor plug to be installed. 

Solar powered:

not as bright as mains-powered lights but won't be an additional cost on your monthly energy bills. They don't need to be near a power source, owing to being charged by daylight, which also means that there aren't any unsightly wires across your patio!
Battery-operated lights are also available for outdoor use, however these aren't typically as popular. It's also important that battery-powered bulbs are rated for use in an exterior setting, otherwise they're not safe to be placed outside and may pose an electrical hazard (or provide poor performance).
There are a few different bulb types that can be used outdoors, including:
Although pricier initially, they can last up to 40,000 hours (11 years) and use far less energy than other bulbs.
It's important to buy specific outdoor bulbs as indoor ones aren't housed in the correct glass for outside use. Halogen bulbs offer a whiter-toned light when compared with incandescent bulbs.
Whilst incandescent bulbs can be used outdoors, they're not our recommended option as they're nowhere near as energy-efficient as their counterparts. Not only that but they can't be exposed to rain, so unless you plan to take them out any time there's even a hint of rain, then steer clear from these!
Creative Outdoor Garden Lighting Ideas
A simple yet effective way to add a decorative element to your garden to create ambience when the dark hits, here are our top 25 lighting ideas to brighten up your garden space!
1. Highlight Activity Zones
Installing lighting around activity zones serves to highlight key parts of your outdoor space as well as ensuring visibility in well-used areas. Choose low-level lighting that works to illuminate the space from the ground upwards. Strip lighting is a modern look for areas such as around fire pits, for instance, creating a clean, ambient area whilst also providing additional depth to the space.
Usually mains-operated, outdoor wall lights will provide an effective, bright source of light in exterior areas allowing you to extend the time you spend outdoors.
Switch the tone of your bulb to suit the style you want to create. For example, a warm-toned bulb will give a cosy atmosphere, whilst cool-toned bulbs provide a more sophisticated, modern vibe.
An additional benefit of modern wall lights is that they can act as a security light to deter burglars, as well as being a great idea for porch lighting.
3. DIY Scented Luminaires
Not only do these scented luminaires add to the ambience of an outdoor dinner table but this DIY backyard lighting idea also repels insects that tend to be attracted to lights when night falls. 
Use a glass jar, fill it with water and botanical clippings such as herbs, you could even pop in lemons or citronella oil to repel mosquitoes, then add a little vegetable oil and top with a tea light. They are a great outdoor table lighting idea as they work to set a relaxed atmosphere, keep bugs at bay, and help your guests to be able to see! What's that saying about birds and stones?…
Fairy lights aren't necessarily known for their practicality, but they can make a garden look incredibly pretty with a cosy, ambient glow. Wrap around trees and trellises, and use on the underneath of a parasol or covered deck (and even along fence panels) for a more impactful seating area. They would also make a great addition if you're looking for garden bar lighting ideas.
If you're looking to invest in garden lighting, it's likely that you intend to spend a lot of time enjoying your outdoor space. Why not invest in a patio heater that can combine the two practicalities of a heating source and light at the same time?
The warm glow that comes from patio heaters brings a cosy, elegant atmosphere to any garden space and most tend to be powered by gas, meaning that you're not limited by a power cable on where you can place it.
More than just a decorative choice, an illuminated walkway in your garden helps people to avoid uneven ground and trip hazards. Bollard lights are best to light pathways at a maximum height of 120cm to ensure they function correctly. On-ground luminaires or LED strips would also work well and provide a more gentle, atmospheric illumination.
7. Hang Lighting from Parasols
Create your very own garden chandelier by using hanging, pendant-style garden lights. Suspended at height, from trees or parasols, this dramatic light feature can also add texture to your garden space by using unusual light shades, such as wicker effect or patterned metals.
For a cheap garden lighting idea, start collecting old tin cans to turn into creative lighting. Fill a can with water, freeze it, and use a hammer and nail to chisel designs into it, for a cute laser cut effect. Add a wire handle, pop in a tea light, and hang from a tree for a delicate and pretty DIY light design at little to no cost!
Light up planters provide ambiance and visual interest in your garden when daylight fades. These highly durable pots come in a variety of shades and light finishes that help to create a magical mood. Practically speaking, they can be used as pathway guides as well!
If you're looking for garden shed lighting ideas, two of these would look great either side of the door.
Outdoor floor lamps are a great way to maintain decorative style in your garden. Perfect for quirky, contemporary outdoor style, they increase direct light in the area they sit in, as well as being waterproof and resistant to wear and tear from outdoor elements.
Grouping lighting together can offer a more impactful way of illuminating your outdoor space, whilst at the same time creating a garden that's both inviting and homely. Use lanterns of various sizes as these provide visual interest and group using the rule of three for maximum effect.
For a more family-friendly, playful look, consider opting for some solar-powered novelty lighting, such as light-up flowers, that can be placed into planters. They're also a good idea for flower bed lighting. Kids will love them, and they still look pretty of an evening when they glow, reminding everyone of their botanical setting even when the real flowers can't be seen.
Decking is a popular feature in many gardens and integrating lighting within this further adds to the atmosphere of the area. It's also much safer to use decking in the dark when it's illuminated. Further extend its usage by installing spotlights along the edges and on any steps.
Another decking idea is to add solar light stakes to nearby potted plants to play with lighting heights and add more levels and dimensions to the area.
Lighting the areas surrounding water in your garden makes for a truly stunning scene. Use warm light features and allow them to softly reflect off the water to leave a magical feel that envelopes the whole garden for a spectacular view!
15. Water Feature Lighting
Just like lights around water sources in your garden, installing them into any water features you have also has a similarly striking effect. It provides a calm, relaxing feel to your garden space whilst still adding light. This idea really helps your garden space exude chic and style.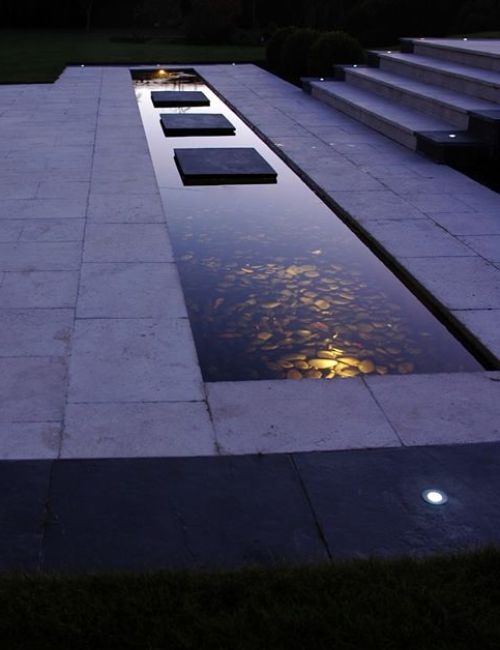 Make your own globe lights by using opaque glass light shades. You could even use translucent glass spheres and insert fairy lights for a more delicate sprinkle of light that adds a pretty touch to your garden space. A simple yet effective light display at a relatively low cost.
Increase visibility and control the mood of your garden space by installing lighting into beams from pergolas or covered outdoor space – these types of lights are perfect for summer house lights. 
Use a mixture of practical, larger light fixtures and delicate fairy lights with warmtoned bulbs to create a stunning, whilst still-cosy atmosphere.
A quick and easy way to light up your garden, stake lights also benefit from being moveable so that you can change their position whenever you like. Use these lights to install a contemporary feel with cool-toned bulbs.
19. Outdoor Fireplace Lighting
If you have an outdoor fireplace, then this will help to illuminate your exterior space, but make sure to tie in the rest of the garden by installing warm light fixtures, such as lanterns, too. Some fireplaces even allow for strip lighting to be installed underneath; use a contrasting but complimentary colour to add to the atmosphere.
20. Mason Jar Hanging Lights
Make a magical, fairytale garden with these mason jar hanging lights. Although you can buy them, why not make your own? Use wire coat hangers to make the handles for the jars and fill them with fairy lights or a few LED tealights to create a soft, illuminated effect that's only enhanced by the glass encasing.
Create a soft glow throughout your garden space by adding delicate lights to trees. It creates a pretty display from all angles whilst also adding dramatic effect.
22. Hanging Pendant Lights
Perfect for a more whimsical feel to a garden, add delicate pendant lighting suspended from places, such as trees, over tables for a pretty display that adds dimension to the space. Suspended candle holders also work well for this effect. Candlelight is super impactful in gardens, evoking a real sense of romance, especially with the natural warm tones of the light.
Pergolas add an elevated level of definition to outdoor spaces, playing with the dimension of height to further enhance the area. Adding lighting to a pergola complements the look even more, creating an elegant space in which to spend an evening with family and friends.
Albeit perhaps not as durable as other options, get creative by making your very own paper lanterns for the garden. Cut out beautiful, stencilled designs and place LED battery operated tea lights inside so your creations shine from the inside out.
Adding delicate glow-in-the-dark pictures to your outdoor space helps to add further depth and interest when the dark hits. Just don't forget to take them inside in the event of a downpour!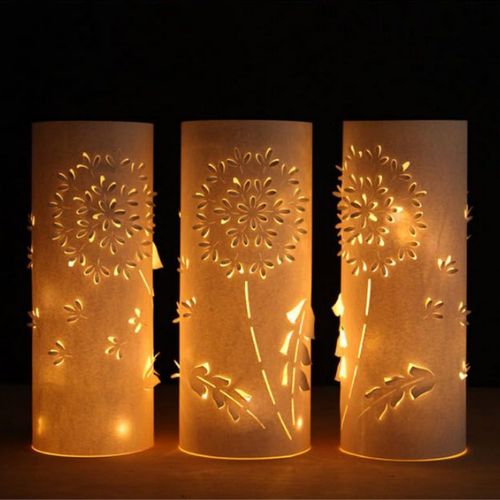 25. Outdoor dining table lighting
If you have a hard-covered outdoor dining area, then invest in a statement outdoor light to hang over the table for an impactful eating area that also ensures maximum visibility. Installing a light over your outdoor table will help you to create an atmospheric space. If you wish to further illuminate the area then one great idea is to add patio wall lights alongside the main fixture.
Frequently Asked Questions (FAQs)
Is Warm or Cool White Better for Outdoor Lights?
Whether you have warm or cool lights in your garden will depend on where you're placing them and the ambience you're trying to create. Generally, warmer-toned lights are saved for architectural areas and functional spaces – such as seating, to create a cosy – inviting vibe. Cooler toned lights work better near plants and trees as this complements their natural green hues.
Are LED Lights Good for Outdoor Use?
LED lights are one of the best, if not the best choice for outdoor lighting, especially when compared to incandescent outdoor lighting. They're brighter than other light bulbs, more energy efficient, and last longer.
If they're housed correctly, they are also a durable type of bulb meaning they fare better in all weathers. The best idea for LED outdoor lighting ideas for walls and more, is to ensure they are durable, well-made, and can withstand extreme weather conditions.
How Can I Lighten My Backyard at Night?
Of course, the most obvious answer to this is to install lights but, take time to think about the function you want your lighting to perform. If you're keen to highlight certain areas of your garden, then you will want to install fittings that offer ambient lighting which emphasise key features, such as trees, and draw attention to specific sections of your outside space. 
If you're looking for lighting near a dining table or outdoor seating area, you may want to look at task lighting that can be achieved using lamps, or spotlights that shine light in a specific area. For purely aesthetic purposes, look for mood lighting – perhaps even light fixtures that have colour adjusters – to enhance and beautify a specific feature or area within your outdoor space.
Should Exterior Lights Match?
To keep the flow of your outdoor space cohesive, we'd recommend keeping the colours of your light bulbs similar. For instance, a palette of whites and golds for the fixtures. It is also important to maintain the same tone of light, either cool or warm, throughout for a consistent use of lighting throughout the garden.
Lighting in your garden helps you to create a creative and enchanting space that simply shines. It adds an element of fun to the exterior of your home so get making the most of our landscape lighting ideas. Enjoy giving your outdoor area a glow up and getting a great reaction from all your guests!