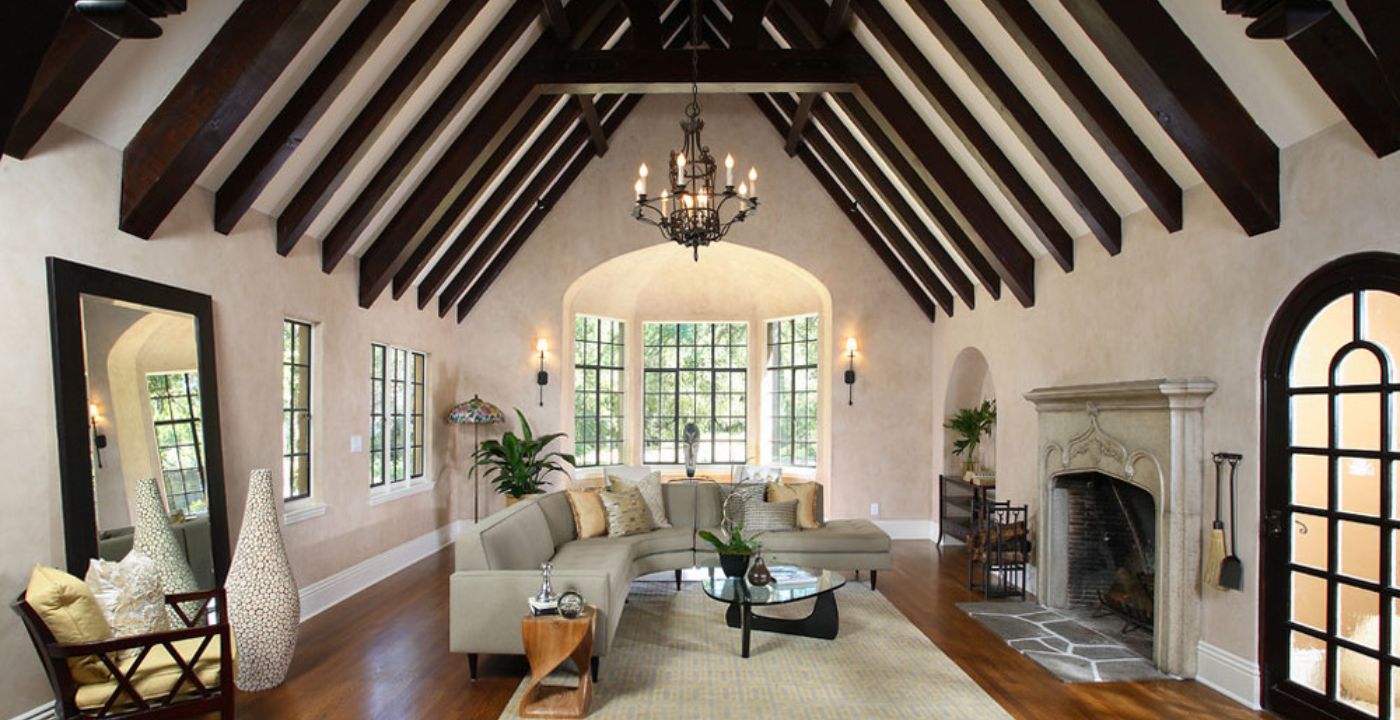 Vaulted ceilings evoke real drama in any property, but they aren't always the easiest when it comes to knowing what lights to use, and that's without even mentioning their installation!
There's a wide variety of light styles that can work in a vaulted ceiling, from pendant lighting to can lights and more between. Here, we've compiled our top 10 favourite styles of vaulted ceiling light, and what's more, we'll even help you learn how to install them!
The Best Lighting for Vaulted/Angled Ceilings
Pendant lights on a vaulted ceiling are a great choice as they help to fill the additional space in the room created by the apex-shaped roof. Although you'll find pendant lights to suit all room styles, they work particularly well if you have a vaulted ceiling in a kitchen. Hang a light on each side of the slope over an island, like this image shows, for an impactful (but still practical) display.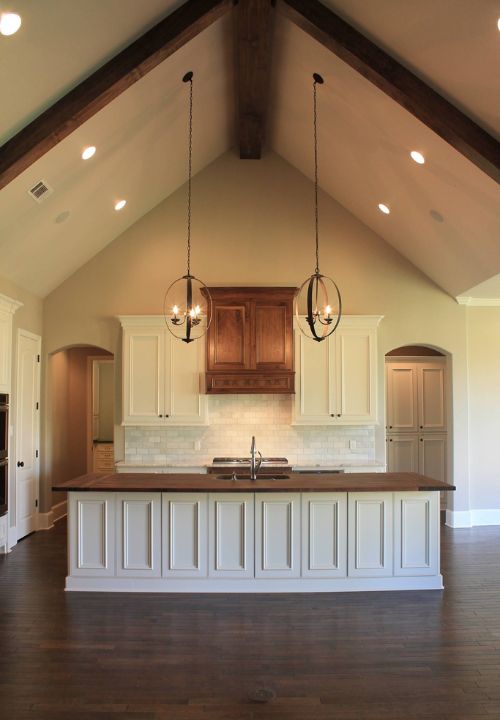 Key Benefits:
Adds more style to a room

Utilises the excess space created from having a vaulted ceiling
2. Track Lighting for Vaulted Ceiling
A popular choice for homeowners with vaulted ceilings is track lighting, which is great for those that want maximum brightness as you get several bulbs on one light fixture that can be directed wherever illumination is required.
If you have beams on your vaulted ceiling, track lighting can be fitted to those (or on the ceiling itself) at a position that suits you. A modern form of vaulted ceiling lighting, you can have track lighting as the sole source of light on a vaulted ceiling but you may want to consider some recessed lights (or even some small accent lights) as further support.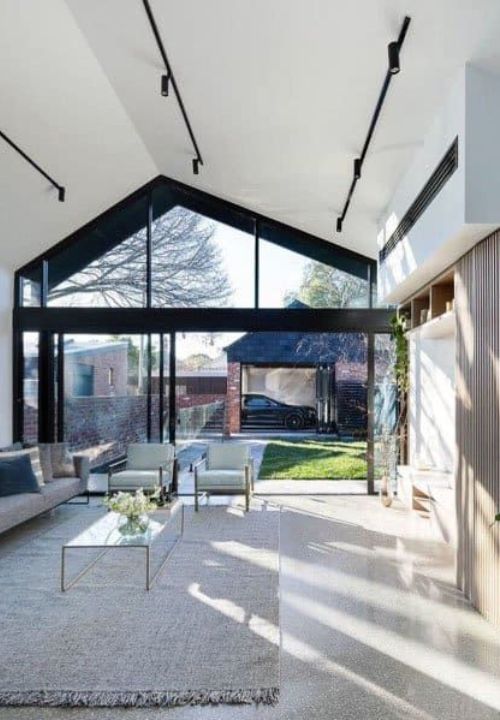 Key Benefits:
Good lighting for tasking or to highlight features

Versatile as there are multiple places on a vaulted ceiling to fit track lighting

Customisable ceiling lights that can be angled to suit
3. LED Strip Lights for Vaulted Ceiling
Not only do LED strip lights offer contemporary style, they're also an incredibly practical vaulted ceiling light fixture.
Their average life expectancy of 40,000 hours (which equates to 11 years in real terms) means you won't be up and down your longest ladder every few months having to change bulbs.
Strip lights add a gentle ambience to a room and will help to emphasise your statement ceiling, but for increased visibility, pair with wall lights or table lamps.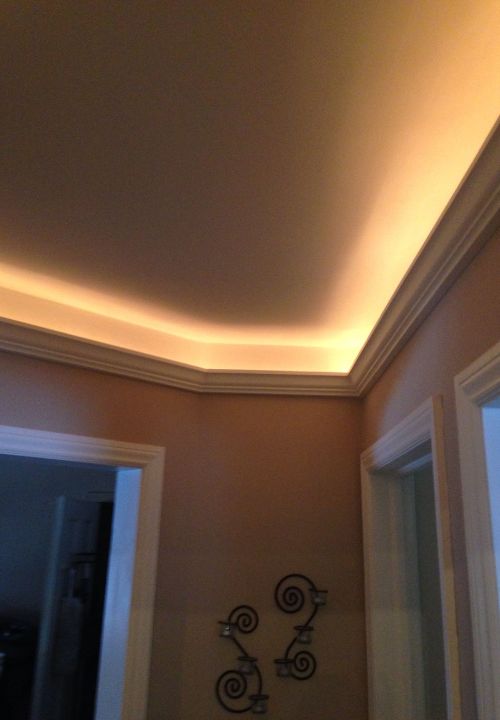 Key Benefits:
Offers up to 90% energy savings

Low maintenance

LED lights often come with a variety of colour options meaning you can get a bit

whackier with your lighting

if you so desire

Enhance the sloped ceiling feature
4. Vaulted Ceiling Recessed Can Lights
Embedded into your pitched ceiling, can lighting is a great light source to choose as it's highly versatile; you can customise where the lights hit but do so in a subtle manner that won't detract from the ceiling.
They're also ideal to use as half-vaulted ceiling lighting. You can select recessed mount housing to suit all décor styles to ensure the room still all ties together but make sure you select IC-rated, slope-compatible lights.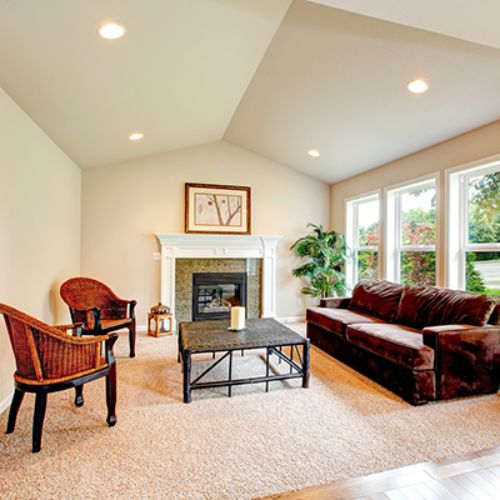 Key Benefits:
Versatile

Subtle design

Range of housing to suit various décor styles
5. Chandeliers Hanging from a Vaulted Ceiling
Add a chandelier on your sloped ceiling to create an unquestionably stunning look. The sloping nature of your ceiling allows plenty of space for this true statement light style to leave a lasting impression on all that see it.
In a similar manner to pendant styles, a chandelier will bring the light down to a lower level, but the delicate nature of the crystals will sprinkle light all over the room, creating a pretty ambience throughout. If you're looking for true chic, luxury and elegance, then this is the look for you.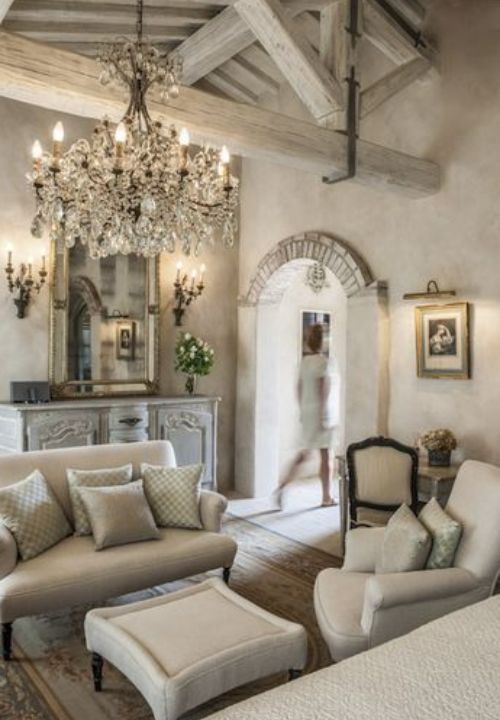 Key Benefits:
Statement light

Offers practical and tonal light
6. Accent Lights for a Vaulted Ceiling
Using accent lighting, such as single spotlights, on a vaulted ceiling is a smart way of emphasising features in your home – architectural details or artwork, for instance. Although this isn't likely to be your main source of light, it can provide a gentler background light when you want lower levels of brightness.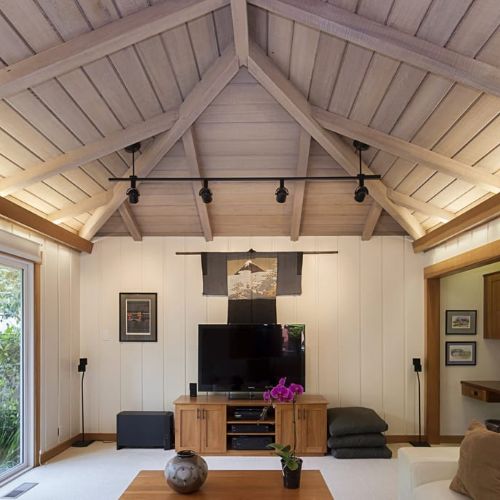 Key Benefits:
Highlights key features in a room

Can be combined with another light source
7. Angled Ceiling Wall Lights
Using wall lights and sconces will help to provide more delicate and intimate light for a room with an angled ceiling, but they are also useful if you'd prefer not to install fittings directly on to your ceiling. They can be used as a form of accent light, or even for tasking, and work well in tandem with another light source such as a pendant or recessed can lights, for instance.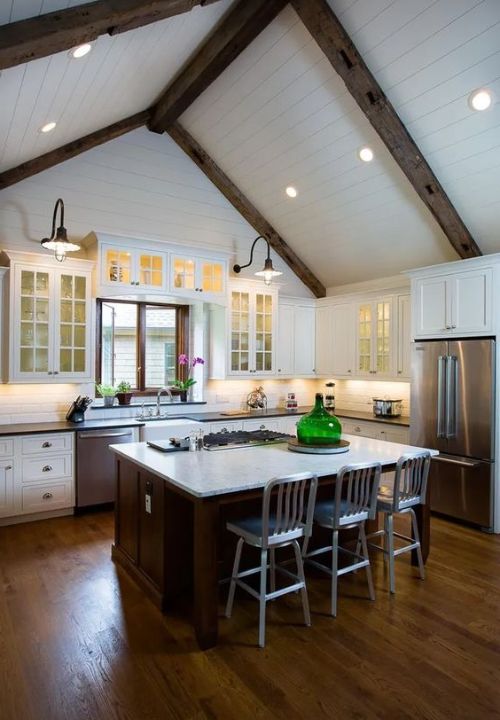 Key Benefits:
Provide accent and task light

Can be used as an alternative to ceiling lights
8. Extra-Long Corded Drop Light
We've already discussed the brilliance of pendant lights but how about super sizing that cord on your drop light? Extra-long corded drop lights are great to further intensify the drama of your already-statement vaulted ceiling.
Particularly well-suited to areas that require extra light such as kitchens, dining rooms, or even either side of a bed in the bedroom, adding extra length to your drop light cord will really make these lights a true feature within the room.
Key Benefits:
Great for areas that need more light

Feature lights that act as décor
9. Multi-Style Lighting for Vaulted Ceilings
Of course, no one is saying you need to stick to one style of lighting. Indeed, many of these ideas would work just as well together as they would solo. In fact, with the larger size of vaulted ceilings, one type of light may not always be enough anyway.
For those looking for a super bright room, opt to combine 2-3 different types of light fixtures for your slanted ceilings but be sure that each style aligns if you use more than one bulb within a category.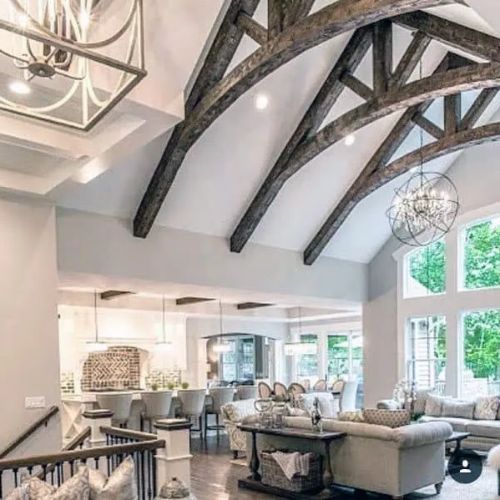 Key Benefits:
Multiple light sources

Makes use of the large ceiling space
10. Skylights for Angled Ceilings
So this might perhaps be a bit of a cheat option, but is there anything better than natural light? Installing skylights into your vaulted ceiling is a great way to brighten up your room and take advantage of what nature gave us. Add in some spotlights, wall sconces, and table lamps to provide light in the evenings and to illuminate your space on a dreary day.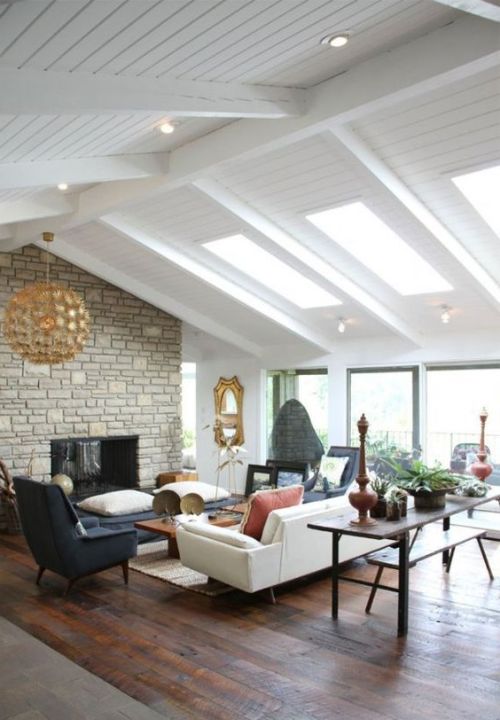 Key Benefits:
Takes advantage of natural light

Still allows for space for lighting
How to Add Lighting to a Vaulted Ceiling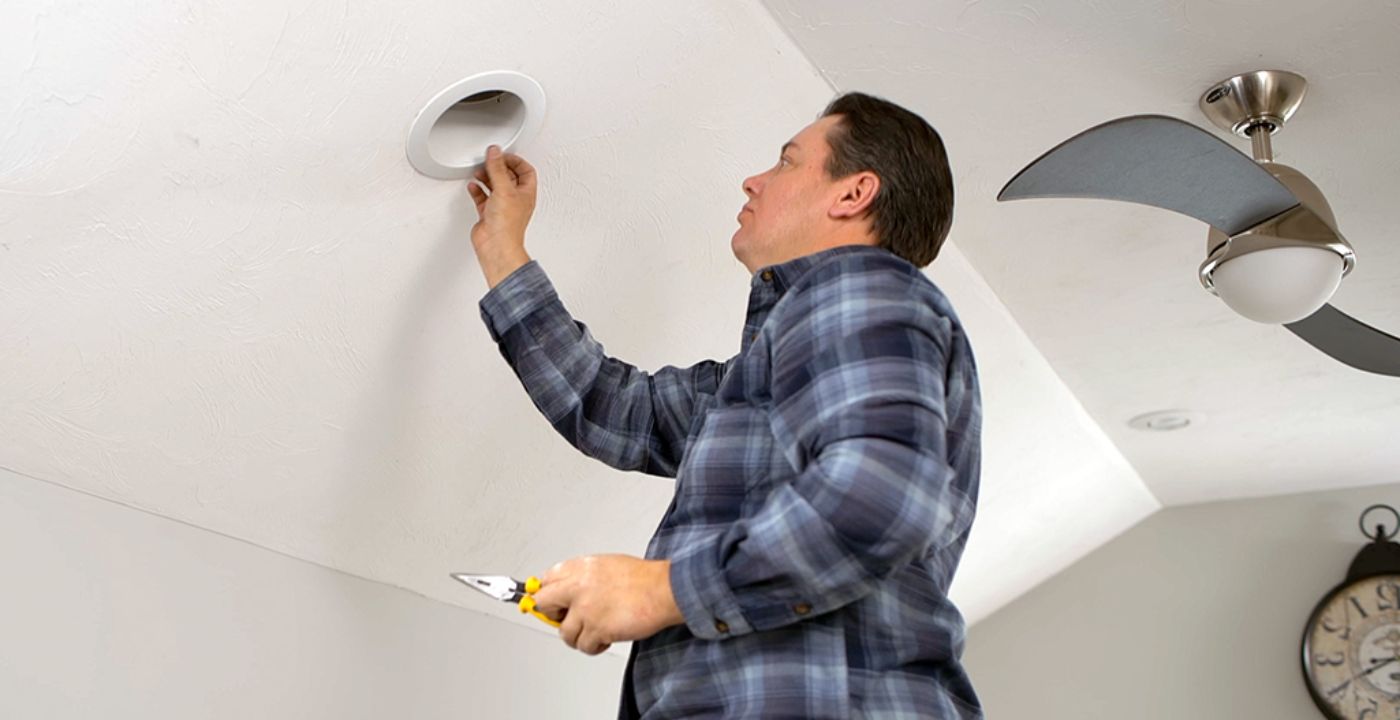 The process of installing lighting on an angled ceiling is going to vary depending on the type of lighting you choose, but whatever the light fitting, turn off the power before installation. We would recommend thinking about how to plan your vaulted ceiling lighting beforehand – you could draw a floor plan, for instance.
Below, we've given you the lowdown on the best ways to install your vaulted ceiling lights:
Probably the most complicated install for a vaulted ceiling, can lights (also known as recessed lighting) will need to be embedded within the ceiling itself. It's important to use airtight, IC-rated bulbs as this will ensure that they're safe to be surrounded by your ceiling's insulation and will stop heat escaping.
If you have beams in your vaulted ceiling, you can use these to your advantage by hanging your chandelier lights from them. As your chandelier is higher on an angled ceiling, you'll need to decrease the fixture's drop height by 3 inches for every foot above the average ceiling height of 8 feet. Chandeliers (and pendant lights) that use downrods can still be modified to hang straight by fixing a sloped ceiling adapter to it.
You can follow the same method as the chandelier installation with pendant lighting; another method for how to hang pendant lighting on a vaulted ceiling is the hang and drop technique. This involves using your sloped ceilings to install the ceiling rose rather than the apex. If you want your pendant light to hang from the apex you can place a hook closer to the middle of the ceiling and then thread the cable through it, so that it hangs more centrally.
Track lights can be fitted to the upper parts of an angled ceiling or on to any beams using sloped ceiling anchor hardware. Extensions can also be used to run from the transformer to the track, down to the light head to give more control over the height.
These can be installed on the slopes of the ceiling but it's important to keep them at least 3 feet away from the sides of the walls to avoid shadows. If you already have lighting on your vaulted ceiling, then keep your spotlights on the wall to avoid the ceiling from becoming overcrowded.
Contrary to popular belief, having a vaulted ceiling doesn't limit you lighting-wise and, as you can see, there are a multitude of options at your disposal. Some, however, may require more work to install. Take your time to decide what lighting will work best for you and remember, if you are unsure on how to fit the lights, then always seek professional advice.