Why is it called a coffee table?
The coffee table is a staple in most living rooms and is often one of the first pieces of furniture you buy for your home. But have you ever wondered why a coffee table is called a coffee table? Or what the origins of the coffee table are? Well, we have compiled some fun facts and trivia about its history and evolution so that you will be an expert on all things coffee tables by the end.

The history of the coffee table
The history of the coffee table can be traced back to the 17th century. However, it is debated as to who invented the coffee table we know of today. J. Stuart Foote, The President of the Imperial Furniture Company, claimed to have invented the modern-day coffee
table in 1920. His wife was hosting a party and needed a centrepiece, so he trimmed the legs of a dining table and named it "coffee table." However, this could be mere teatime gossip.
17th and 18th Century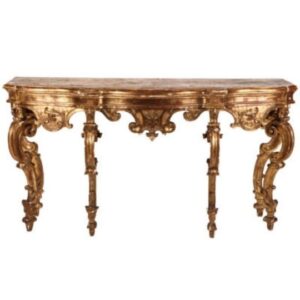 18th Century, Italian Giltwood table.
In the year 1750 Britain was witnessing a spurt in coffee houses and with it came the need for coffee tables. This brought in high backed settees that were later replaced by low backed sofas in the 18th century. 
Low backed sofas were used in conjunction with sofa tables. These tables sat at the rear as a surface for candles and to place cups of tea or books on.  Even though there were several coffee houses around during this era, no documents have been found that mention coffee tables.
Tea was also a popular choice of drink around this time. By 1740 the tea table was a necessary placing within any well-furnished home.
So why is it called a coffee table and not a tea table?
The name tea table changed over time to the coffee table as coffee became more popular than tea. Sofa, tea and end tables all served the same purpose. They were there as a place for you to put your cup of tea or coffee sown in between sips and a place to keep spoons, sugar, milk and the odd book. Like today they were also placed in front of a seating arrangement. However, unlike the coffee tables we know today, these tables were tall and round. Coming in at 27 inches in height, compared to coffee tables today that are between 16 inches to 21inches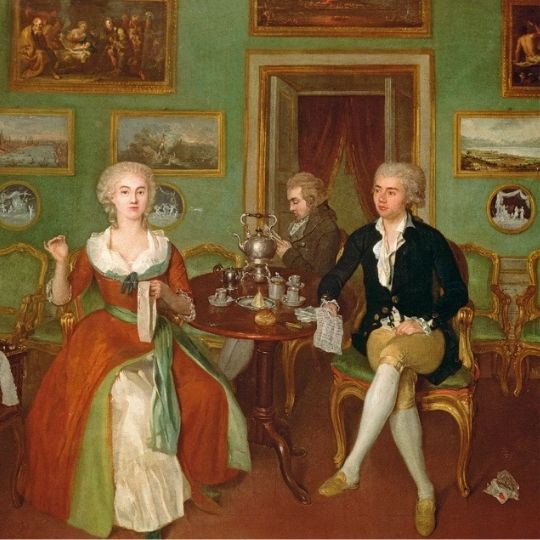 Man and woman enjoying tea in the drawing room. Notice the height of the table.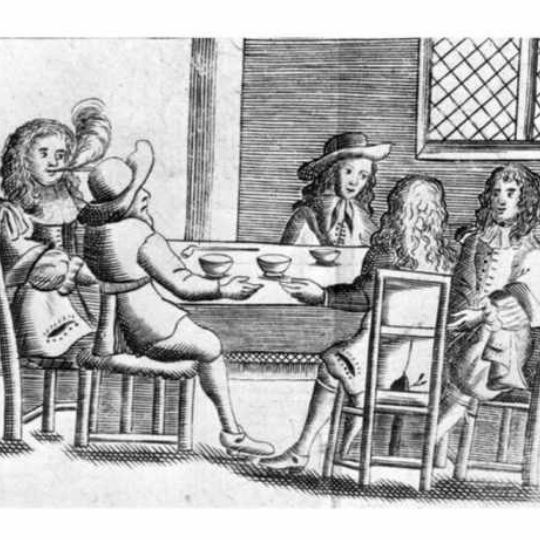 Group of men enjoying coffee in a coffee house in 1674
It was thought that coffee and coffee houses were the domain of men and were, therefore, more masculine than drinking tea. Whereas, women at home hosted little get-togethers called a tea party as tea was drunk around the tea-table.
19th Century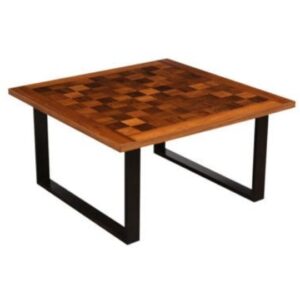 Coffee tables of the 1970s featured moulded plastic, lacquered wood and glass.
The term "coffee table" wasn't sued until the mid-19th century or Victorian era. And while tea tables were already a staple within the home since the 1700s, coffee tables had only been around since 1870.
The first wooden tables in Europe that were specifically designed and called coffee tables were in late Victorian England. At first coffee tables were designed for the more affluent client. They were made with overstated and elaborate features such as giant claw legs covered in golden vine leaves. Once the consumption of hot drinks became the norm, coffee tables filtered down through the social classes and were found in homes everywhere and just those of the rich.
Why did high coffee tables become low?
Low coffee tables are said to have been inspired by Japanese design which had become popular in Britain 1870-1880. Another theory is that they were inspired by the tea gardens in the early Ottoman Empire which saw low tables being a popular choice within the home.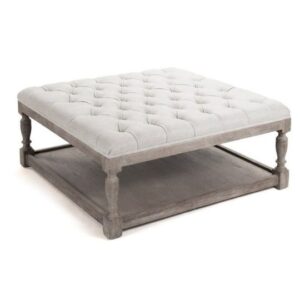 Ottomans became increasingly popular in the 21st century. Used as a footstall or coffee table.
Coffee tables soon became more than somewhere to place hot drinks. They served as a centrepiece for light entertaining and to display ornaments and ceramics. As magazines were becoming popular reading material the coffee table was the perfect place to display their beautiful and colourful covers.
20th Century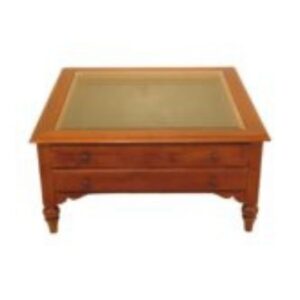 The coffee table designs of the 1990s saw the return of wood, especially dark wood.
Coffee tables were increasingly popular by the 20th century. It was in 1938 that the coffee table was described as a "low, wide table used to before a sofa or chair."
The 1950s – In the post-war era, coffee tables had become larger and more robust. They could withstand more usage which meant they were now used for more practical purposes.
The 1960s – The fascination with space and Sci-Fi had not only influenced TV shows such as Star Trek and Dr Who, but it had extended into fashion and interiors. The curved and pod-like shapes of rockets and spaceships were visible in the futuristic designs of that time.
The 1970s – Moulded plastic furniture, lacquered wood and glass were the design favourites of this decade.
The 1980s – The 1980s saw a rise in the use of glass and shiny surfaces. Coffee tables were made of glass and metal. Pointy edges were also very popular in interior design during this era.
The 1990s – The 90s saw the return of wood, especially dark wood. There was also a resurgence of old styles from the past with shabby chic, eclectic and flea market style coffee tables being popular designs.
21st century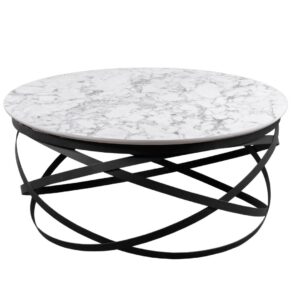 Today coffee tables come in a variety of shapes and sizes and are made from a number of materials.
2000-2010 – Chunky wood with wicker storage drawers, wooden trunks and acrylic coffee tables were all popular designs at the start of this century. Ottomans began to rise in popularity as well. Mainly due to their multi-purpose function of footstall, chair and coffee table.
2010, Present day –  Today, the coffee table is still situated in the same location in front of the sofa or chair. But the styles, shapes and sizes have evolved over the years. Today coffee tables are made from MDF, wood, metal, glass marble or acrylic plastic or even cupboard.
So there you have it, your full guide to the history of the coffee table. Want to know the ideal height of a coffee table? Check out our previous post.