If you're looking for a coffee table that will stand out in your space, look no further! We've rounded up some of the most beautiful modern round coffee tables on the market, so you make the right choice.
From round coffee table sets to contemporary round coffee tables with storage, there is something here for every style and budget.
Styling tips to consider before buying
Before buying a round coffee table, you need to consider how you want it to look, where you want it to be positioned and what size coffee table you need. To help you make these decisions, you should consider the following questions:
What size should a round coffee table be?
Round coffee tables range between 30 inches to 48 inches wide and 16-21 inches high. The scale of your surrounding furniture will help to determine the right diameter of your new coffee table. Your coffee table should be about two-thirds the width of your sofa. So if your sofa is about 8ft, then a coffee table that is 5ft wide will look most proportionate.
How far should a round coffee table be from the sofa?
You should aim to place your coffee table about 14 to 18 inches away from your sofa.
Is a round coffee table better for small spaces?
Yes, a round coffee table is perfect if you have limited space in your living room. Read on to see our stylish options of round coffee tables with storage, which will take up less floor space.
Modern round coffee table sets
A modern round coffee table set is the perfect addition to any contemporary space. They are also perfect for creating a better flow in the living room, as they do not have sharp corners, and therefore offer freedom to move around the space. 
Choosing a set of round tables will also help to create texture, especially if you opt for multi-size tables that can either be placed next to each other, or can be used as side table on either side of your sofa. 
To help you choose the right modern round coffee table set, here are some of our top picks: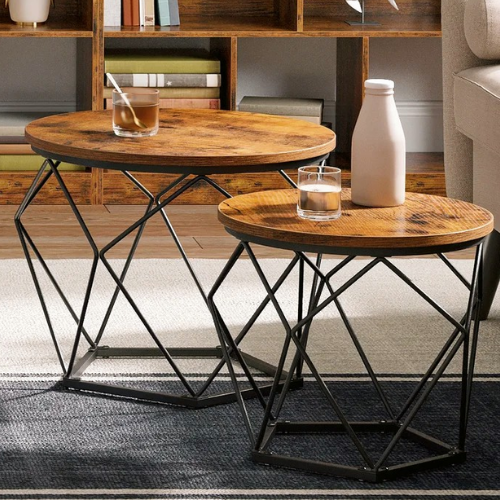 With round tops and geometric bases, this 2-piece coffee table set is sure to add a little unique style to your living room. Place it on your seating area to make a statement or use them as side tables in different rooms. (Wayfair £101.99)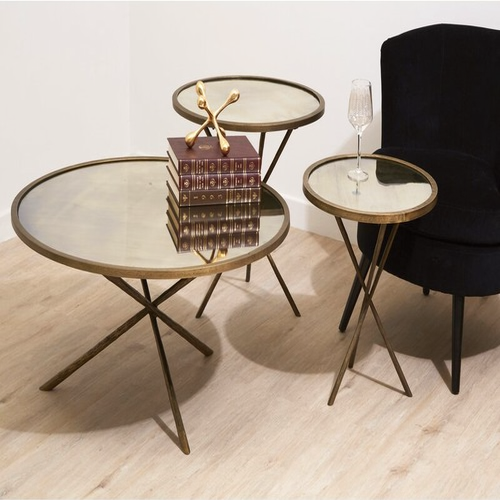 Let your style stand out with this 3-piece set of coffee tables. The rims and legs of each table are crafted from strong iron with an antique brass finish. Perfect if you have gold or warm, metallic accessories. (Wayfair £819.99)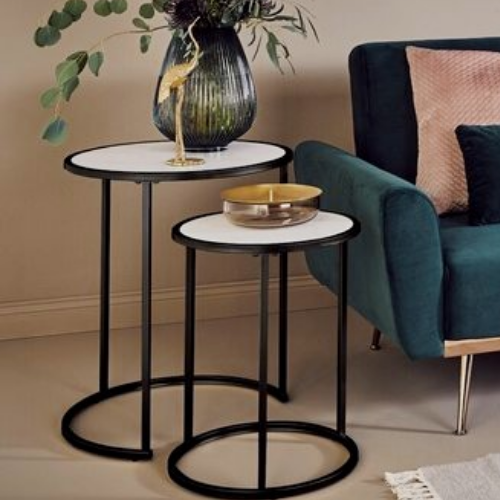 After something sleek in design but short on space? If so, this 2-piece is for you. The set consists of a larger table and a smaller table which can be slid underneath. It's also a perfect set if you're entertaining and need extra space for drinks and snacks. (Wayfair 184.99)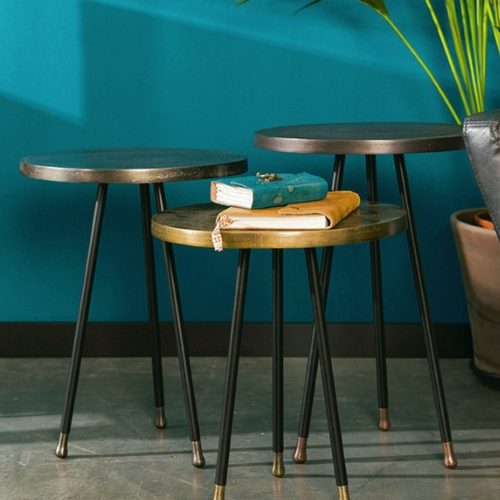 Each coffee table in this 3-piece set is crafted from metal, which is perfect if you're after a contrasting look to softer furnishings and accessories. You can use it as a coffee table or a side table for displaying plants, books or magazines.
(Wayfair £299.00)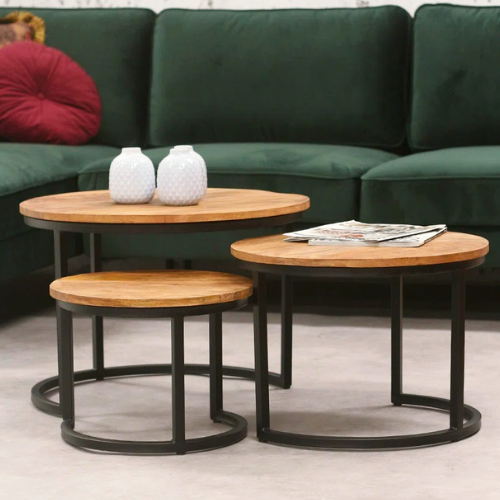 This set of industrial coffee tables features a solid wood top and metal base. Display them all together for a unique feature in the centre of your living room or place them in different parts of the room or house. This is definitely worth the price as they're multifunctional.
(Wayfair £359.99)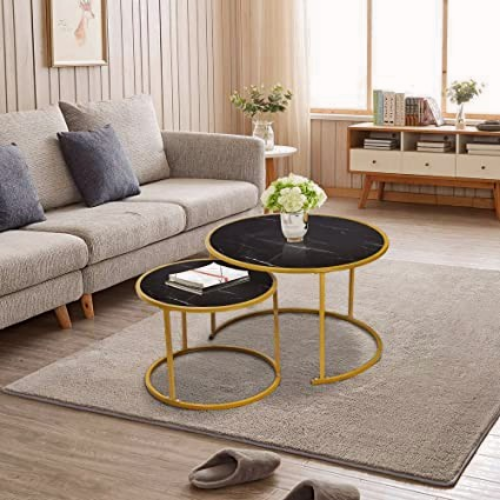 Like other sets on this list, you can display these nest tables together in the centre of your seating area. The black and white marble design on top and gold base will bring a fresh and sophisticated feel to your home. A great option if you're looking for a coffee table set but you're on a budget. (Amazon £72.99)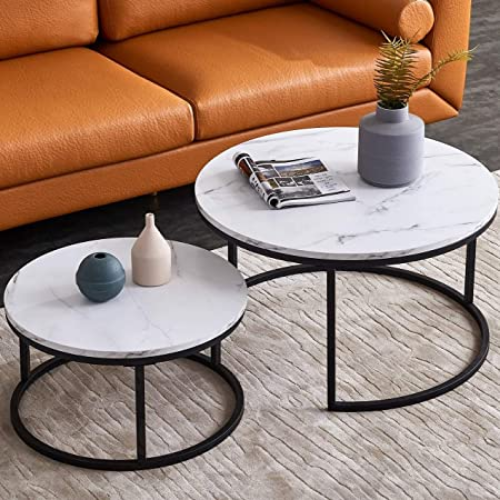 This set is bold and masculine in style. Made from sturdy MDF and a metal base, it's a perfect option if you're after something simple in style that can complement a modern living room. (Amazon £135.99)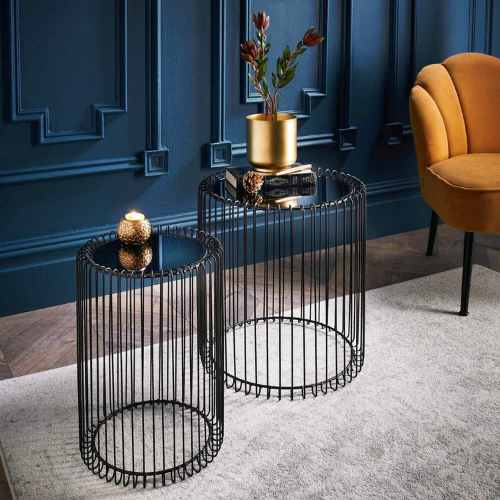 These cage coffee tables will make a statement in your home. Think glamour with added functionality. Unlike other styles, this set won't break the bank either. They're better used to display books and simple ornaments but nothing too heavy as the maximum weight is 5kg. (Amazon £60.00)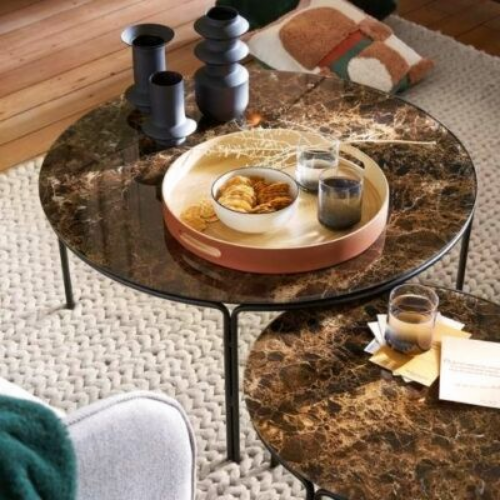 The tempered glass with a stunning marble effect all over make this set of coffee tables a true style statement. Typically, glass surfaces are fragile and need protecting from scratches, however, tempered glass is a stronger material and is shatterproof. It is also perfect if you have small children or pets that like to climb up on furniture. It will look good styled with a sectional sofa and metallic/gold accessories. (La Redoute £375.00)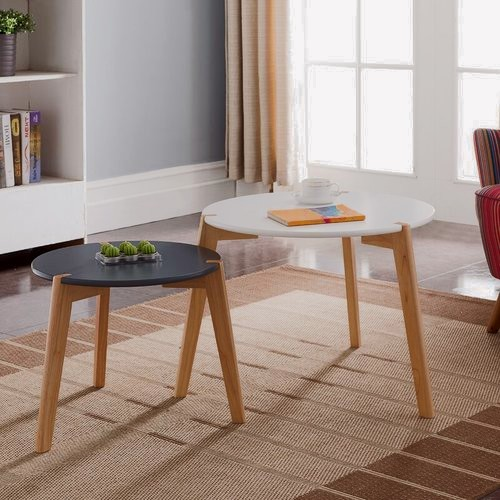 This coffee table set is not a statement piece like our other choices. These tables are far more simple in style but are still great for saving space and displaying books or vases.
(Wayfair 123.99)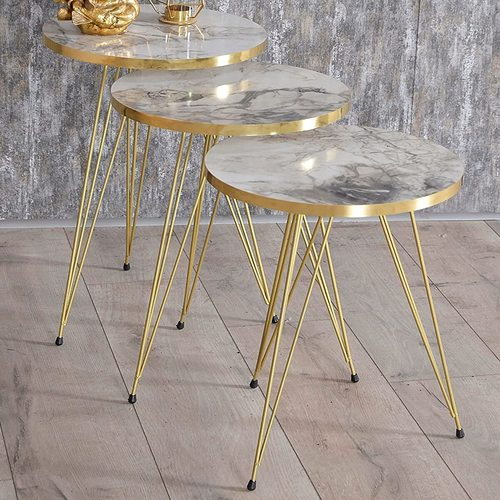 If you're looking for something shiny and glamourous, then this set of coffee tables are perfect for you. Use them as a focal point or as an accent within the room. They're not as big as other options, so be sure not to load them up with too many objects. (Amazon £34.90)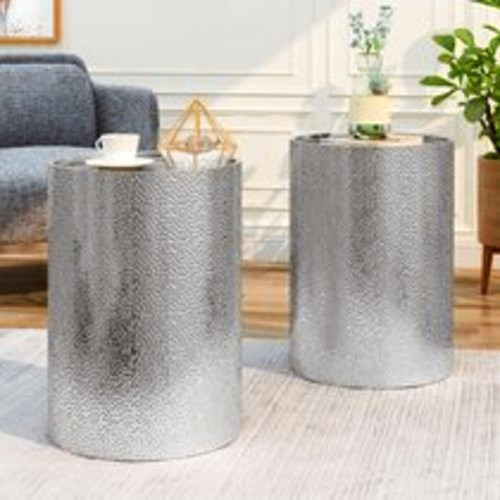 Now, if these don't scream statement pieces, then we don't know what does. These drum-shaped coffee tables are worth the price. The hammered iron surface is perfect to compliment other metallic pieces within your living room. These can be used to display vases, books or other ornaments.
(Wayfair £273.99)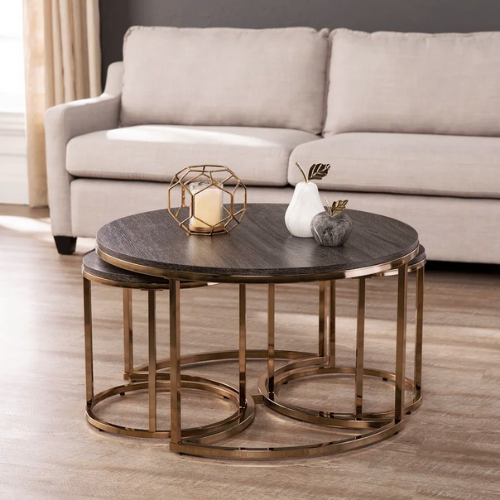 This set is sophisticated, durable and perfect for smaller spaces. Use the larger table for your seating area and the two smaller tables for you and your guests to pop your drinks down. The wooden top and champagne finished legs will look great paired with neutral coloured furniture and soft furnishings. Definitely worth the price. (Wayfair £459.99)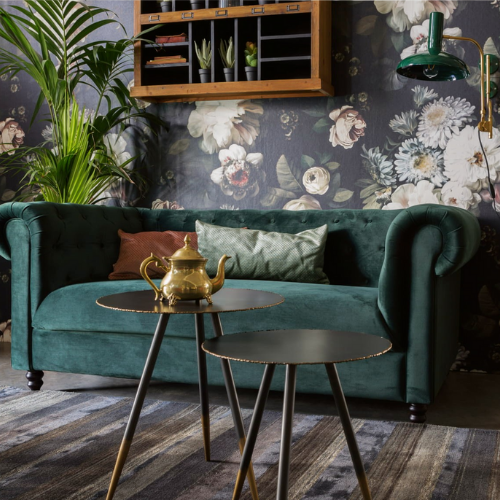 While these are not big compared to others, their base and top are both metal, so you can guarantee they'll be stable. Both tables feature a delicate gold rim and three legs. Pair both with lighter accessories and furniture to make them stand out. (Wayfair £209.00)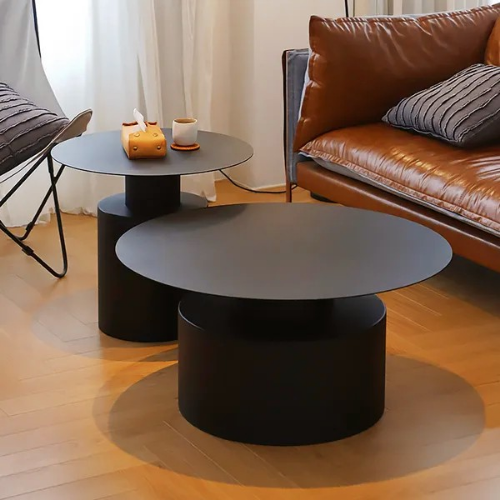 This set of coffee tables not only offers stability and durability, but they're also perfect for any modernly styled living room. The simple, clean lines won't distract from your other pieces but will add that little something extra to your interiors. (HOMARY £599.99)
Contemporary round coffee tables with storage
If you're looking to maximise your space, why not consider a round storage coffee table? A round coffee table tends to take up less floor space, so with the added benefit of storage, you can make your space appear much less cluttered. 
You can store anything you wish in your coffee table from TV remotes and phone chargers to books and magazines. This will not only offer an adequate storage space, but will also offer convenience to you and your guests.
If you are unsure where to start, take a look at some of our favourite contemporary round coffee tables with storage: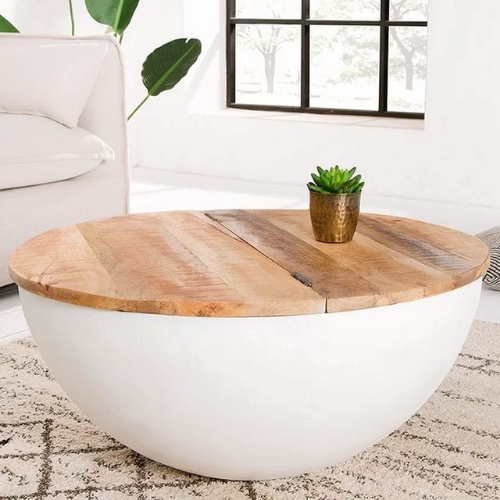 This coffee table has an industrial-inspired design combining natural mango wood and a very spacious white metal body. If you're looking for a stylish and multifunctional piece, then this coffee table is definitely for you. Open in the middle to reveal generous storage space inside. Perfect for keeping blankets, kids toys or any other bits and bobs.
(Wayfair £329.99)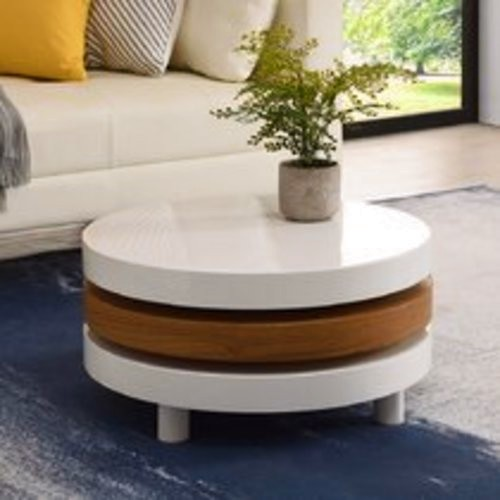 A cheaper option than most that we've listed. Thsi is not exactly the best option for storage, but it is a great choice if you're short on space and you want to have guests over. Simply extend out when needed and put it back together when you're done.
(Wayfair £185.99)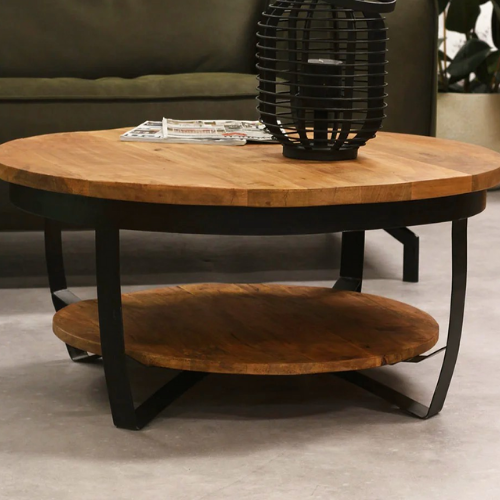 A very solid design, this coffee table is perfect for displaying coffee table books, flowers or a basket for all of your bits and bobs. Keep in mind that it is a heavy table, so make sure you know where you want to position it before you piece it together.
(Wayfair £405.99)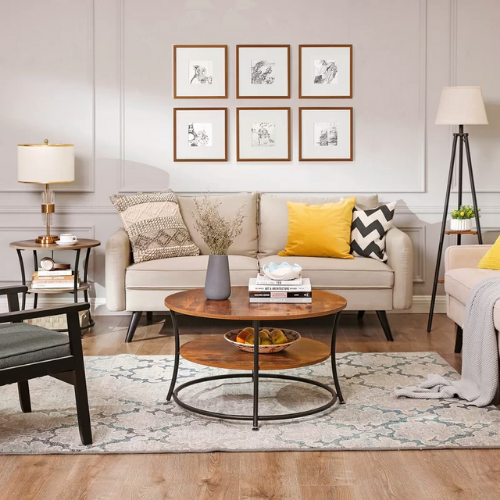 Lightweight and perfect for a smaller space. This coffee table will pull together the rest of your interiors. A cheaper alternative to other industrial/ rustic style coffee tables. Perfect for displaying a fruit bowl or coffee table books.
(Wayfair £93.99)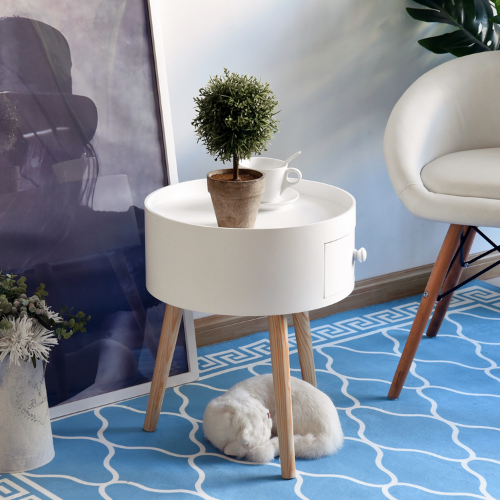 This coffee table is perfect for smaller spaces. But don't expect too much from this coffee table as it's rather on the small size compared to others. However, it works as a great option if you're lacking space but still need somewhere to keep your essentials tidied away. (AMAZON £35.99)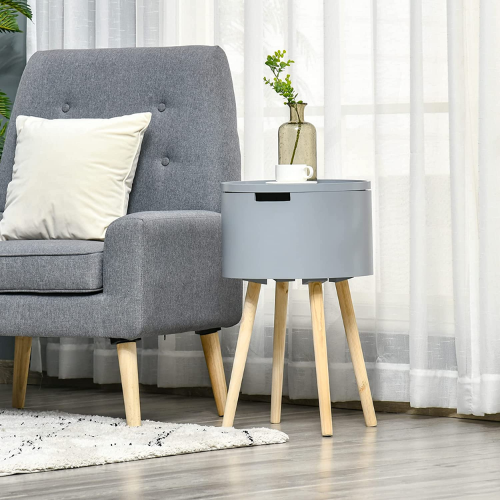 Keep pieces tidied away by lifting up the tray lid and displaying a lamp or magazines on top. A simple but stylish storage solution perfect for your living room
(£42.99 AMAZON)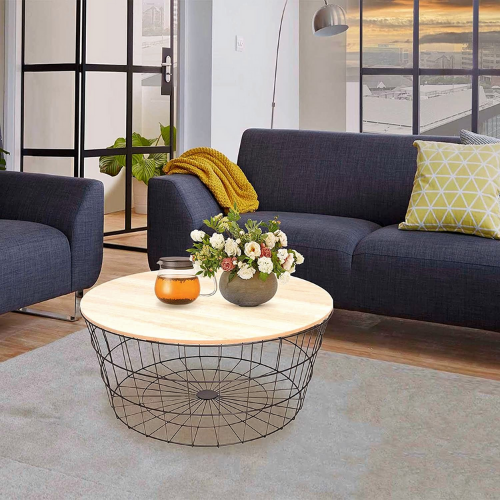 Great value and a lovely addition to your living room. Perfect storing blankets and extra cushions. The lid is a light brown wood, but it's not treated, so you may want to apply a wood treatment once you've put it together. This will help protect the wood.
(Amazon £54.99)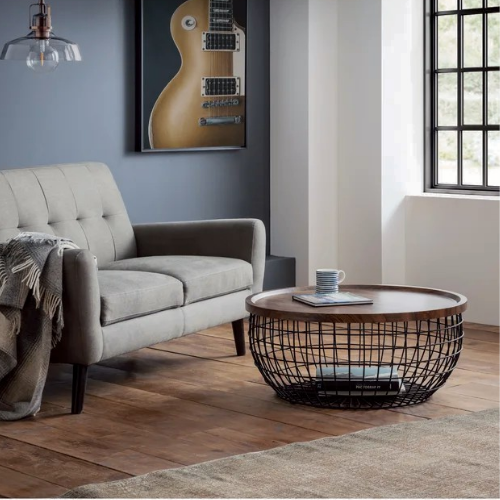 A great addition to your living room. Stylish storage to clean away any clutter. Sturdy in design, just lift up the walnut effect lid and place your items inside.
(Wayfair £189.99)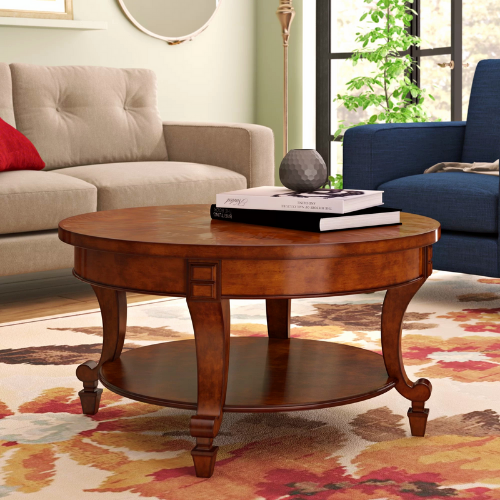 A classic style coffee table, perfect if you're interiors are more country cottage than a city apartment. Style with a stack of magazines and freshly cut flowers on top. It's pretty chunky in design, so it would be better suited for a slightly bigger space. (Wayfair £365.99)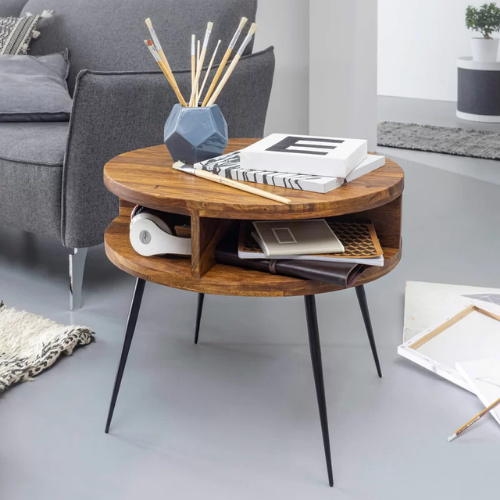 This contemporary design coffee table is ideal for store any of your personal items or household essentials. The four compartments give you plenty of storage space, and its solid metal legs mean it's very stable. (Wayfair £202.99)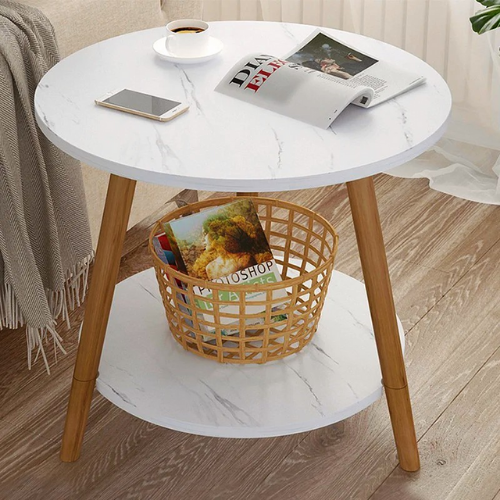 Compact in size but ample storage for your living room. The design is natural and fresh and will fit in perfectly with a neutral colour palette. The price makes it an absolute steal compared to others. (Wayfair £79.99)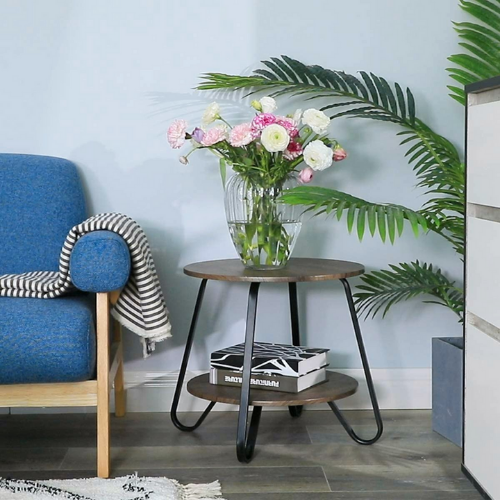 An industrial style coffee table but with a little twist. Made from sturdy walnut, this coffee table is the perfect statement piece for your living room. On the cheaper side to others, but its style alone is definitely worth the price. (Amazon £45.99)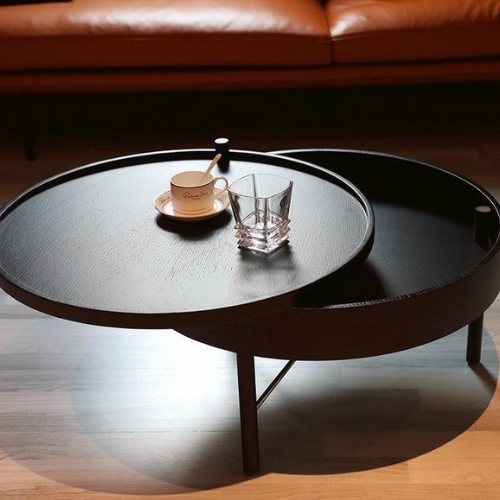 Style meets function and convenience with this rotating tray coffee table. The minimalist style gives a modern feel, while the high-quality wood material offers longevity. Worth every penny if you ask us. (Homary £249.99)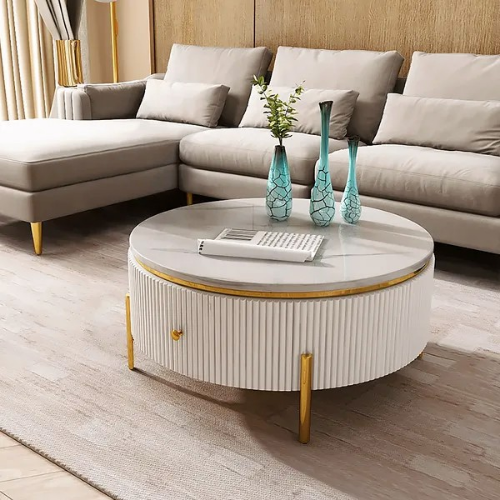 With its smooth marble top and gold accents, this coffee table will add a little glamour to your living room. The draw is handy for hiding away any clutter and keeping your essentials tidied away. (HOMARY £484.99)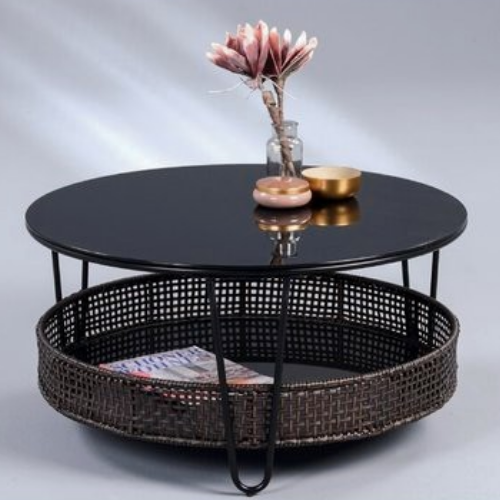 A contrasting mixture of glass and steel, this coffee table is not only practical in design but super stylish. (Wayfair £179.99)
Final Thoughts!
We hope this article has left you feeling inspired to invest in a modern round coffee table for you home. But which do you prefer, a chic round coffee table set or a convenient circular storage coffee table? 
Whichever you choose just make sure that you consider your space, as it is important that the coffee table you choose fits perfectly in the space and complements the rests of the decor. 
So, what are you waiting for? Size up your space and choose from one of our top round coffee table picks!