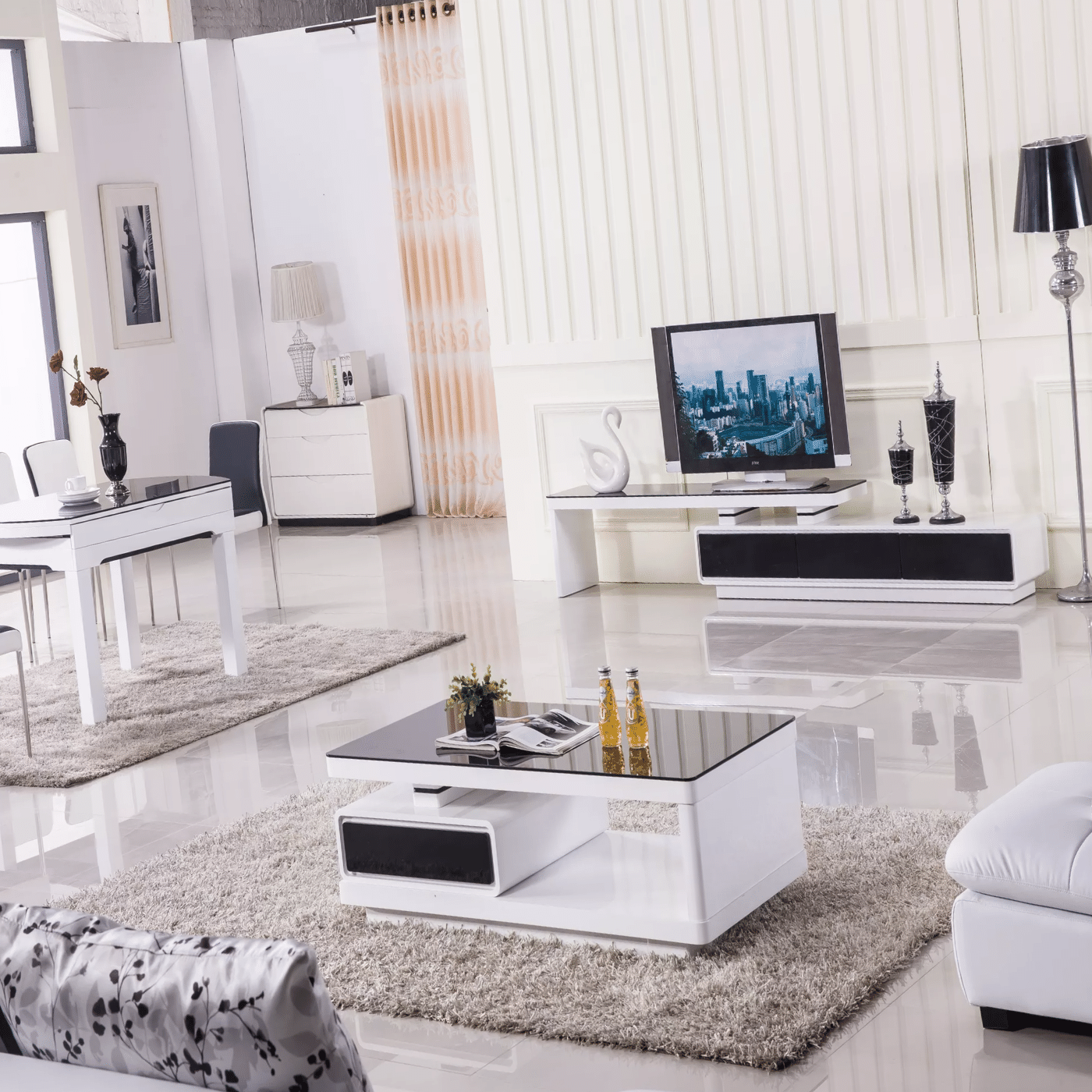 Furniture is labelled with hard titles such as coffee table or end table because, when they are manufactured, they have specific functions in mind but there is no rulebook saying that they must be used in their originally intended way. It is quite common these days to think outside the box and mix up the use of furniture items. Coffee tables, for example, are quite often used as TV stands instead.
Can a coffee table hold a TV?
Of course, your first thought when it comes to repurposing a coffee table into a TV stand might be how much weight can a coffee table hold? Really this will be dependent on several factors, these include:
The material of the coffee table, for example, glass would not be a recommended material to be used as a TV stand due to its low durability.

The weight and size of the TV. Coffee tables tend to be shorter in length and width compared to its TV stand counterpart so if you have an especially large television, you may find it a struggle to get one to accommodate the weight and size of it. 

The

height of the coffee table

. Coffee tables tend to sit low as they shouldn't rise above the seating height of the sofa which is great for larger TV's but if you have a smaller set then you might need additional height from your stand that a coffee table can't offer. 

The leg support of the table, for example, if the coffee table has a single supporting leg in the middle, then this would not be advisable to use as a TV stand as it wouldn't be sturdy enough to support the weight. 
On average a coffee table can hold weight up to 136kg however, given the expense of the average TV, it would be worthwhile checking the product specifications to be sure that is the case with your chosen table.
Suitable Coffee Table to TV Stand Materials
These days coffee tables come in an array of materials to suit both practical and aesthetic demands. From a practical viewpoint, you may want to establish whether your coffee table would have space to accommodate other items such as games consoles, TV boxes and cables before you set your heart on repurposing it into a TV stand. To establish whether a coffee table can be used as a TV stand, also consider the material it is made from and whether that is practical to hold a weighty and valuable item.
Probably the safest choice of material for your TV to be sat atop of is wood. A solid and durable choice, the only way this wouldn't be a sensible option is if the legs were made of something less solid or it was a single leg design. A wooden coffee table is capable of holding up to 300lbs in weight so you can be sure that your TV will be safe on the top of one of these!
Another safe choice to use as a television stand is metal as it is a strong material that is capable of supporting weightier items. Be sure to pick a sturdy design however as a delicate metal-work table won't be cut out for this task!
Although it is an easy clean option, glass tends to not be a good choice of coffee table to use as a TV stand owing to its delicate, easy-to-break nature. Keep any coffee tables for their intended use and search for a complimentary TV stand to tie your living space together.
A popular coffee table choice for those looking to break up any harsh, angular lines in their living space but definitely not a smart choice for placing a TV on top of due its soft, uneven design.
A classic material for a coffee table, perfect for bringing a touch of elegance to a setting but also a great choice for going from coffee table to TV stand. A strong and sturdy material, solid marble is not likely to move and will provide a firm base.
Does your TV stand have to match your coffee table?
If you've seen a coffee table style you like and are considering using it as TV stand instead, it is worth checking to see if they have a matching one already. As both these items of furniture tend to be focal points in a room, owing to their size, it would be visually appealing to have your TV stand match your coffee table, not only this but it will help to tie the room together, blending seamlessly. 
Whilst coffee tables and TV stands don't have to be from the same range, ensuring the items complement each other creates a more harmonious aesthetic. Mismatched furniture can make a room feel smaller and disorganised so having coordinated furniture will bring a sense of unity to your living space. 
These matching pieces from Wayfair are a great way to bring a space together, and use an on-trend walnut effect wood:
What can I use instead of a TV stand?
For those looking for an alternative style to the traditional look of TV stands, there are plenty of alternatives out there. A coffee table is, of course, one solution but you could also consider a console table, or sofa table as it is sometimes known, for a quirky take on a TV stand. 
A console or sofa table is a stylish alternative to a TV stand so long as the dimensions of the console table work with your TV. It is also important to ensure it is made from a sturdy material but once that's confirmed, there is no reason why you couldn't put a TV over a console table. Try to avoid selecting a console table that is smaller than your TV however, as you will want your TV to have some space either side to sit comfortably on top of the unit but also it will look more aesthetically balanced this way. 
Whilst a console table may seem too narrow and therefore unsupportive to hold a TV, many are actually designed with this alternative use in mind. Other, more unusual ideas for a TV stand include:
Bookcases

Dressers

Fireplaces

Trunks

Benches
As with a console table, if you opt for one of the above then bear in mind the size and weight of your TV to be sure you have a piece of furniture that can withstand and accommodate it.
Upcycling a coffee table into a TV stand
If you have an old coffee table you no longer use, have you considered upcycling it into a TV stand? It's easy enough to achieve a functional yet visually pleasing unit without needing to throw away a perfectly good piece of furniture. Provide a perfect base for one of the most used electrical items in households by following our step-by-step guide:
Assess the size of the coffee table and consider cutting off excess material from the back to reduce the depth. 

Reinforce with some

4 x 2 timbers

both horizontally and vertically at the back, if you don't have any tools you can use extra strong mastic adhesive instead. Attach a thin piece of plywood to cover up the back once complete.

Sand down and paint in a colour of your choice. Opt for a wood or furniture to paint for durability. 

Once your paint has dried, apply a sealant to ensure the table is extra protected.
Securing a TV to your unit
Of course, to be extra sure that your TV will be safe on your chosen stand, you could consider securing it down with fixings, however, should you ever choose to remove it then it is likely the table will be permanently marked as a result. This is however a worthwhile option to consider if you have small children or pets as an unstable TV can cause serious injury should it fall.  
Another alternative to this, if you aren't keen on attaching it to your furniture, is to mount the TV on to the wall with a bracket and have a piece of furniture, such as console or coffee table, underneath, and style with some simple accessories.
A coffee table might not seem like the most obvious choice to repurpose as a TV stand but often their dimensions work better for those with smaller spaces, or for those wanting to steer away from the traditional constraints of a typical TV stand. Whether you are upcycling an existing coffee table, or purchasing a new one, the main goal when selecting the correct one is to ensure that the size is correct, and it is sturdy enough to hold your TV on. Once you've perfected that, simply sit back, relax and stick the Netflix on!