How do I choose a comfortable chair?
Choosing a comfortable chair can be difficult if you don't know where to start. Maybe your back is giving you trouble, or perhaps you're not sure how to pick the right size. It's okay! Here are some tips that will help you choose the perfect seating option for your home. 

What type of chair is most comfortable?
Here are some helpful tips to ensure you choose the right office chair, sofa, or reading chair. 
The seat of the chair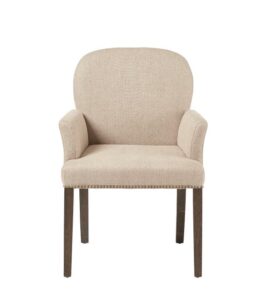 The seat is probably the most important feature of any chair because it supports your body's weight. So consider these points when selecting your next chair. 
Feel 
The seat should feel to sit on but it should also offer you firm support. Too hard and it will soon become uncomfortable, even if it's for a short period. However, if it sinks too much you may struggle to stand up. 
Angle 
Your thighs should be perpendicular to the floor as it won't be comfortable if your knees are pointing up or down. Aim to find a chair that is at the right height for you. Most chairs are about 18 inches high, however, you can get ones that are higher or lower. 
Depth 
You'll want to consider your height when it comes to depth. If you're on the tall side then a seat with a greater depth will accommodate the length of your legs a lot easier. You should be able to sit back fully in the chair so that the bottom of the chair touches your calves. When it comes to an office chair you'll want to make sure that the depth is enough so that you can sit with your back against the backrest while leaving approximately 2 to 4 inches between the back of your knees and the seat of your chair. 

Width 
A wider seat such as chair-and-a-half ( an oversized chair that is wider than a standard chair but narrower than a love seat) is perfect if you like to lounge in your chair. For your office chair to support you comfortably then the width of the chair should be between 1-3 inches wider on each side than you are. The standard width of an office chair is usually about 17-20 inches wide.
The chair back 
Chair backs can be low or high. Their purpose is to offer lumbar support to your lower back. When it comes to reading or watching TV, then you may want a higher back to offer some support to your neck. Lower chair backs are ideal for sitting down to have a conversation as you tend to sit up straighter in them. For your office chair, a higher back will come with support for your neck as well as they tend to have a headrest. 
Arms 
When it comes to a sofa or reading chair, whether you have an armrest or not is a personal preference. It also depends on how you sit and how long you sit in that chair. Armrests can make for better relaxation, so if it's a chair you plan to use often then go with an armrest. For an office chair, armrests are more ergonomic and comfortable and offer better posture.
Quality
The overall quality will not only dictate the appearance and longevity of the chair but also the level of comfort. So think like Goldilocks and pick the chair that is just right for you.
What chairs are comfortable for my home office?
Let's start in your home office. A good office chair is essential, especially if you're going to be sat down for such long periods.
When it comes to working in your office adopting a healthy posture at your desk can help prevent any muscle strains in your back, neck and other joints. But what is the most comfortable chair for sitting in all day? Read on to find out more. 
Kneeling Chairs
A great option to help prevent or reduce lower back pain as they help to evenly distribute your body weight. They can also help with blood circulation and productivity. Best for short-term tasks that require forward reach like letter writing.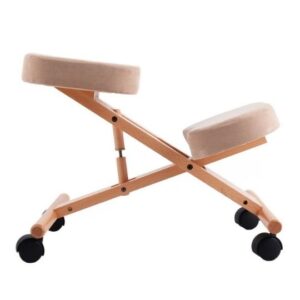 Kneeling chairs are perfect for preventing and reducing lower back pain.
Saddle stool 
Traditionally a popular option for those who work in healthcare clinics or hair salons. They allow users to move around easily as they work. The position you're sitting in on a saddle stool opens up the angle between your hips and knees so as a result your spine is held in its natural curve.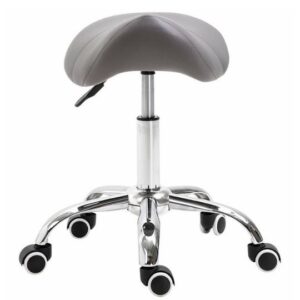 Saddle stools are perfect for helping your spine maintain its natural curve.
Ergonomic chairs 
Made specifically to help support your lower back and promote good posture. 
But what makes a good ergonomic chair? 
The seat height should be easily adjustable. A height of about 16 to 21 inches off the floor should work well for most people. This will allow you to have your feet flat on the floor.

A good seat will have enough width and depth to support you comfortably, see above for standard measurements. 

The lower back support an ergonomic chair offers is important. Your lumbar spine has an inward curve. If you sit for long periods without proper support it can lead to you slouching and straining the structure of your lower back. 

The backrest on an ergonomic chair should be between 12-19 inches wide. If the backrest is separate from the seat then it should be adjustable in its height and angle. 

Armrests should be adjustable and should allow for you to rest your arms comfortably and keep your shoulders relaxed. 

Any office chair, whether conventional or ergonomic should easily rotate. This will mean you can reach any part of your desk without straining.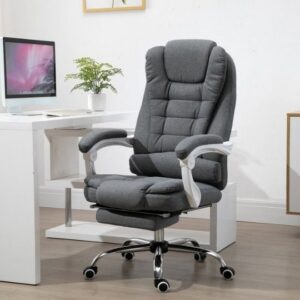 Adjustable height and back, wide seat and armrests and lumbar support are the ingredients of a ergonomic office chair.
What sofas are more comfortable for my living room?
The living room is the best place in the house to chill and snuggle up while binge-watch a series on Netflix. Focussing on a sofa that is comfortable is arguably just as important as getting a comfortable chair. Making them match is also vital to home decor success.
But which styles make the comfiest sofas? What type o  sofa is best for back pain? These three styles might just be the answers you're looking for. 
Recliner
They may not be the first thing you think of when shopping for your living room furniture and are a bit of a hybrid between sofas and chairs. But the recliner has many benefits. They're the best option for back pain as they help to relieve stress on your back and shoulders. They also help to improve blood circulation.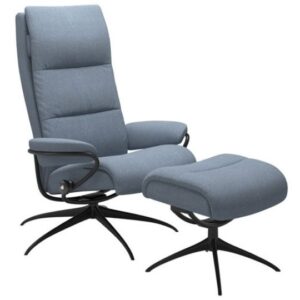 The best option for back pain as they help to relieve stress on your back and shoulders.
Corner Sofa 
The best option for those who love to entertain. The corner sofa will allow you and your guests to have a talk and see each other without having to rearrange the furniture.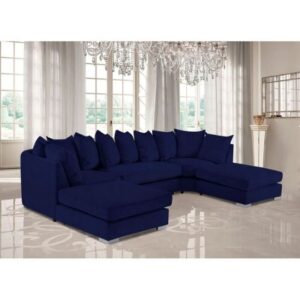 The best option for those who love to entertain.
Tuxedo sofa
Best for style and back support. The high arms of these sofas help to position the upper back and align the spine.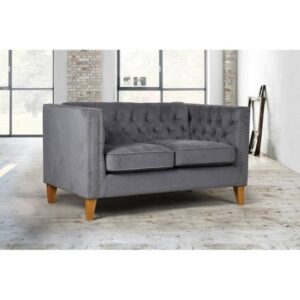 Best for style and back support.
What are the most comfortable reading chairs?
Every book lover needs their reading nook. Soft lighting, a TBR list and a comfy chair are all the ingredients to make yours perfect. Try these styles to make reading that little bit comfier. 
Wingback chair 
A timeless style. The wingback chair was designed in such a way to help avoid any draughts. They have a vintage feel to them and look great when paired with a matching ottoman or footstall.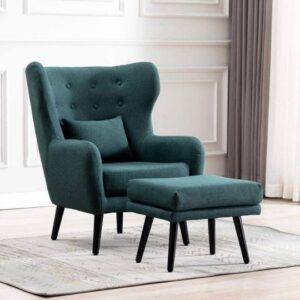 A vintage style chair that looks great when paired with a matching ottoman or footstall.
Chaise lounge 
Unique in style. Perfect for reading your book, entertaining or every day relaxing. Pick one in bold colour and make it a statement piece in your reading nook or lounge.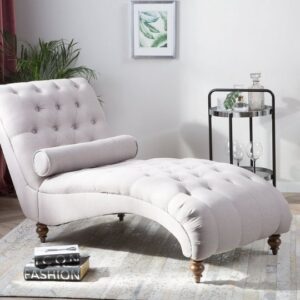 Perfect for reading your book, entertaining or every day relaxing.
Overstuffed 
Think of the overstuffed sofa as a fluffy cloud in your living room or reading nook. They're often large and soft with deep seats. Perfect for sleeping, reading or cuddling up in the evening.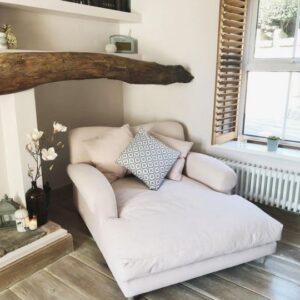 A fluffy cloud in your living room or reading nook.