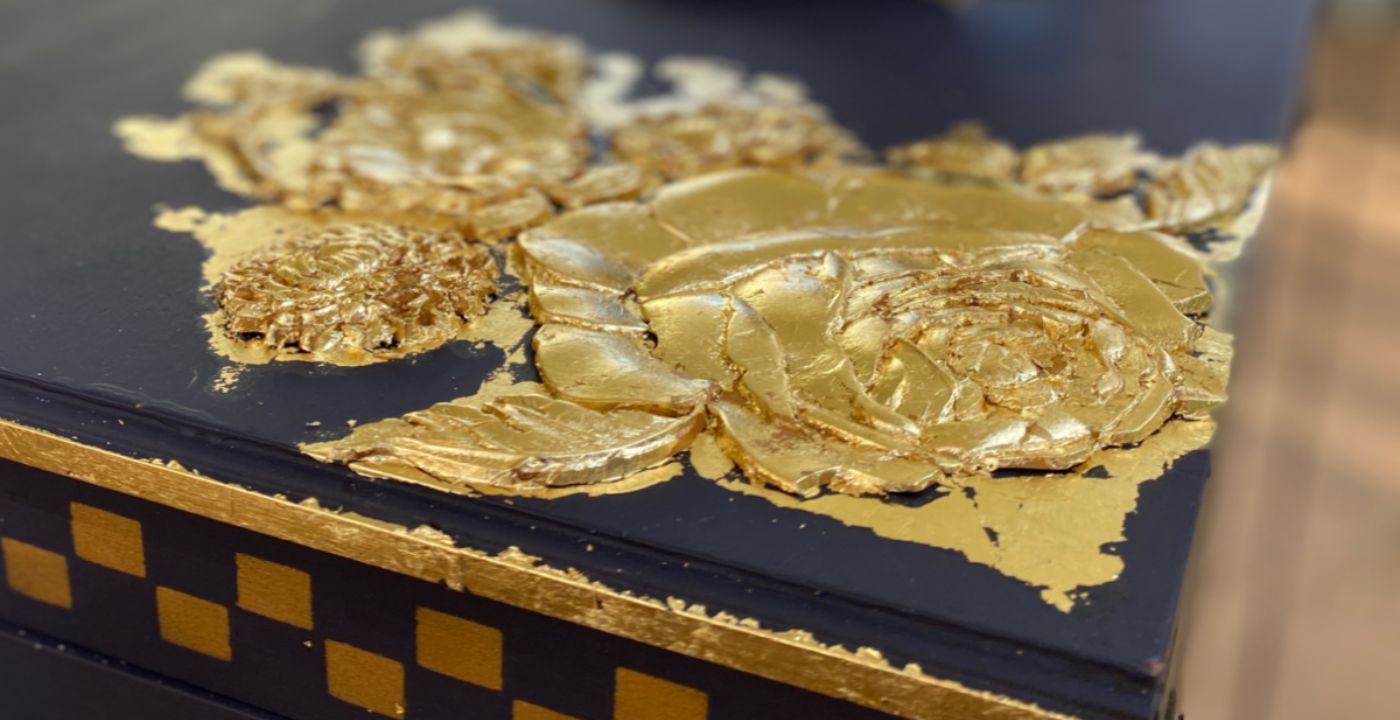 Have you got an old coffee table in need of a refresh? Or perhaps you've seen a coffee table style in a furniture store that you love but want to give it more of your own unique, personal twist. If either of these sound like you, then it might well be time to give DIY gold leafing a try on your coffee table!
The perfect way to upcycle, modernise and style a coffee table, gold leaf provides an elegant, exclusive-looking approach to transforming a basic, tired-looking table into a striking piece of furniture. 
So, it's time to get creative! Keep reading for our quick and easy-to-follow tutorial that will teach you all you need to know about how to gold leaf and instantly refresh your coffee table.
Sugar soap

A cloth

Sandpaper

Paint in a colour of your choice

Masking tape

Water-based adhesive

A small paint brush

Cotton gloves

Gold leaf sheets

Clear wax
How to Gold Leaf a Coffee Table: Step by Step Guide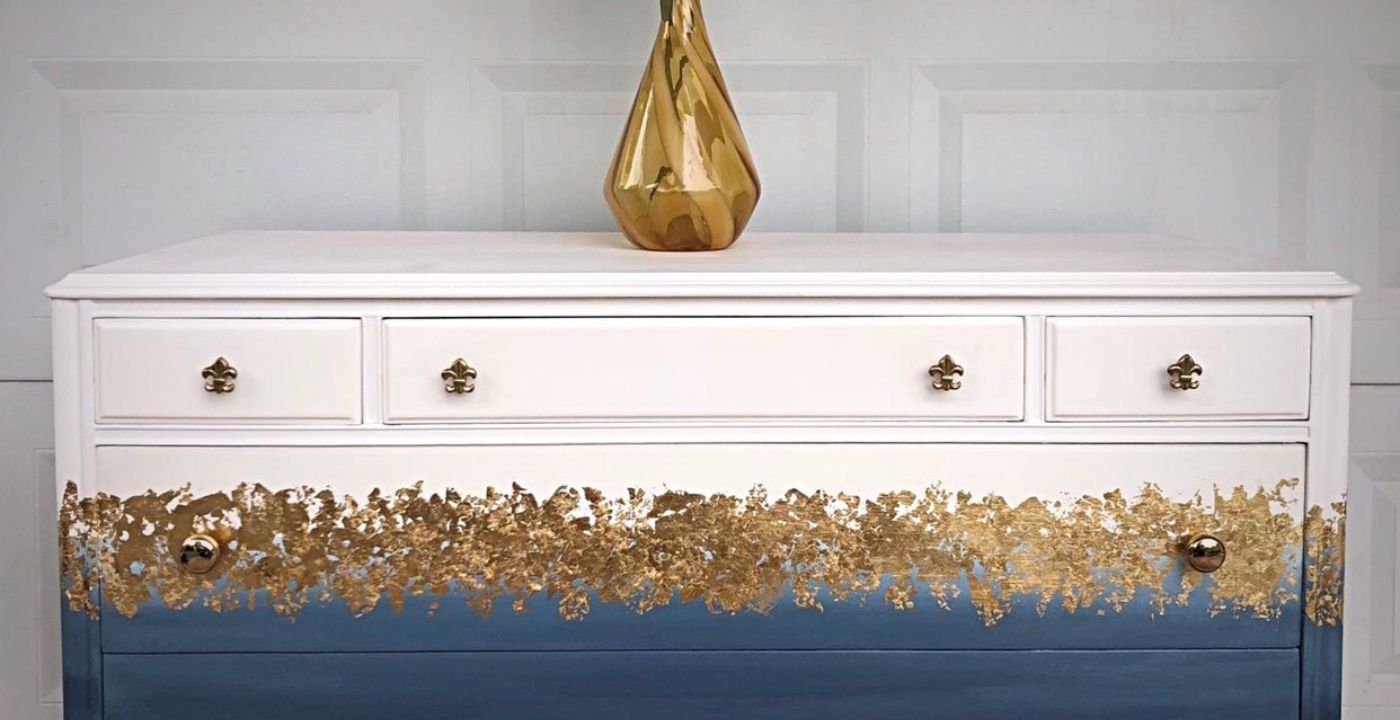 Duration: 1 hour (excluding drying times)
1. Wipe down furniture to remove surface dirt
Apply some sugar soap to a clean cloth and gently wipe down your coffee table to ensure there is no dust or dirt left. Always test a small area before applying sugar soap all over. 
Top tip: If you have an older or more delicately made coffee table then simply use a damp cloth without any product.
2. Paint the coffee table
Gold leaf works best as an accent rather than an all-over finish and, although this is an optional step, a lick of paint can help to further refresh your old coffee table. Pick a paint colour that will work in harmony with the rest of your living room décor then sand down and apply 2-3 coats of paint. A chalk-based paint works best as it requires little prep, adheres well to most surfaces and dries quickly.
Top tip: Dark colours work best with gold leaf to help make it stand out.
3. Key the coffee table surface
To ensure the gold leaf can stick to the surface, you will need to key the coffee table with a fine grit sandpaper; 180-220 grit would be ideal. Keep to a light pressure and avoid rubbing too hard or for too long otherwise you will remove too much paint. Use a cloth to remove any excess dust.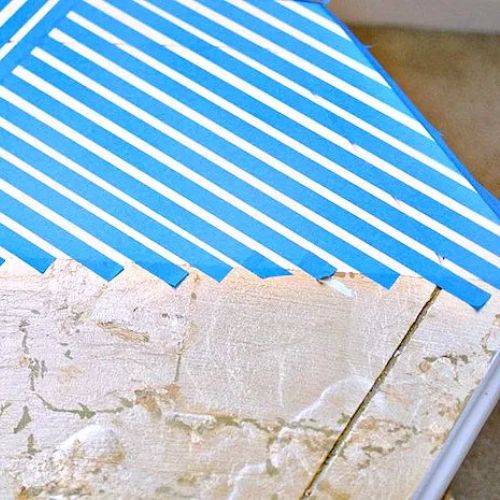 Again, this is an optional step, but applying masking tape as a guide for where to apply the gold leaf on your table will help ensure you get the design just right and masking tape is gentle enough to ensure that it won't rip off your newly painted surface underneath. Popping masking tape on prior to application also gives you more control and allows you to better envision your design.  
Top tip: For a more creative design, try adding shapes such as circles.
Using a small paint brush, apply an adhesive, such as Beacon, on to your coffee table in the areas you want to place your gold leaf. You could use a spray adhesive but bear in mind that it will be harder to control. Gold leaf is more commonly applied only sparingly as an accent colour and a spray adhesive may make that harder to achieve. Remember to keep your design in mind at all times!
Allow the adhesive to dry for 15-20 minutes until tacky. If you leave it too long and find it has dried out, then simply apply some more glue with your paint brush.
6. Press on the gold leaf
Put on some cotton gloves. If you don't have any gloves, sprinkle your fingers with baby powder, as this will keep any oil from your fingertips transferring on to the gold leaf which is extremely fragile and easily damaged. 
Take a sheet of gold leaf and gently place it on a glued area of your table. When it comes to how to apply gold leafing to furniture, such as a coffee table, very gently rub the sheet over the glue so that it sticks. If you notice the leaf starts to rip, don't panic! Gold leaf is designed to behave this way so that it leaves behind uneven edges making the application look unintentional.
Using a clean paint brush, gently start brushing the gold leaf you have just applied to your coffee table. Small pieces will fall away, which is good as you want it to look distressed and naturally placed. You can skip this step if you want to completely cover an area with gold leaf; keep gently patting it down instead. 
Top tip: lay a sheet underneath your coffee table to catch any falling leaf as it can be hard to clean!
Repeat steps 6 and 7 on the other areas of the coffee table that you applied adhesive to. If you find that your glue has dried out in some places, apply some more and wait again for it to become tacky.
Complete the project with a clear finishing wax that will seal everything in place and keep it from falling off or tarnishing. Apply using a clean cloth, gently wiping it on to the gold leaf in small, circular motions. 
It's important to carry out this step otherwise you may find that your gold leaf wears off over time. What's more, most gold leaf is actually made from brass which tarnishes and changes colour over time if not protected. Applying the finishing wax not only protects the gold leaf but will help prevent your coffee table from looking lacklustre.
Frequently Asked Questions (FAQs)
What adhesive do you use for gold leaf?
If you are wondering whether you have to use special glue for gold leaf, the answer is yes. The best adhesive you can use for gold leaf is a water-based one. We would recommend the previously mentioned Beacon or Mod Podge, as these are designed to adhere gold leaf to wood, plastic and more materials besides.
Can you spray paint gold on wood?
You can, of course, use spray paint to add gold to your wooden coffee table. However, you will not achieve the same effect as gold leaf as the finish will be different, and it will leave you lacking that uneven, rustic finish that gold leafing gives. It's also much harder to control spray paint.
How do you paint a coffee table with gold?
To paint a coffee table with gold, you will still need to prep it with sugar paint and sandpaper much like when applying the gold leaf. Once the prep is complete, apply the gold paint and seal with a topcoat.
Again, just like spray paint, you will not be able to create the same effect that gold leaf gives, however you can create a more distressed finish by using sandpaper to take some of the paint off.
Carrying out a DIY gold leaf application on furniture is a great, creative project that allows you to refresh and upcycle tired pieces or simply add a more unique touch to new ones. Applying gold leaf to a coffee table is a great place to start as it is a relatively simple and small item but will also help with future gold leaf furniture ideas and projects!