If you're like most people, you probably spend a lot of time in your living room. Whether you're watching TV, reading a book, or just relaxing, the living room is a central part of your home. That's why it's important to choose the right furniture for this space. 
In this post, we'll take a look at some of the best coffee table and TV stand sets on the market. We'll discuss the pros and cons of each set, so you can decide which one is right for you. 
So why not turn off the TV, grab a coffee and read on…
1. Best modern TV stand and coffee table set
Simple, clean lines define these complimentary pieces.  Metal, black-stained mango wood and smoked glass combine to produce a sleek modern design that will perfectly match your tech.  With lots of storage to keep everything neat and tidy you can sit back, relax while you watch your latest Netflix thriller.  They both come ready assembled with just the legs to fit.
Pros
Loads of storage

Sleek, contemporary design

Ready assembled
Cons
Smoked glass shows the dust

High price tag
2. Best Rustic TV stand and coffee table set
Looking for a design to grace your country look?  This traditionally designed tv stand and coffee table set is made from solid pine with an attractive distressed, wax finish that will match most colour schemes.  Solid and well made, we think the price is amazing value.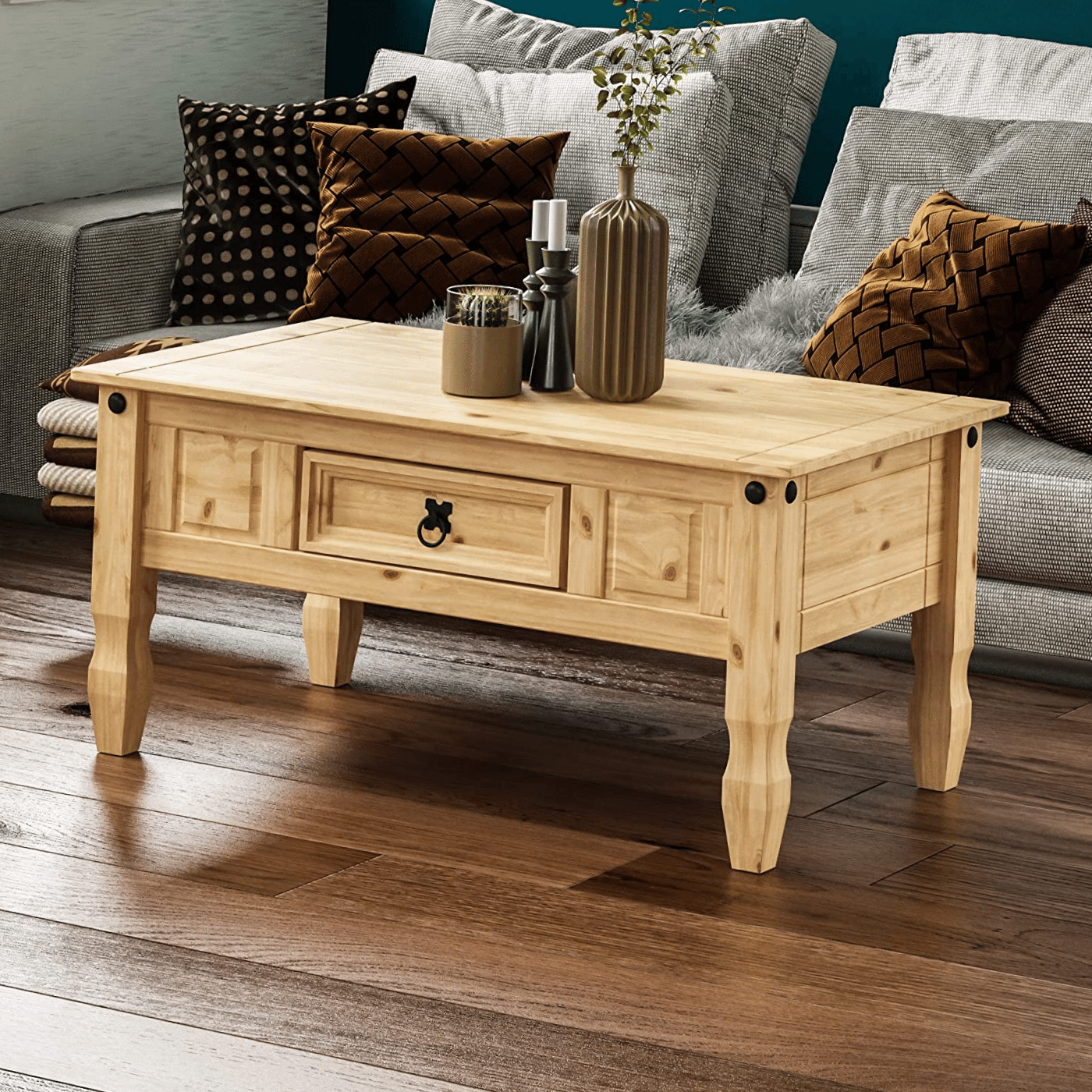 H 51 x W 120 x D 40 cm Approx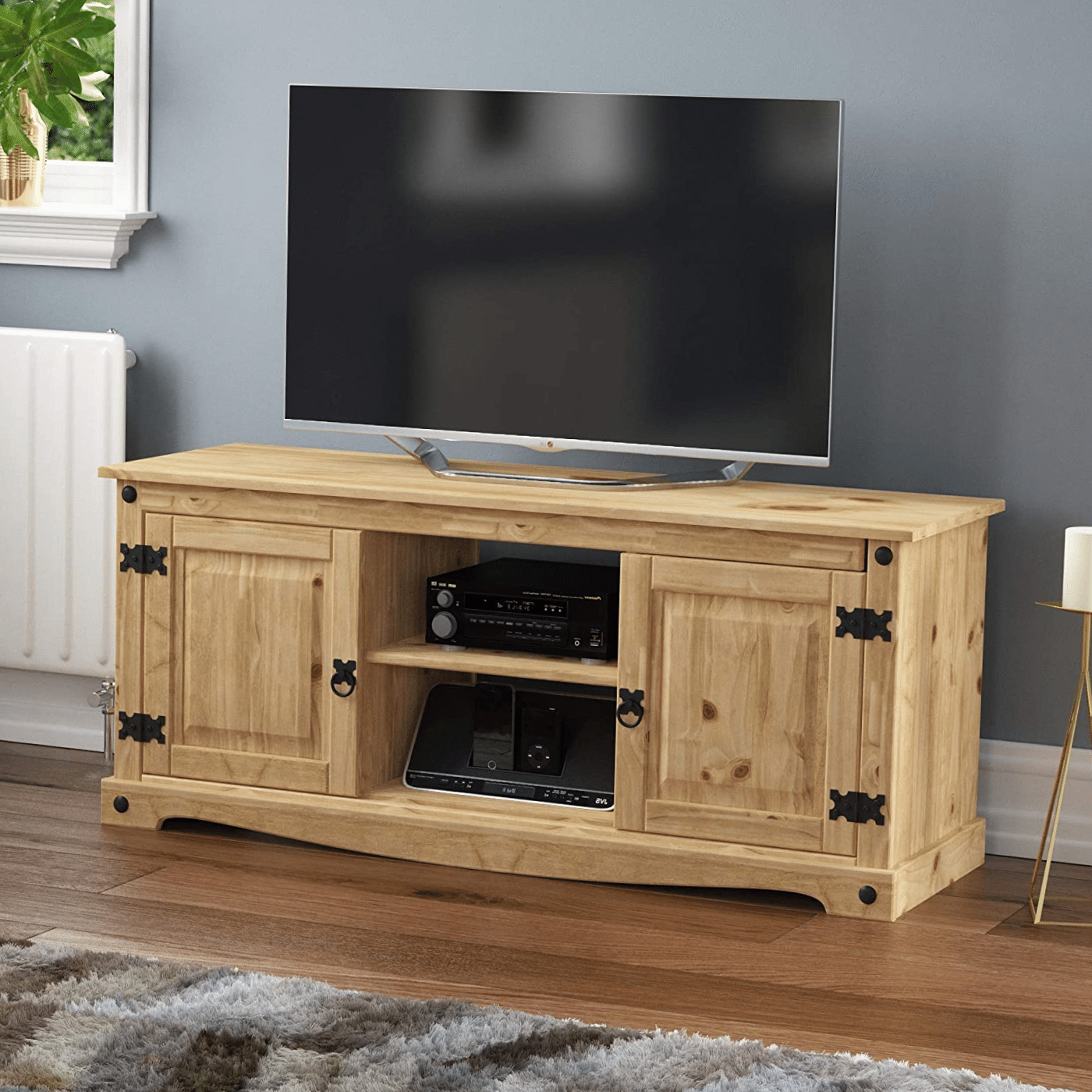 H 45 x W 94 x D 56 cm Approx
Pros
Great value

Neutral, traditional design

Solid wood
Cons
3. Best designer coffee Table and TV stand
TV stands don't always feature as a remarkable piece of furniture, but this beautifully designed Lucien table and stand from British designer Tim Fenby definitely does.  Made from traceable, dark mango wood, its timeless look will grace any home.  With plenty of shelf space and a cupboard to hide the clutter we think it is worth the slightly higher price tag.
Pros
Solid wood

Timeless design

Only legs need to be fitted
Cons
High price tag

Delivery charge
4. Best industrial TV stand and coffee table set
If you want to create a seamless, designer finish then look no further than this elegant and stylish duo from MADE.  The understated coffee table picks out the styling on the doors of the beautifully designed TV stand.  Made from oxidised brass, stainless steel and mango wood, industrial chic doesn't get much better.
Pros
Exceptional design

Solid wood

No Assembly required
Cons
Space required for the TV stand

Higher end budget
5. Best budget TV stand and coffee table set
Looking for great looks at an affordable price?  This set of 3 from Amazon will really fit the bill.  Featuring a lamp stand, coffee table and TV stand all made from MDF, particle board and finished in a stylish grey.  Self-assembly is required but for the money that seems a good trade off.
Lamp Table Size:
L 45 x W 45 x H 50cm
Coffee Table Size:
L 85 x W 47 x H 42cm
TV Stand Size:
L 85 x W 39 x H 58cm
Pros
Affordable

Quick to assemble
Cons
Simple design

Needs to be assembled 

Small TV stand
6. Best compact TV stand and coffee table set
This very cute TV stand still packs a punch on the design front.  Its diminutive dimensions mean it will fit in anywhere you want and will not dominate your room.  Handy drawers will keep your remote controls out of sight but close to hand.  It's made from  ash and the matching coffee table is available in white ash too.
Pros
Funky design

Compact

Storage
Cons
7. Best family TV stand and coffee table set
Having a young family can mean a lot of stuff hanging around.  With this  space saving coffee table  and TV stand you can stash a lot of it away when you are not using it.  The TV stand has lots of shelf space for game consoles and box sets.  The coffee table can also be raised to make a desk space, cleverly revealing a large storage area below. Made from laminate, the durable commercial grade top surface with melamine finish resists scratches, stains and burns.
Lift-Top Storage Coffee Table:
H 38 x W 95 x D 66cm
TV Stand:
H 38 x W 134 x D 37cm
Pros
Loads of storage

Dual height coffee table

Durable
Cons
Self assembly required

Made from laminate
8. Best corner TV unit and coffee table
The corner of your living room is often the best place to site your TV.  It makes extra sense too if you only have a small room.  Ideally a corner TV unit needs to be fairly compact-but big enough for your TV to sit comfortably on top.  This simple, vintage design from La Redoute does just that and is a brilliant buy and will match most decor. 

The coffee table to match really makes a design statement and has a very useful shelf too. The lacquered top gives it a glamorous edge although this does mean using coasters to keep it in great condition.  Made from  MDF tops lacquered white with polyurethane varnish and solid birch legs with nitrocellulose varnish.
Pros
Stylish, neutral design

Great price
Cons
Self assembly

Surface needs protecting
9. Best coastal themed TV stand and coffee table set
If you want to inject some sea breeze into your life, how about this classy set from Overstock. Be transported to the Hamptons with this beautifully designed and finished 4 piece set of furniture. Incorporating a tv stand, coffee table and 2 side tables, it is made from MDF and comes in an impressive 7 colours.
TV stand:
H 76 W 152 x D 43cm
Coffee table:
H 46 x W 120 x D 60cm
End tables
H 60 x W 50 x D 50cm
Pros
Great value

Classic design

Choice of colours
Cons
Self assembly required

Not available separately
10. Best natural TV stand and coffee table set
If you've embraced this year's trend for reflecting the great outdoors, this organic, natural material set should interest you.  Using rattan, cane and oak you get all the functionality of a TV stand without compromising on design.
Pros
On trend design

Natural materials
Cons
11. Best combined TV stand and coffee table
The stylish looks of this beautiful TV cabinet from John Lewis also feature a clever piece of design. If you want to keep the table top clear, a mount attached to the back of the unit means you can elevate your screen without having to drill into the wall. This not only looks super stylish but keeps your TV cool and enhances the sound quality. Solidly made from wood veneer and tempered glass, its glossy finish really will add luxury to your living room.
Pros
Versatile design

Stylish, classic looks
Cons
Self assembly required

Expensive
12. Best retro TV stand and coffee table set
We love the styling in this 3 piece set from La Redoute. The hair pin legs and geometric pattern give this furniture a nostalgic and stylish nod to the fifties. The TV stand is big enough to take a very modern large screen TV though and the drawers in the units will keep your bits and bobs out of sight.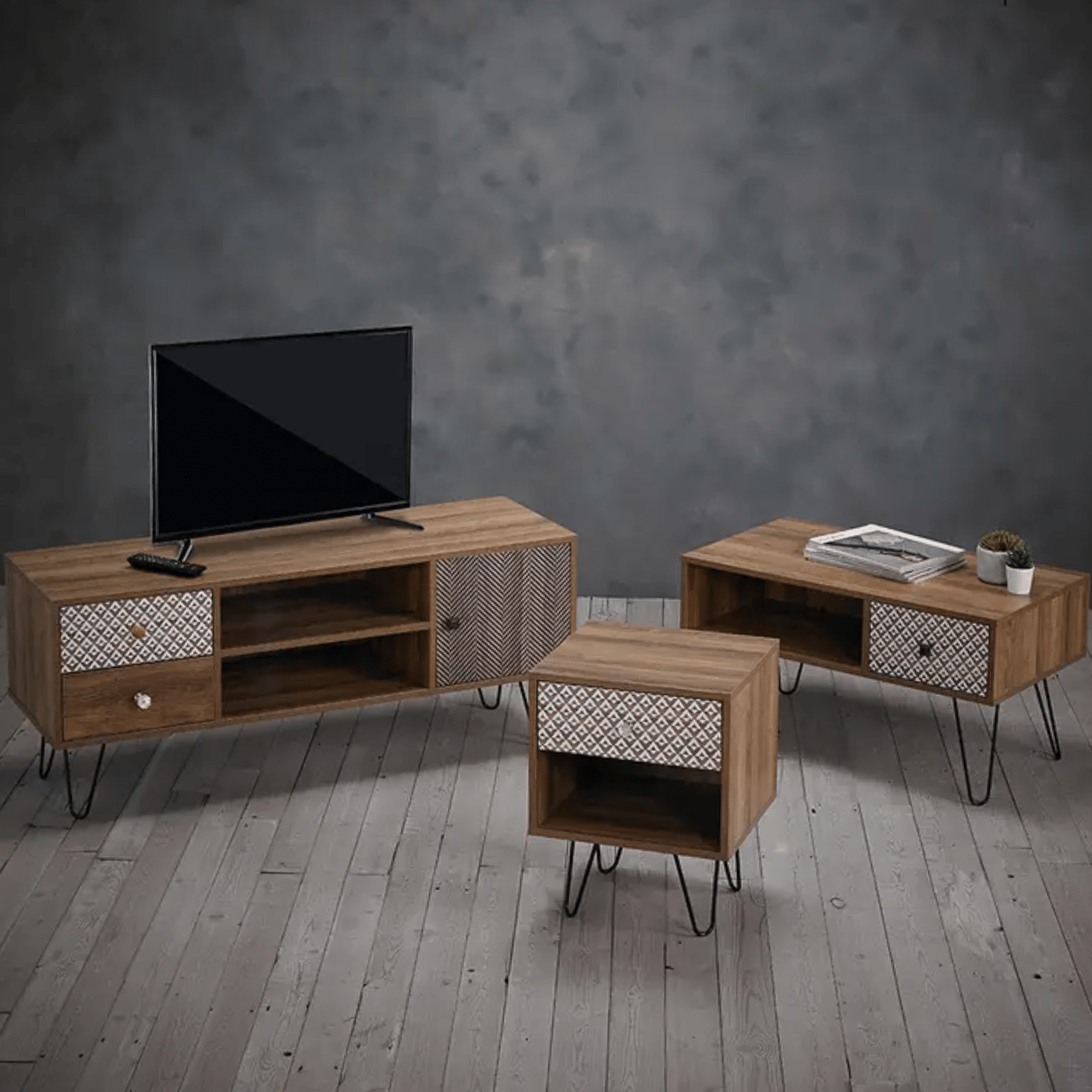 Pros
High style at a low price
Cons
These are our top choices but all in all with so many designs out there for a coffee table and TV stand set, we are sure you will find something to match your decor and your pocket.