How to choose bed linen? A guide to what you should know.
How do I choose good bed linen? What fabric should you choose? How do you choose a good thread count? Do thread counts even matter? Choosing the right bed linen may not seem like a big deal and can be quite a daunting task to do. But since we spend so much time in our beds, you can never underestimate the need for quality bed linens. Read on for Mini Home Deco's guide on how to pick good sheets.

What to look for when buying bed sheets
Let's start from the beginning, because there's a lot more to buying bed linen than the number of the thread count (more on this later in the post). Here are a few things to consider before you make your purchase:
Fibre

– the finer the softer.
Weave

– this will affect the price, longevity and how it looks
Finish

– If you suffer from allergies then you'll need to make sure that your sheets are a pure finish as they won't be treated with any chemicals. Otherwise, most bed linens are treated to help avoid wrinkles and shrinking in the wash.
Thread count

– The density of threads per inch.
All of the things will determine the feel and longevity of your bedding. So it's important to think about them beforehand.
What is the best material for sheets?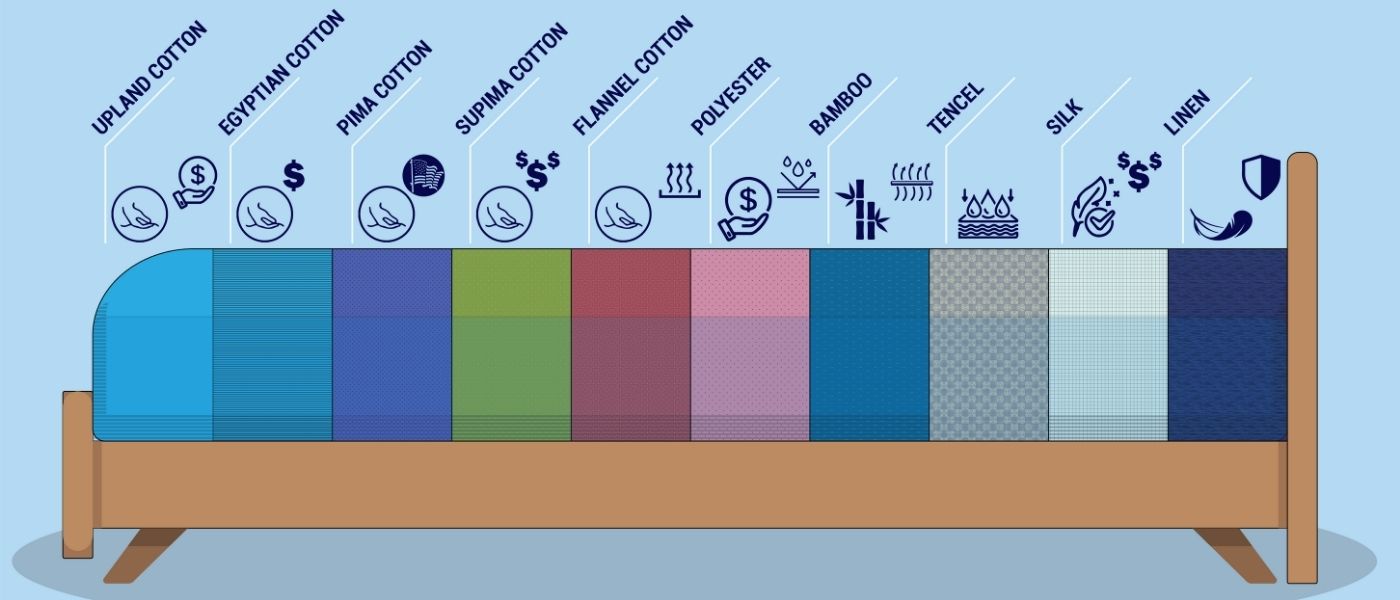 Let's start with the foundations, the actual materials of the bed linen.
There are your cottons:
Upland-

Widely available and inexpensive. Most bed sheets will be made from Upland cotton unless specified otherwise. The downside to this material is that it is likely to pill due to shorter fibres.

Egyptian

– A strong cotton that is breathable, soft and flexible. However, it is known for being on the expensive side and there are many knock-offs around so shop from a credited retailer.

Prima-

The same qualities as Egyptian cotton, so it's also an expensive option and is often blended with regular cotton.

Supima-

Grown in the US the Supima cotton is hypoallergenic, strong and comfortable. However, it is a very expensive option.
Other material options include:
Flannel or brushed cotton-

A warm and inexpensive material, perfect for the winter months. However, you'll have to change over for the warmer seasons as it's too warm for then and isn't as breathable as other options.

Silk-

The most luxurious of fabrics, silk is super soft and is a naturally breathable and hypoallergenic material. The best option for minimising bed head in the morning and wrinkles.

Linen

– The best option if you're looking for something all-year-round as it will keep you warm in the winter but nice and cool in the summer. Like Silk, Linen is naturally hypoallergenic so it's kind to your skin, it also helps to regulate your body temperature as you sleep and is twice as strong as cotton. It does, however, have a tendency to wrinkle easily and can be a little stiff.

This could be put into a table to make it easier to read. I've put an example at the bottom of the page.
What is the best thread count for bed sheets?
We've mentioned thread count throughout this post and I'm sure you've heard the term bandied about before. But what does it actually mean? And what is the best thread count for bed linen and bedsheets?
Thread count refers to the density of horizontal and vertical threads per square inch. Yep, it's that simple. So next time you're out looking for bedding and the packaging says 200 thread count, what that really means is that there are 200 threads per one square inch of fabric.
So what is the best thread count for bed linen? Firstly get to know your yarns. The quality of the yarn will be an important factor, a sheet that has a better quality of fibre with a lower thread count will be softer and will hold up better while washing than a sheet with a lower quality of fibre and a higher thread count.
Now, it should be that the higher the count the denser and therefore more durable the overall fabric. However, knowing that people expect a higher thread count to equal a better quality, manufacturers and retailers are cheating the system to produce lower quality and thinner yarns.
So go for anything over a 200 thread count. Anything lower will look and feel cheap and won't last as long. If you're wondering what the best thread count is for bed sheets, then I recommend around 600TC as they will get more wear and tear during your sleep than bed linens.
wondering what thread count 5-star hotels use?
Well, it's not super high, luxury/5-star hotels use 200-300TC. So you can easily emulate the quality in your own home.
Weave

Lastly, the quality of your bed linen and sheets is not down to the thread count alone. The weave (the way the sheets and linen are woven) is just as important. This weave will determine the overall feel, longevity and appearance. Some different weaves include:
Percale weave –

This weave is lightweight and tightly woven. Creating a crisp and cool feeling against the skin. It's wrinkle-resistant with a matt finish.

Satin weave-

The Satin weave is best if you're after that silky soft texture. It's soft with a subtle sheen to it.

Jacquard weave

– Jacquard weaves are produced on a special loom, it's a very complex weave that creates patterns and images through the weave construction itself. Although they are as durable as a plain weave, they are considerably more expensive so will be if you're looking to spend a little extra.

Chambray weave-

Chambray is a tight weave similar to a denim fabric but it's typically made from cotton and specially woven with two colours to give its distinctive look.
And there you have it, your complete guide to choosing bed linens and bedsheets. Remember that you don't need a super high thread count to achieve luxury, 5 star hotel feel a thread count of 200-300 will be perfectly fine. It takes a bit of shopping around, but if you're shopping online filter down your options to help.